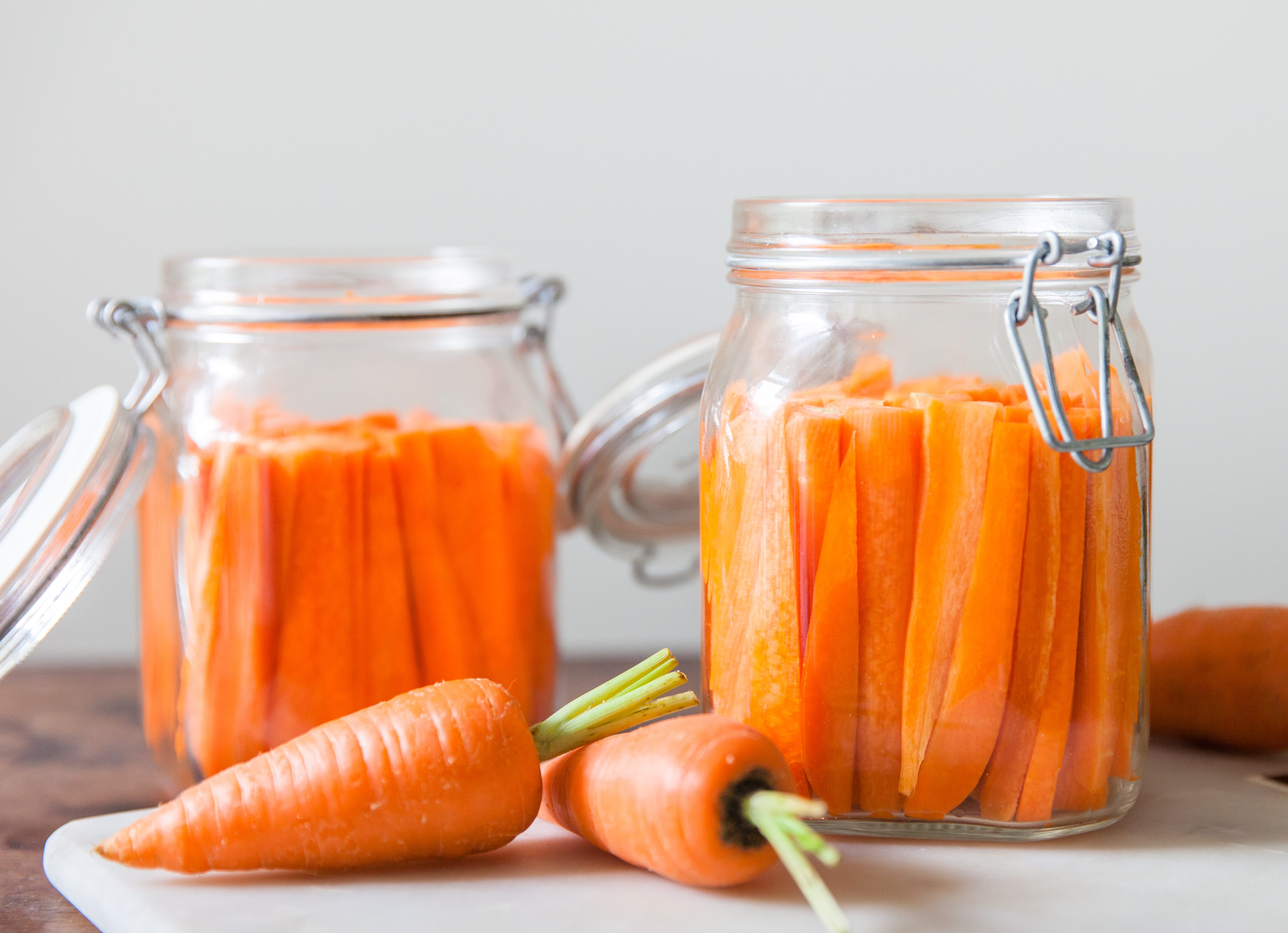 Lacto Fermented Carrot Sticks
Lacto fermented carrot sticks are naturally preserved vegetables that are crunchy and sour like traditionally made pickles. Unlike commercially made pickles that rely on vinegar to create the sour taste and have very little nutrients, these fermented vegetables increase their nutritional value through the fermentation process without using any vinegar and are full of beneficial gut loving microbes (probiotics). The sour taste comes from the lactic acid produced by the bacteria making these are the true original pickles!
So instead of reaching out for the jar of pickles in the supermarket or taking a probiotic pill, have a few of these lacto fermented carrot sticks instead, your gut will love you for it 🙂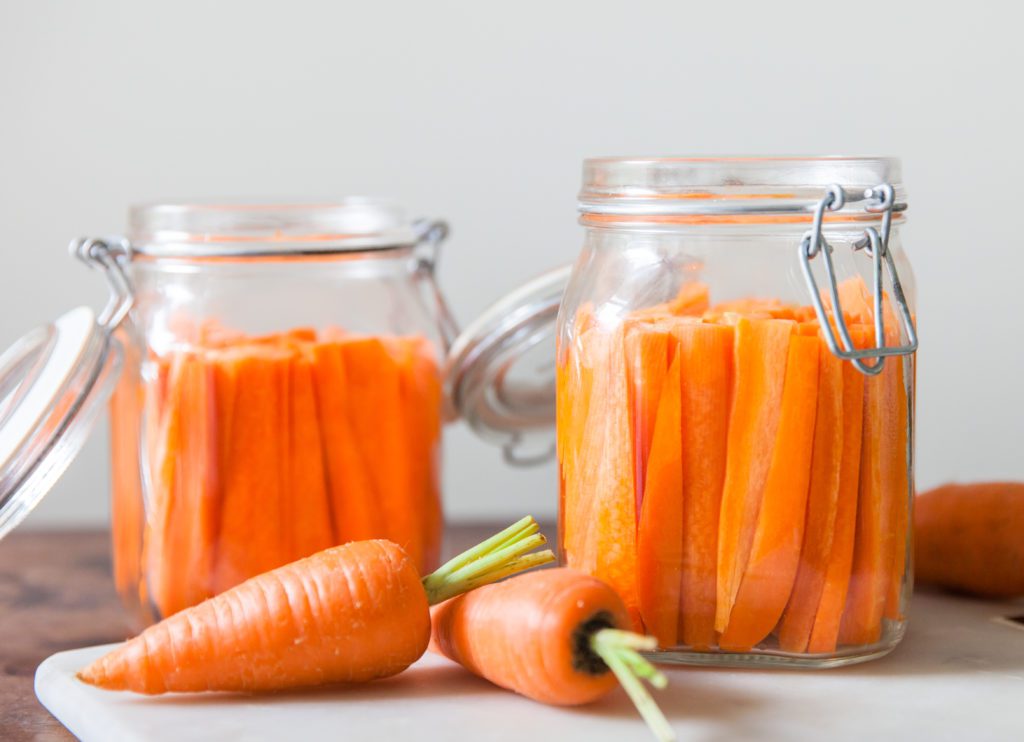 These lacto fermented carrot sticks are probably one of my favourite ferments to make as carrots don't produce their own brine you don't need to massage them saving a lot of time, they are also convenient to pack into a zip lock bag or lunch box. I like to vacuum seal them into daily portions when I am travelling to keep up with my daily dose of fermented vegetables. It helps keep our tummies strong especially when travelling and living in developing countries, I've found my kids are I get sick less and are less likely to suffer food related issues when eating in less sanitary conditions.
We have fermented vegetables three times a day, about 3 carrot sticks per serve. It doesn't sound like much but thanks to the fermentation process it increases their bioavailability, making the nutrients more easily absorbed into the body which can increase the Vitamin C content by 300 times! they are also packed with various strains of probiotics that are live and thriving that can survive the hostile environment of the GI tract to happily populate your gut. A happy gut equals a happy mind and body!
Some of the main benefits of fermented foods:
Fermented foods are full of beneficial bacteria and yeast which help heal and strengthen the gut
Boosts the immune system (80% of the immune system is found in your gut)
Keeps you happy, with 90% of the happy hormone serotonin produced in the gut, it can help balance your moods
Helps maintain healthy weight by eliminating cravings for sugar and refined carbs
Assists with digestive disorders, IBS, constipation and diarrhoea
Helps with allergies and eczema by strengthening and healing the gut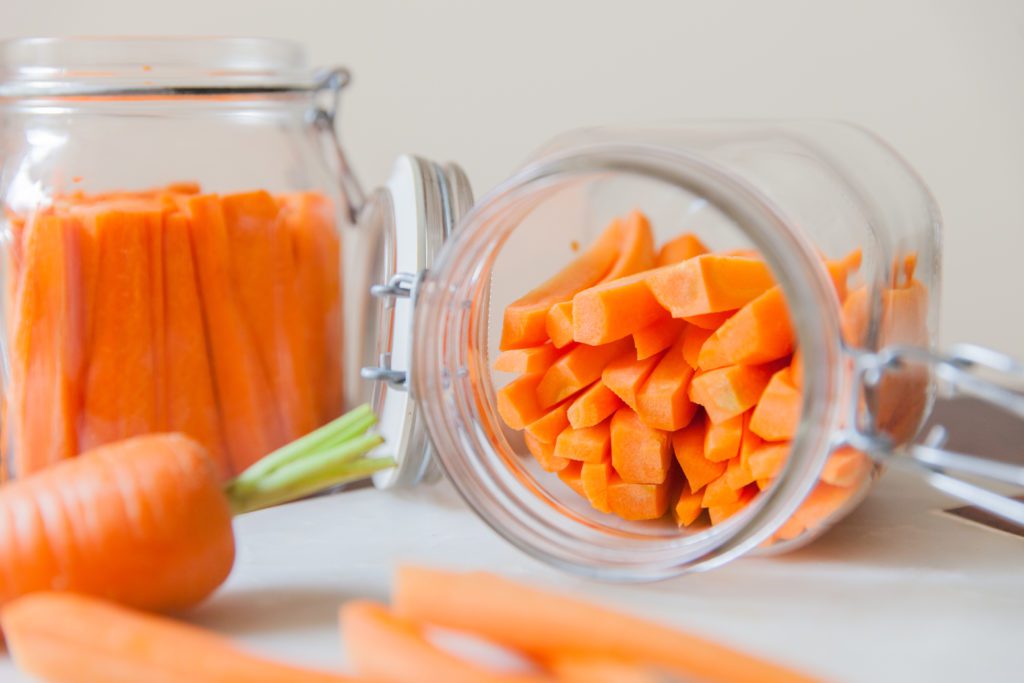 For all of my vegetable ferments, I prefer to use a flip top jar (like a fido jar) that has a rubber seal. This keeps the ferment air tight reducing the risk of mould while the rubber seal allows gases to escape.
I prefer my carrot sticks plain and so do my kids but feel free to add any herbs or spices you like such as a few slices of ginger, a clove of garlic or lemon juice. Just remember that the fermentation process increases all the flavours so a small amount is all the is needed.
This recipe makes two jars of carrot sticks, I personally make about four jars at a time as I have three kids and we go through a lot of food! As they take about 14 days to ferment, I usually make a new batch when I have two jars left so that we don't run out.
You will need:
2 x 1 L flip top jar or larger (buy on Amazon)
12 Large carrots (approx 3kg organic if possible – you may have some left over depending on how big you cut your carrot sticks)
1 litre filtered water
23 grams good quality natural sea salt (I like using this Celtic sea salt or Pink Himalayan)
Method:
Clean all equipment in hot tap water and a dash of white vinegar, avoid using the dish sponge which might hold food and oil residue, rinse well and air dry on a clean tea towel
If you have access to good clean water you can use it straight from the tap, if you are unsure, boil the water and allow it to cool completely
Dissolve the salt in the water to make the brine
Wash and peel the carrots
Measure the length of the carrot stick based on your jar, they should not be any longer than where the jar starts to curve as you need to cover the carrots in brine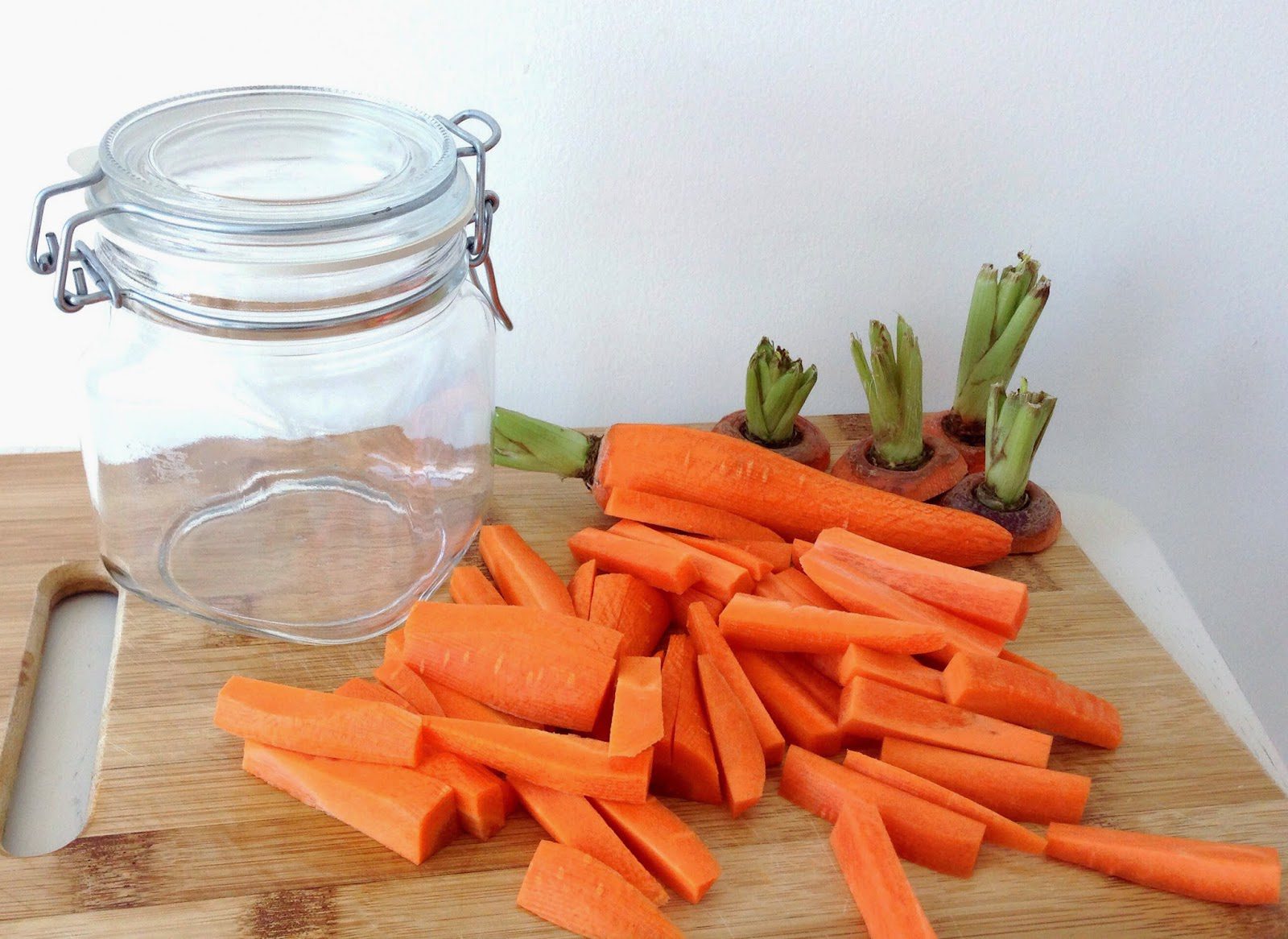 Lay the jar on it's side so you can stack the carrots easily without them falling over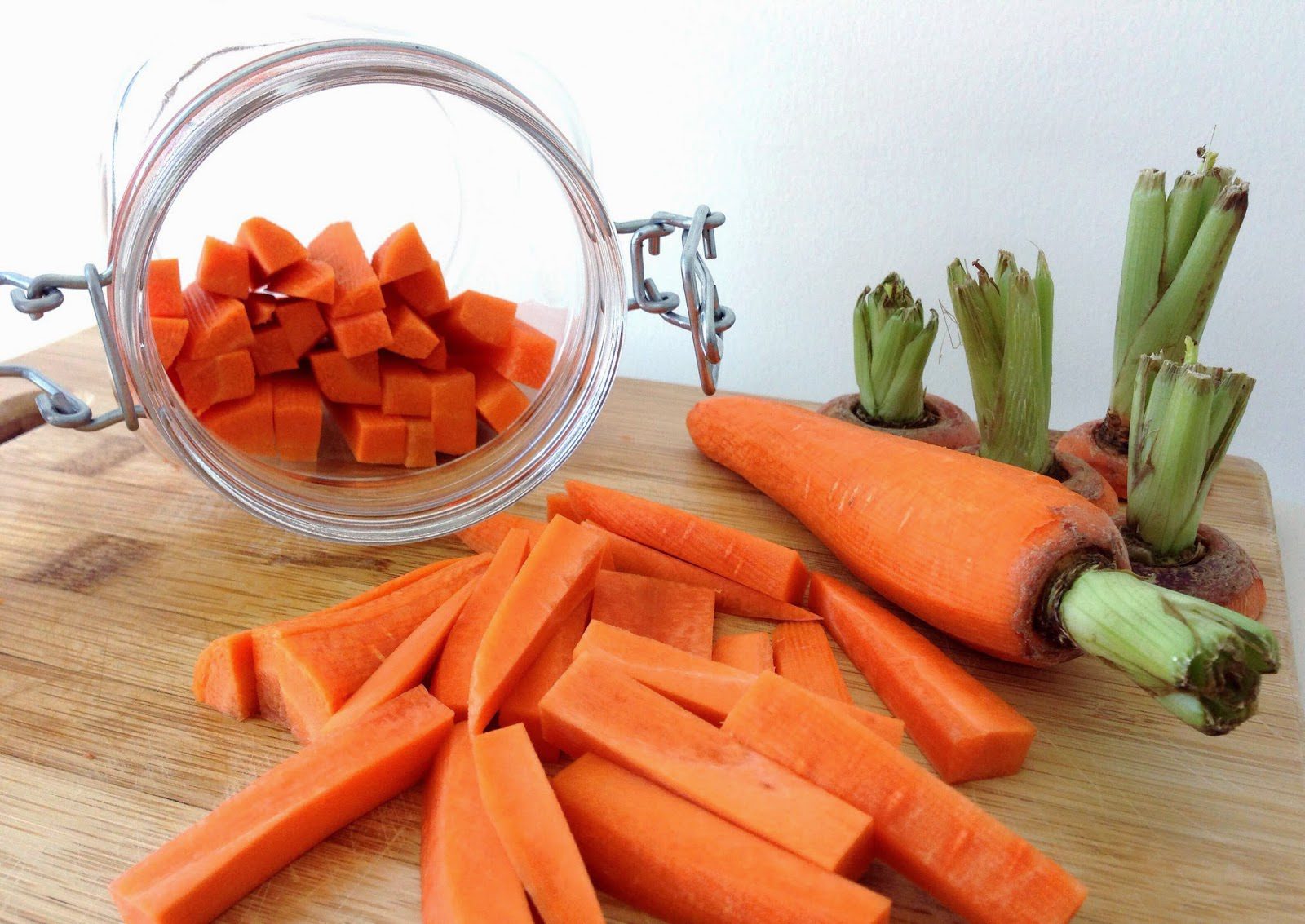 Once the jar is full, turn the jar upright
Insert as many more carrots as possible so that the carrots are packed very tightly to avoid them floating in the brine (they need to be fully submerged in the brine), I use my index finger to poke around for any gaps, this becomes part of the fun, to get in that one last carrot stick when you think you cannot add anymore!
I find using the carrot sticks that are a little tapered easiest to insert in from the smallest end.
When the salt brine is cooled completely, give it a final stir to ensure any undissolved salt is distributed evenly and cover the carrots
Leave for 7-14 days to ferment, the cooler the weather the longer it may take to ferment
You can leave the jar unopened on the counter for 6 months as they are now preserved
For the probiotic benefits, consume within 45 days
Once opened, store in the fridge and always use clean utensils (no fingers!)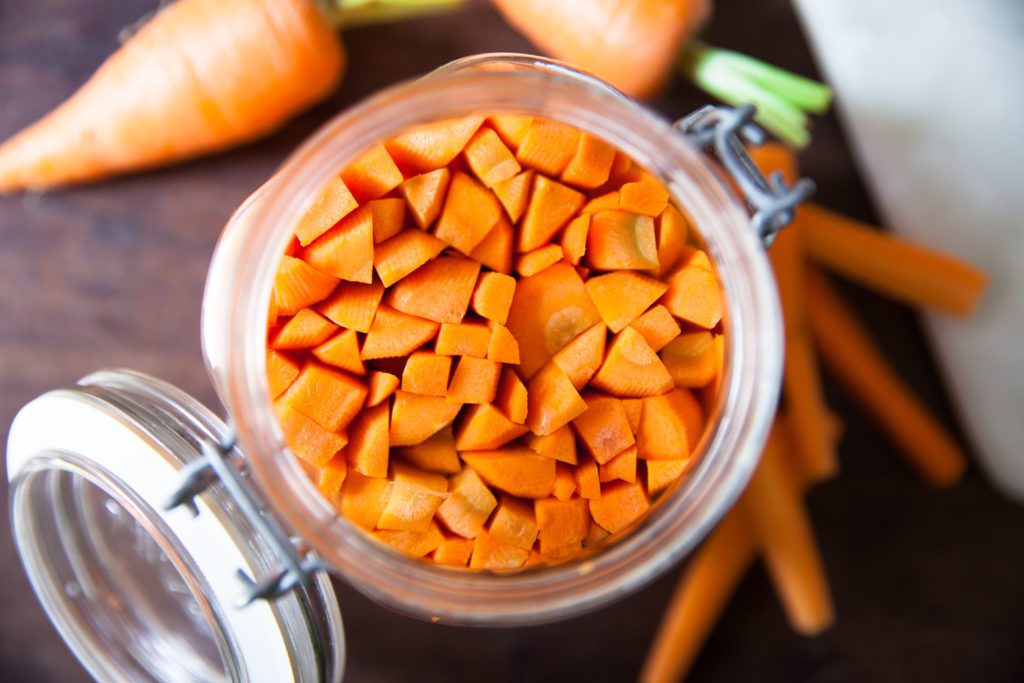 These fermented carrots make a great snack on their own or even better on a dip platter with your favourite dips.
Take a look at my other fermented foods recipes
here
.
Some Tips:
Keep the jar out of direct sunlight, after 7 days you can open the jar to taste the carrots, they should be crunchy and sour
Store them in the fridge once opened
There is no need to move them to the fridge for storage if unopened as they are now preserved
Eat the veggies at room temperature, do not heat them as the heat will destroy the beneficial bacteria
The role of salt is key to a successful ferment, the salt inhibits the bad bacteria while allowing the good bacteria naturally present in the vegetables to start the fermentation process.
Too little salt can produce mushy and slimy vegetables
Too much salt inhibits the good bacteria as well as the bad bacteria, making a very sour and slow ferment
Using a starter culture like Body Ecology's Veggie Culture Starter is optional, the benefit is ensuring consistency with each batch as you know the exact strains you have put into the ferment rather than rely on what is naturally present in your vegetables, you can also use less salt (about 1 tea spoon of salt opposed to about 1 table spoon). This brand of starter also contains lactobacillus plantarum. This probiotic organism is known to reduce gut wall permeability and enable the body to produce it's own folate amongst some other amazing things.
I was referred to Body Ecology's Veggie Culture Starter by my holistic doctor many years ago when i first started our healing journey as my son had a recurrent clostridium difficille (c.diff) infection and other gut related issues, within 2 weeks his symptoms improved and after 2 months of fermented foods we were able to clear the infection (if you live in Australia, get a 5% discount when you order from www.yourdigestion.com.au using discount code 'loveurbelly' at the checkout
I really recommend the below books if you want to know more about fermentation, I found them really useful when I first started out:
With Love and Light, May xx
Lacto Fermented Carrot Sticks
Ingredients
2 x 1 L flip top jar or larger
12 Large carrots (approx 3kg organic if possible - you may have some left over depending on how big you cut your carrot sticks)
1 litre filtered water
23 grams good quality natural sea salt
Instructions
Clean all equipment in hot tap water and a dash of white vinegar, avoid using the dish sponge which might hold food and oil residue, rinse well and air dry on a clean tea towel
If you have access to good clean water you can use it straight from the tap, if you are unsure, boil the water and allow it to cool completely
Dissolve the salt in the water to make the brine
Wash and peel the carrots
Measure the length of the carrot stick based on your jar, they should not be any longer than where the jar starts to curve as you need to cover the carrots in brine
Lay the jar on it's side so you can stack the carrots easily without them falling over
Once the jar is full, turn the jar upright
Insert as many more carrots as possible so that the carrots are packed very tightly to avoid them floating in the brine (they need to be fully submerged in the brine), I use my index finger to poke around for any gaps, this becomes part of the fun, to get in that one last carrot stick when you think you cannot add anymore!
I find using the carrot sticks that are a little tapered easiest to insert in from the smallest end.
When the salt brine is cooled completely, give it a final stir to ensure any undissolved salt is distributed evenly and cover the carrots
Leave for 7-14 days to ferment, the cooler the weather the longer it may take to ferment
You can leave the jar unopened on the counter for 6 months as they are now preserved
For the probiotic benefits, consume within 45 days
Once opened, store in the fridge and always use clean utensils (no fingers!)