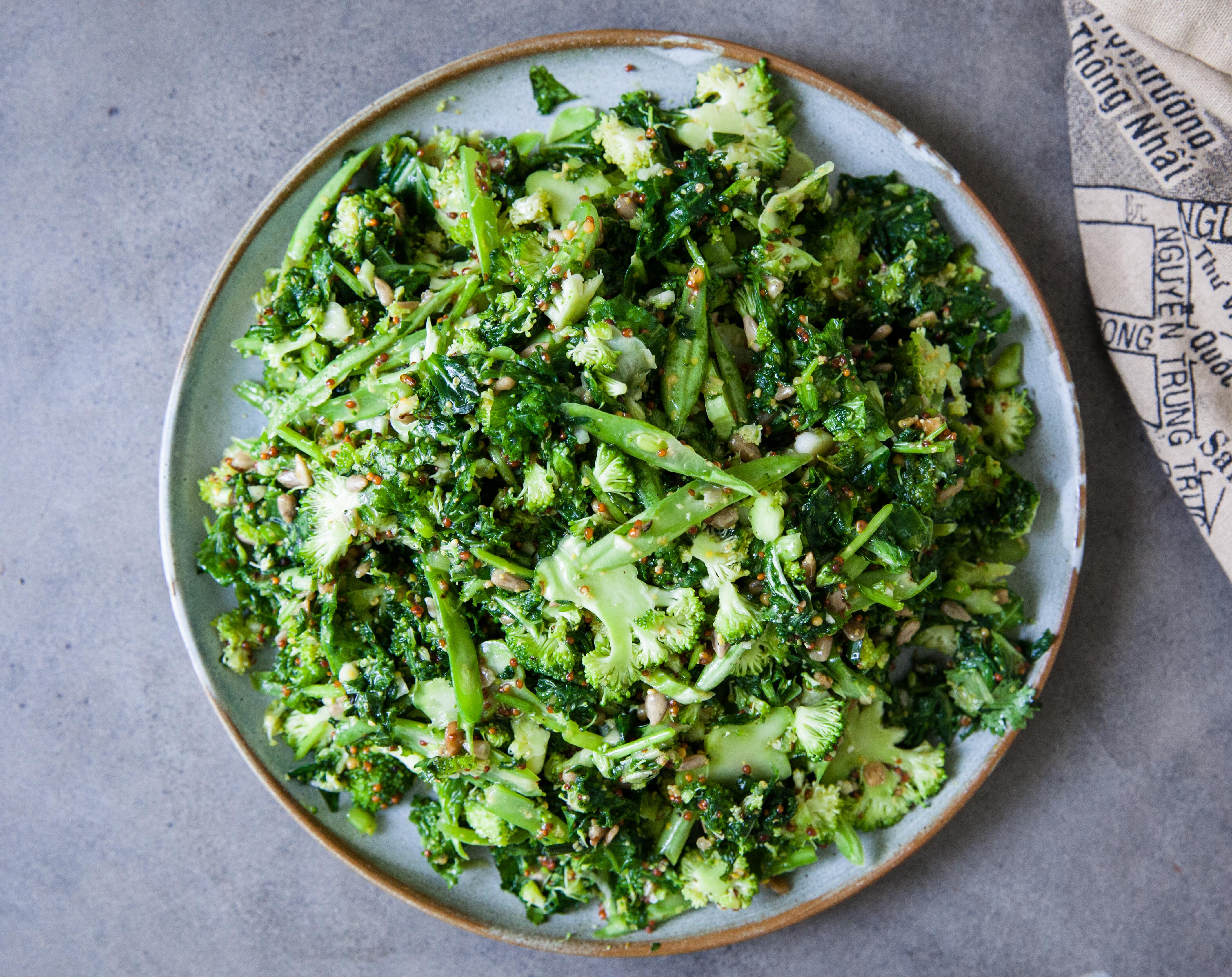 Raw Green Salad with Honey Mustard Dressing (Paleo, Vegan)
Getting some alkalising greens in made easy with this raw green salad tossed in a honey mustard dressing, even my kids are loving all the greens here! It's a very simple salad and easy to make and what I love the most is that kale doesn't get so soggy the next day so you can make a little extra to take to the office, which also makes it a great pot luck lunch or picnic dish. Feel free to add some protein like an egg or sliced chicken breast the next day to change it up into a complete meal for lunch.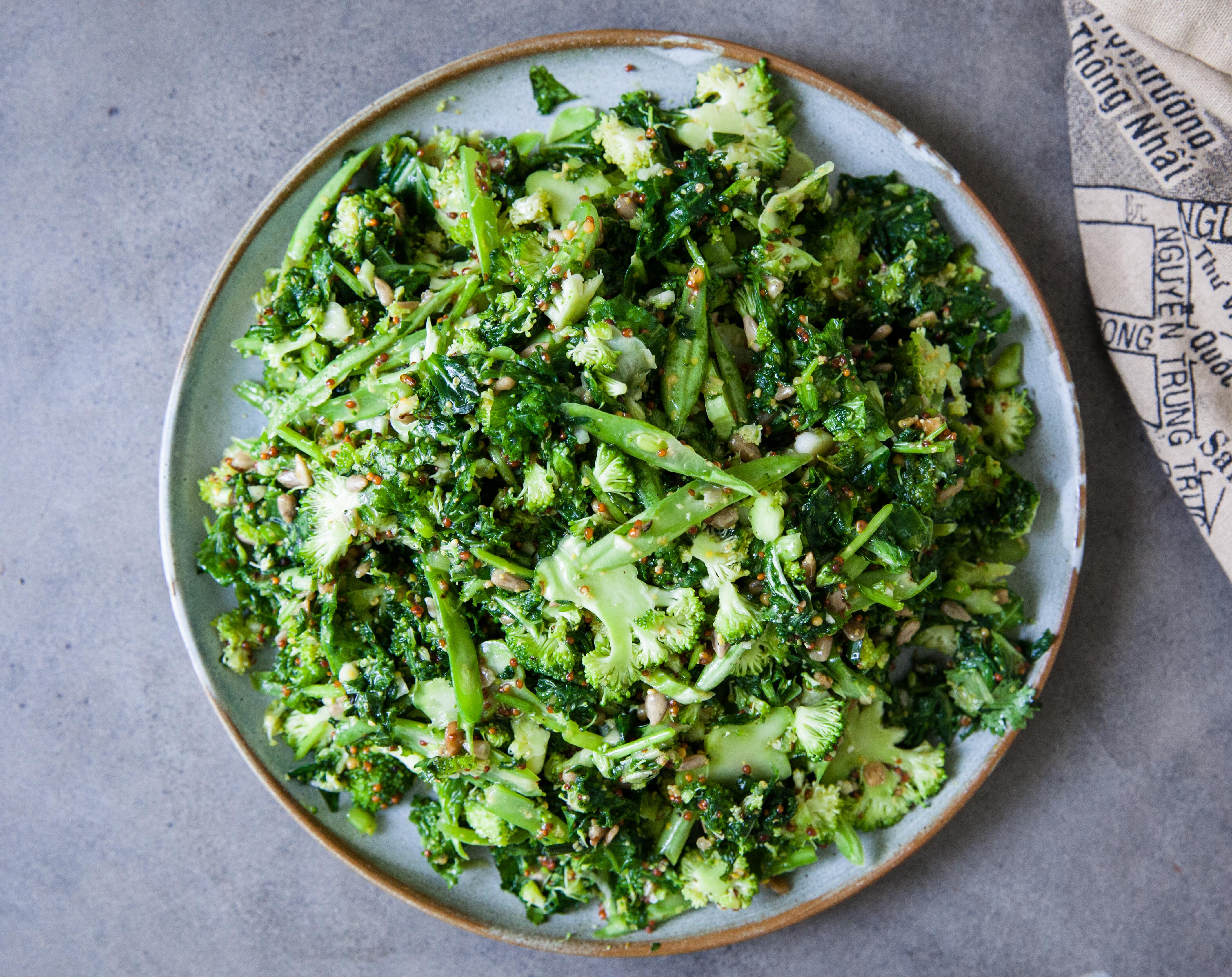 Raw Green Salad with Honey Mustard Dressing (Paleo, Vegan)
Serves 2 as a meal or 4 as a side
You will need:
1 bunch of kale, stalks removed, leafy greens only sliced thin
150gms green beans, thinly sliced on the diagonal lenghtways
1 small small head of broccoli, shaved or sliced thin
1/4 cup chopped spring onion
1/4 cup chopped coriander
1/4 cup sunflower seeds (or preferred seeds)
For the dressing:
1/4 cup olive oil
1-2 tbsp wholegrain mustard (check label for whole ingredients, no added chemicals or sugar)
1-2 tsp honey or maple syrup for Vegan option
1/2 tsp sea salt
1/2 tsp black pepper
a squeeze of lime to taste if the mustard isn't tangy enough, some whole grain mustards can be quite tangy and lime isn't needed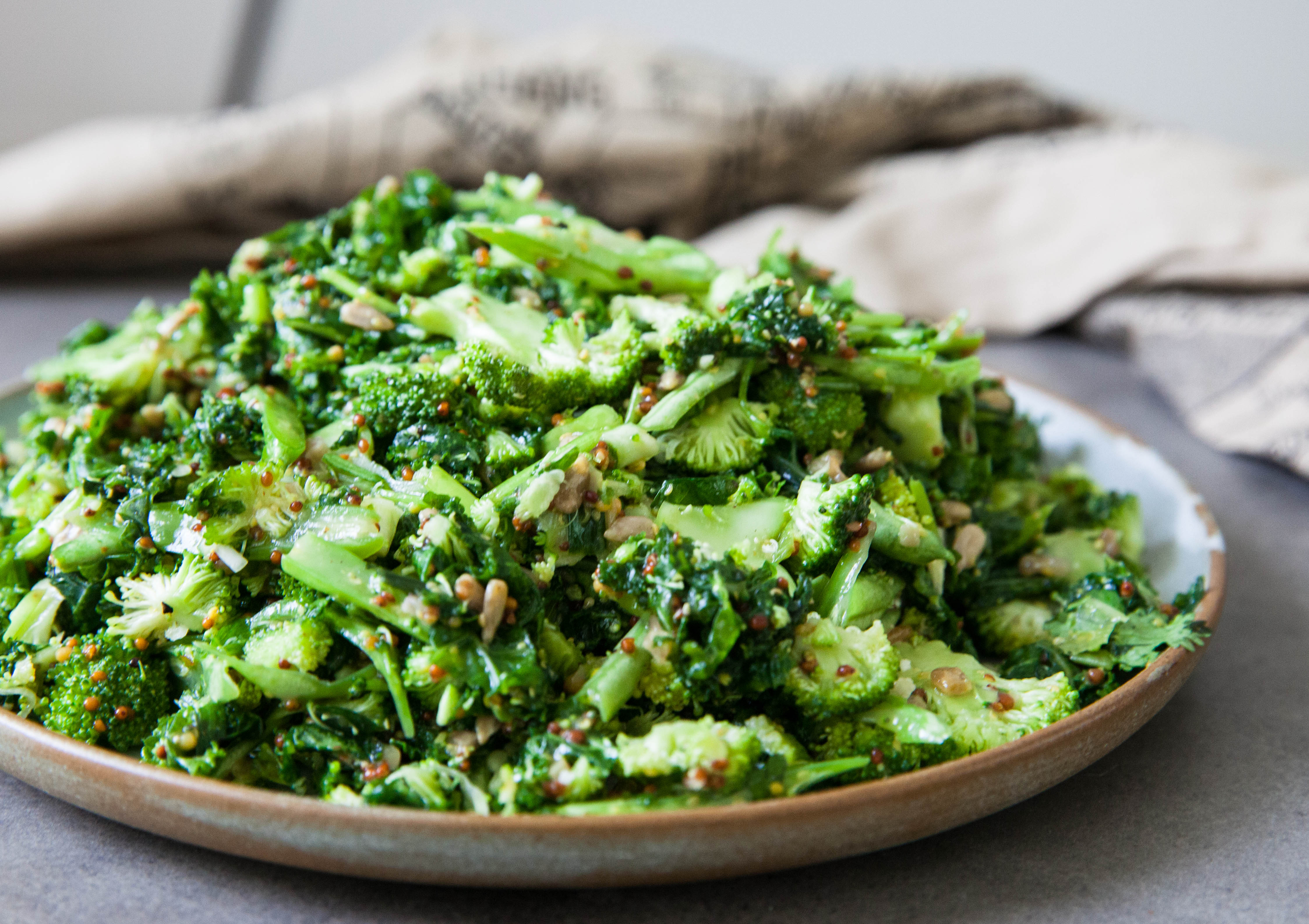 Method:
Place all salad ingredients in a mixing bowl except sunflower seeds
Combine dressing ingredients in a small bowl
Toss dressing through salad and plate up
Top with sunflower seeds and serve
If you like this recipe, leave me a comment, would love to hear from you and it really helps me out 🙂
Hope you enjoy!
May xx
Love, create, explore & inspire <3
Raw Green Salad with Honey Mustard Dressing (Paleo, Vegan)
Raw Green Salad with Honey Mustard Dressing (Paleo, Vegan)
Ingredients
You will need:
1 bunch of kale, stalks removed, leafy greens only sliced thin
150gms green beans, thinly sliced on the diagonal lenghtways
1 small small head of broccoli, shaved or sliced thin
¼ cup chopped spring onion
¼ cup chopped coriander
¼ cup sunflower seeds (or preferred seeds)
For the dressing:
¼ cup olive oil
1-2 tbsp wholegrain mustard (check label for whole ingredients, no added chemicals or sugar)
1-2 tsp honey or maple syrup for Vegan option
½ tsp sea salt
½ tsp black pepper
a squeeze of lime to taste if the mustard isn't tangy enough, some whole grain mustards can be quite tangy and lime isn't needed
Instructions
Method:
Place all salad ingredients in a mixing bowl except sunflower seeds
Combine dressing ingredients in a small bowl
Toss dressing through salad and plate up
Top with sunflower seeds and serve