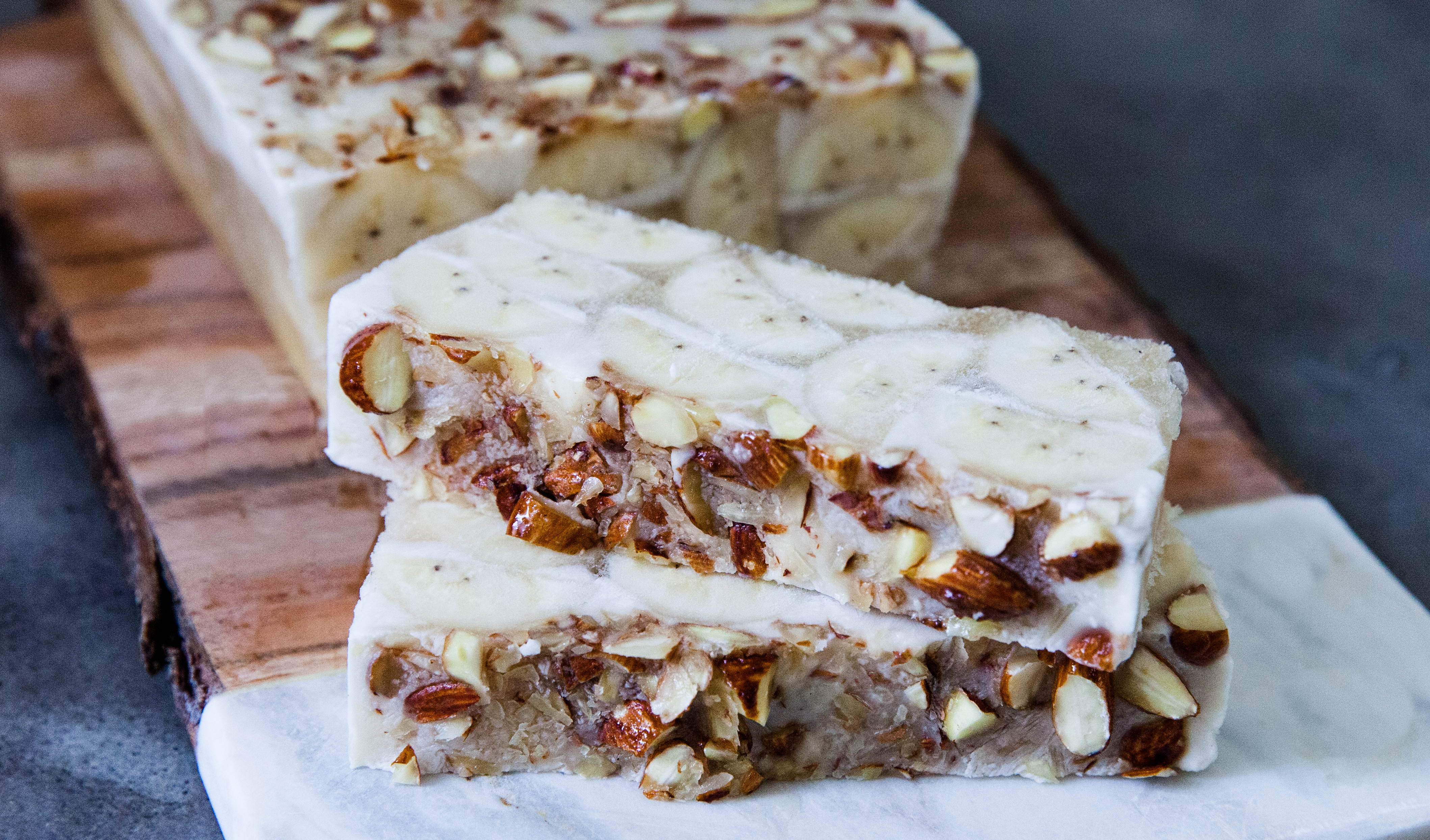 Vietnamese Coconut and Banana Ice Cream Bars – Kem Chuối (Grain Free, Paleo, Dairy Free, Vegan)
This Vietnamese Coconut and Banana Ice Cream Bars recipe is a modern twist to the traditional Vietnamese Kem Chuối dessert made with a flattened ripe sugar banana, smothered in sweetened coconut milk and sprinkled with toasted peanuts, then frozen. I grew up with this simple dessert and thought it was about time I made my own healthier version with toasted almonds and sweetened with some maple syrup instead of the refined sugar loaded version. OMG I think this tastes better than the original!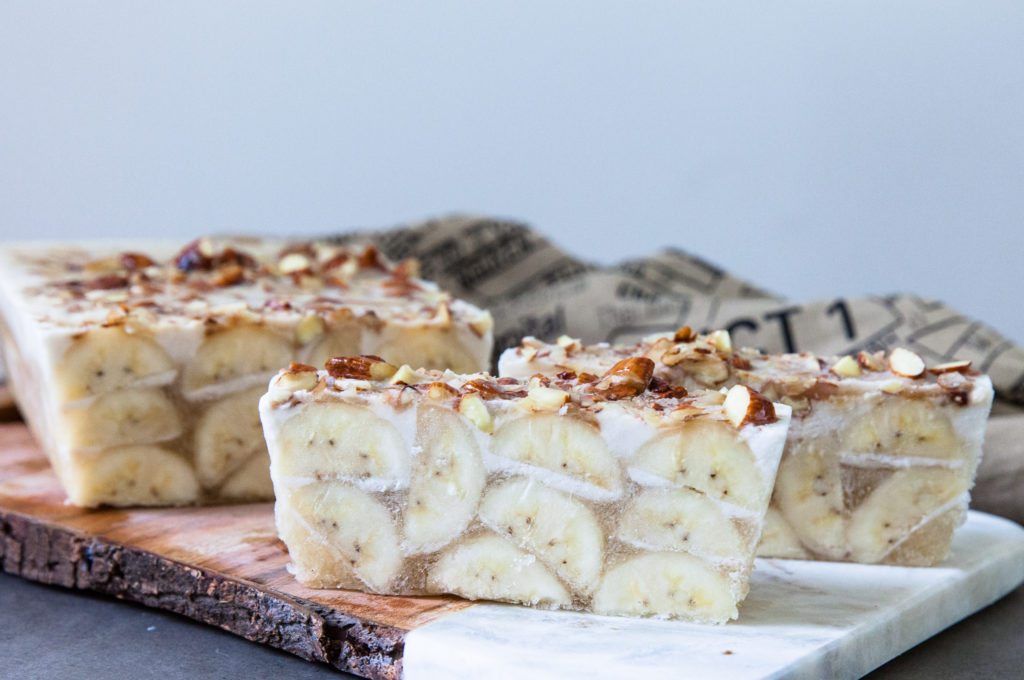 Vietnamese Coconut Banana Ice Cream Bars
This recipe a great way to use up over ripe bananas, when the bananas have the black spots on them, they are naturally sweeter so less sweetener can be used and they are also GAPS protocol friendly. I highly recommend using the sugar bananas, known as ducasse which is short and fat with a thinner skin instead of the regular long cavendish bananas as they are much sweeter and denser. These are the type of bananas I use for my most popular 2 ingredient pancakes recipe (here) which is great as you need the just ripe sugar bananas to make the thick batter and as the bananas ripen you can then use the remainder for this recipe!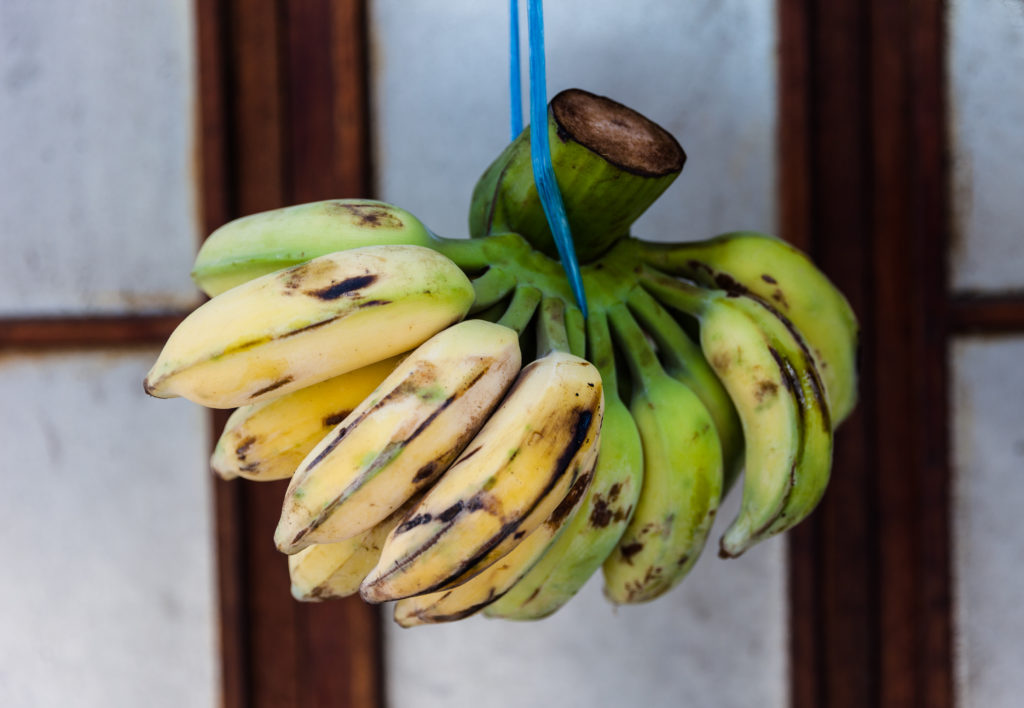 One of my favourite ingredients to use is whole fresh coconut milk, in Vietnam I am quite spoilt with fresh cold pressed coconut milk. Coconut milk is mother earth's breast milk, seriously. It is so nutritious and the only other natural source of lauric acid (also found in breast milk). It's a medium chain fatty acid that converts to monolaurin in the body. Monolaurin helps fight bacteria, viruses, yeasts and other pathogens as it is anti-microbial, anti-viral and anti-fungal which is why breast feeding babies boosts their immune system and gives them the protection they need in early stages of life.