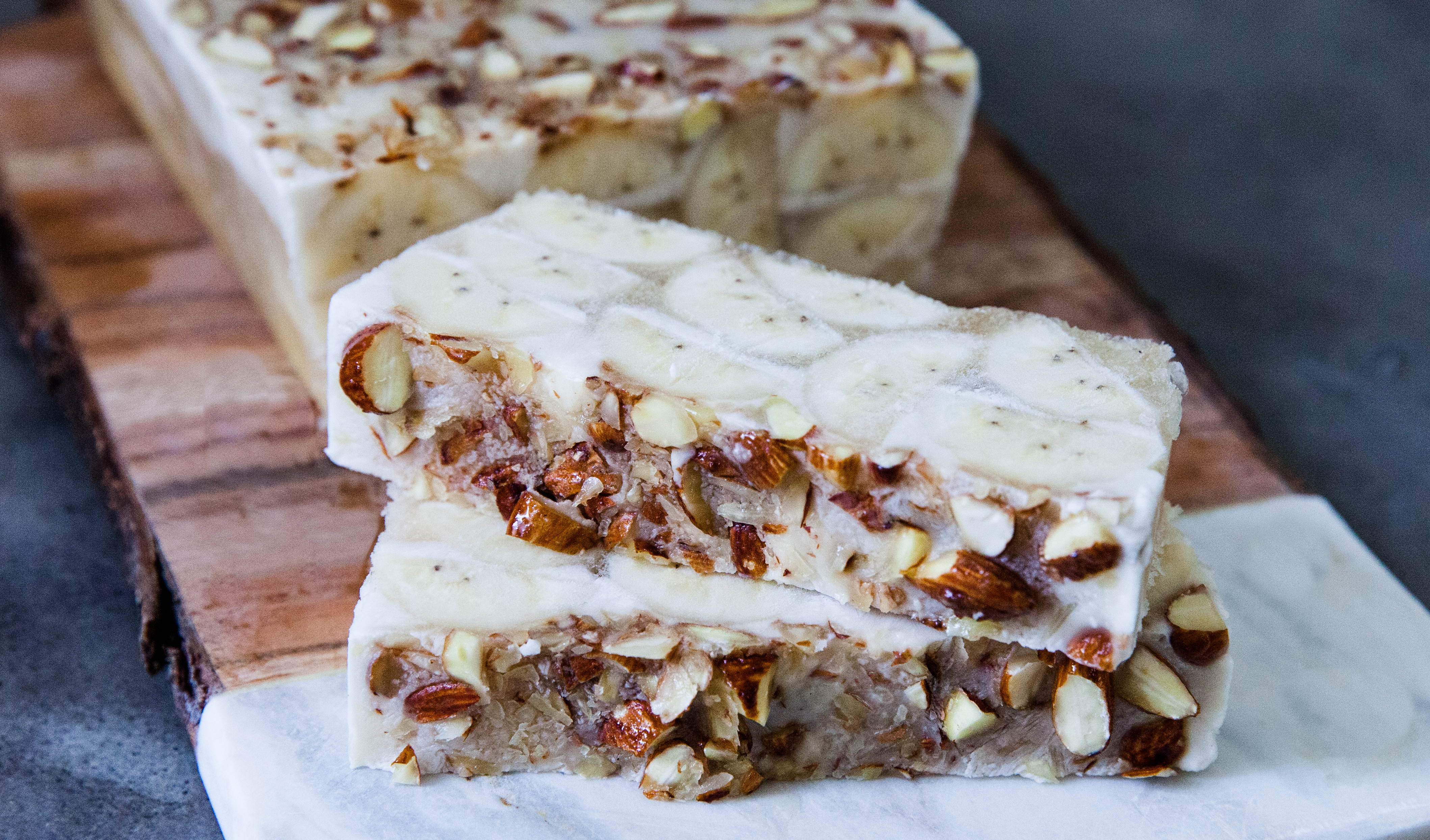 Vietnamese Coconut and Banana Ice Cream Bars – Kem Chuối (Grain Free, Paleo, Dairy Free, Vegan)
This Vietnamese Coconut and Banana Ice Cream Bars recipe is a modern twist to the traditional Vietnamese Kem Chuối dessert made with a flattened ripe sugar banana, smothered in sweetened coconut milk and sprinkled with toasted peanuts, then frozen. I grew up with this simple dessert and thought it was about time I made my own healthier version with toasted almonds and sweetened with some maple syrup instead of the refined sugar loaded version. OMG I think this tastes better than the original!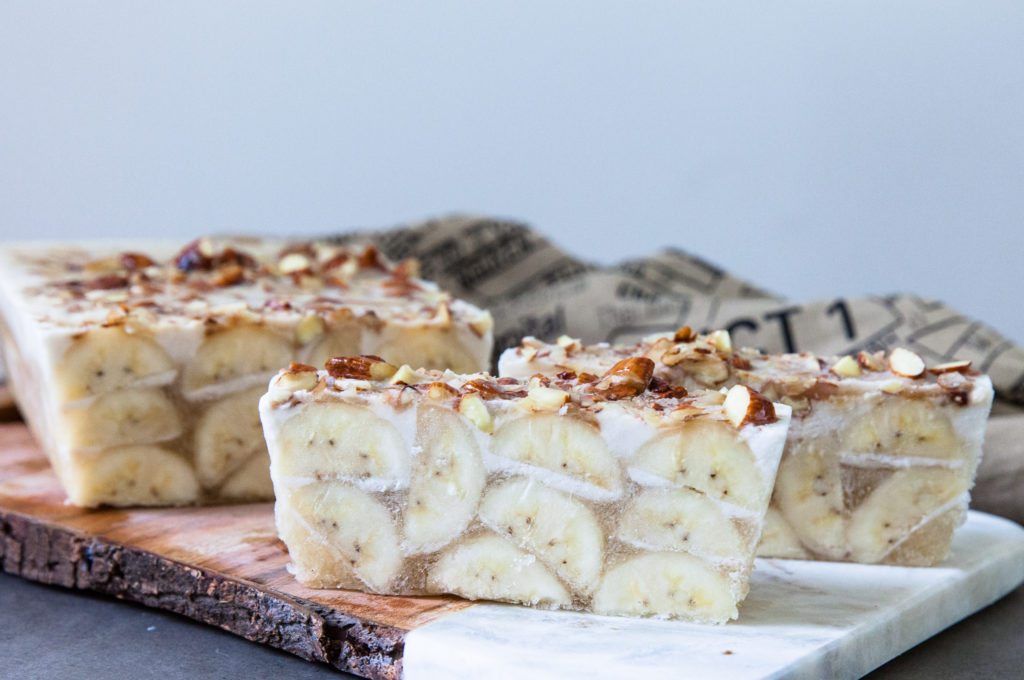 Vietnamese Coconut Banana Ice Cream Bars
This recipe a great way to use up over ripe bananas, when the bananas have the black spots on them, they are naturally sweeter so less sweetener can be used and they are also GAPS protocol friendly.  I highly recommend using the sugar bananas, known as ducasse which is short and fat with a thinner skin instead of the regular long cavendish bananas as they are much sweeter and denser. These are the type of bananas I use for my most popular 2 ingredient pancakes recipe (
here
) which is great as you need the just ripe sugar bananas to make the thick batter and as the bananas ripen you can then use the remainder for this recipe!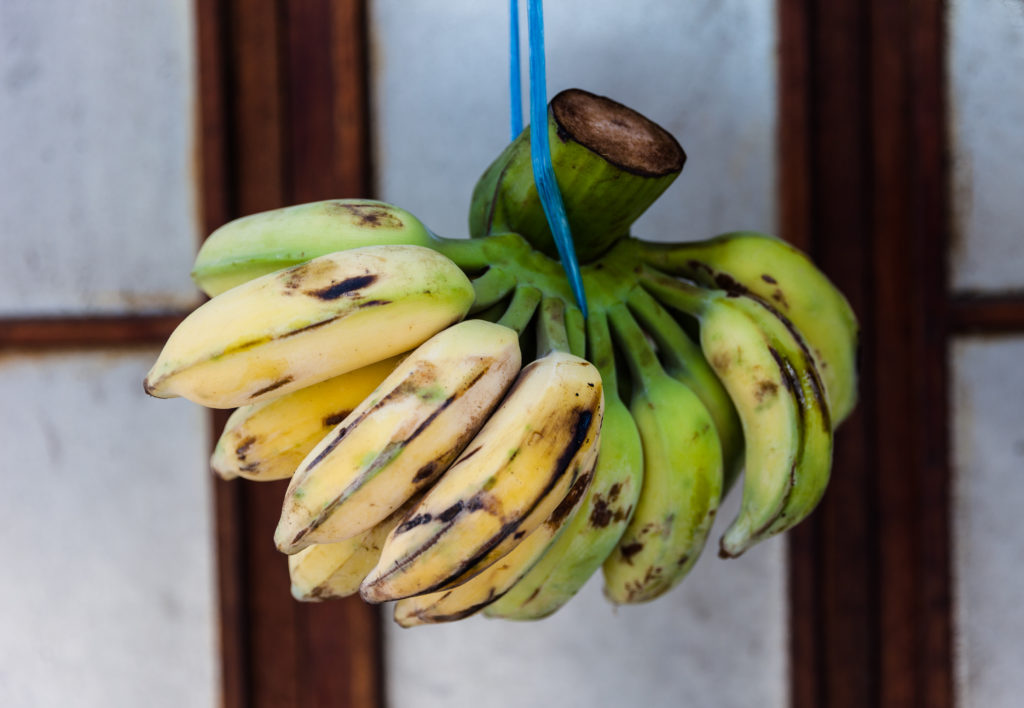 One of my favourite ingredients to use is whole fresh coconut milk, in Vietnam I am quite spoilt with fresh cold pressed coconut milk. Coconut milk is mother earth's breast milk, seriously. It is so nutritious and the only other natural source of lauric acid (also found in breast milk). It's a medium chain fatty acid that converts to monolaurin in the body. Monolaurin helps fight bacteria, viruses, yeasts and other pathogens as it is anti-microbial, anti-viral and anti-fungal which is why breast feeding babies boosts their immune system and gives them the protection they need in early stages of life.
Coconut milk is great for the brain providing a quick energy source and helps with weight loss as it is very filling, as it helps control cravings and over snacking. Coconut milk can also lower cholesterol and blood pressure, balance blood sugar levels controlling insulin levels and assist with joint pain as it lowers inflammation in the body. You can even skip the sweetener in this recipe if you have a good source of coconut milk as the ripe sugar bananas are super sweet on their own. You can also try adding some cinnamon instead of the sweetener.
I've been a little spoilt in Vietnam getting fresh cold pressed coconut milk from my local market, this is by far the best tasting coconut milk I have ever tasted, you can make your own by blending up some shredded coconut and hot water in a blender then straining it out with a nut milk bag or use a good quality canned coconut milk (check the label for additives and nasties) if you don't have access to fresh coconut milk.
Vietnamese Coconut and Banana Ice Cream Bars – Kem Chuối (Grain Free, Paleo, Dairy Free, Vegan)
Makes 1 loaf tin or 1 slice tin
You will need:
9 overripe sugar bananas or 4-5 regular bananas (with black spots on the skin, for extra sweetness and creaminess and GAPS approved)
500ml coconut milk
1/4 cup maple syrup or honey for GAPS (reduce or replace with an alternate sweetener if desired or try 1 tsp of ground cinnamon instead)
1/3 cup toasted almonds (I made maple roasted almonds as an extra treat by placing raw almonds in the pan with a tablespoon of maple syrup until the maple syrup gets sticky)
Method:
Slice peeled bananas lengthways and layer them on top of each other in a loaf tin or a single layer in a slice tin
Mix coconut milk with sweetener of choice and pour in tin
Place in the freezer for 90 minutes until almost set
Roughly chop almonds and set aside, for an extra treat place the almonds in a pan on medium heat with 1 tbsp maple syrup until slightly sticky and set aside on baking paper to cool, then roughly chop
Remove tin from freezer after 90 minutes and scatter the almonds on top, return to freezer for another 2 hours or over night
To serve, loosen the coconut banana ice cream bar from the edges and remove from tin
Slice and serve frozen
Store remaining coconut banana ice cream bars in an airtight container and consume within 2 weeks for best taste
Depending on the ratio of water to coconut cream in  your coconut milk, you may see separation of the cream to water in the bar, this is normal and quite a refreshing to the frozen creamy layer
May xx
Love, create, explore & inspire <3
(If you enjoyed this recipe, please leave me a comment! would love to hear from you and it really helps me out 🙂
References
https://draxe.com/coconut-milk-nutrition/
Vietnamese Coconut and Banana Ice Cream Bars - Kem Chuối (Grain Free, Paleo, Dairy Free, Vegan)
Ingredients
9 overripe sugar bananas or 4-5 regular bananas
(with black spots on the skin, for extra sweetness
and creaminess and GAPS approved)
500ml coconut milk
¼ cup maple syrup or honey for GAPS
(reduce or replace with an alternate sweetener if desired or try 1 tsp of ground cinnamon instead)
⅓ cup toasted almonds (I made maple roasted almonds as an extra treat by placing raw almonds in the pan with a tablespoon of maple syrup until the maple syrup gets sticky)
Instructions
Slice peeled bananas lengthways and layer them on top of each other in a loaf tin or a single layer in a slice tin
Mix coconut milk with sweetener of choice and pour in tin
Place in the freezer for 90 minutes until almost set
Roughly chop almonds and set aside, for an extra treat place the almonds in a pan on medium heat with 1 tbsp maple syrup until slightly sticky and set aside on baking paper to cool, then roughly chop
Remove tin from freezer after 90 minutes and scatter the almonds on top, return to freezer for another 2 hours or over night
To serve, loosen the coconut banana ice cream bar from the edges and remove from tin
Slice and serve frozen
Store remaining coconut banana ice cream bars in an airtight container and consume within 2 weeks for best taste
Depending on the ratio of water to coconut cream in your coconut milk, you may see separation of the cream to water in the bar, this is normal and quite a refreshing to the frozen creamy layer