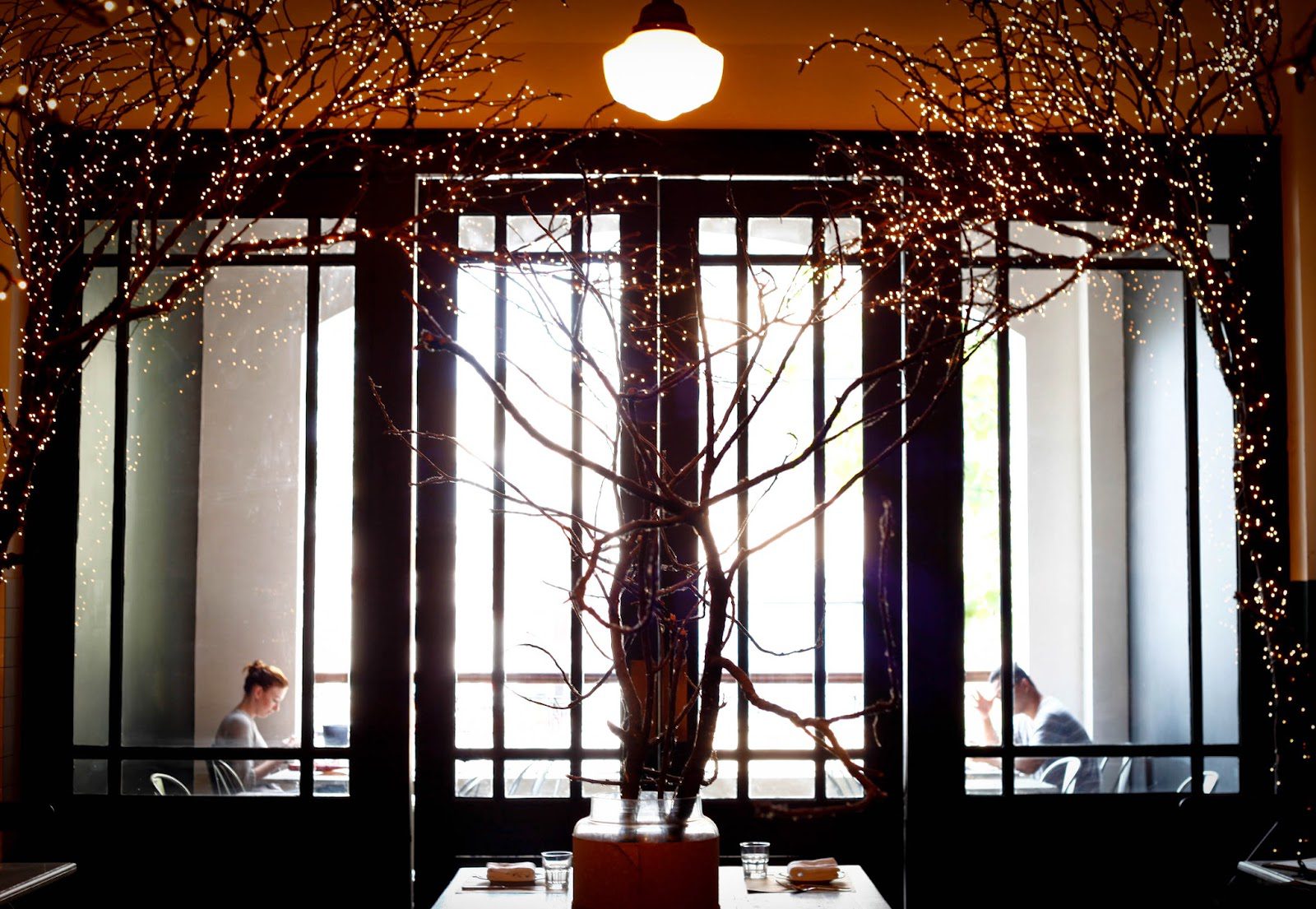 L'usine Space Cafe & Restaurant Review
It has been almost a year now since we moved to Vietnam with the kids. During this time we have spent a lot of it exploring new cafe's and restaurants to eat. We discovered L'usine during our first month and it quickly became a favourite spot for me to bring my mac and spend all day there. It is easy to fall in love with this place with their industrial style fit out, beautiful warehouse ceilings, large windows and oh my amazing lunch menu. If you follow me on Facebook or instagram you will have seen my posts at L'usine and how much I love this space, I was beyond excited to be invited to try their dinner menu. YES they do dinner!
L'usine Restaurant Out door area
Located on the first floor at 151 Dong Khoi street, district 1. Through the Art Arcade, take a right and up the stairs, the restaurant sits next to the cafe.
151 Dong Khoi street, district 1
A beautiful long communal table takes the centre of the restaurant with the outdoor seating overlooking Dong Khoi street and the Caravelle hotel.
A beautiful communal table takes the centre of the restaurant
First up, the drinks. I ordered a freshly pressed pomelo juice and my hubby got the cafe sua da (Vietnamese iced coffee). Also on offer are some fresh fruit smoothies, Vietnamese iced lime juice (another popular drink in Vietnam), cider, wine & beer.
The food was next. We ordered the Warm Octopus salad with charred onions, peppers, radicchio & dragon beans to start and it tasted as amazing as it sounded. The lighting was getting darker, so I don't think my food photos do it justice.
My hubby ordered the coral trout with pomelo, mango, avocado and jalapeño yoghurt. Wow. This dish just hit all the right taste buds in one go.
I ordered the lamb tenderloin with turnip gratin, beetroot and king mushroom. Another wow. I was really missing some good lamb and coming from Australia where we have some of the best lamb in the world, this dish was incredible.
We also got a side of bean & pancetta cassoulet. With onions, tomatoes, smoked paprika and cloves, another incredible combination of flavours.
The dinner menu really blew me away. I have eaten regularly at the cafe for lunch and I knew to expect some seriously tasty dishes. I was really surprised at the prices for even the most expensive dish, at 350,000 VND (that's about $16 bucks) you are getting a beautifully well balanced dish that will satisfy all your taste buds and belly.
I am already planning my return for dinner this week at 
L'usine
 as my 11 yo (who also rates L'usine cafe as one of his favourites) was so excited to hear about the dinner menu and I'm looking forward to returning to try something else on the menu, perhaps the roasted stuffed chicken with mushroom, roast pumpkin and pine nuts or the beef flank steak with rocket, baby tomato salad and rosemary chats… ahh too many yummy choices!
I recommend booking ahead, so give them a call on+84 (0) 86674 3565. If you do book for dinner and have time to pop in a little earlier, pop next door to the cafe and boutique store. You can eat, drink, be visually pleased and shop all in the one place. I could live here.
      L'usine's cafe next door. Their salad combinations are fantastic, combined with Vietnamese flavours, they are a must try!
Their store located behind the cafe is worth visiting. You will find beautiful men's and women's clothing from imported and local designers, bags, jewellery, accessories beautiful homewares, childrens toys, candles and gift ideas. There is no way I go to L'usine and not stop by the store, just walking through is uplifting with all the vintage props and displays. I really want one of those vintage singer sewing machines!
L'usine's boutique store with local and imported designers, beautiful homewares, candles, gifts
I do a lot of my gift shopping here, for myself.. and sometimes others 😉
L'usine Space Cafe & Restaurant
+84 (0) 86674 3565
151/Dong Khoi street, district 1
Ho Chi Minh City, Vietnam
I hope you enjoyed this post, if you have any questions, leave me a comment 🙂 May xx