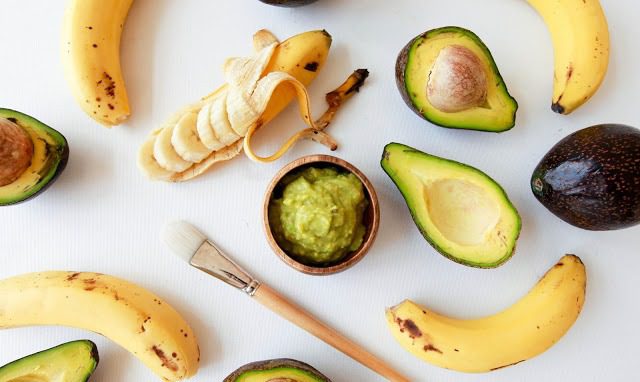 2 Ingredient Anti-Aging Facial Mask
One of the great things about going paleo for me is no longer having the need to buy expensive commercial beauty products. Becoming aware that the skin is the largest organ in the human body which also has the ability to absorb toxins and chemicals I cannot go back to using lotions and creams with a huge list of unpronounceable chemicals. I now use single oils like coconut, olive, jojoba and rose hip oil instead of expensive lotions and make a lot of my own body wash, face scrubs and masks like this 2 ingredient anti-aging facial mask which consists of bananas and avocado's.
Add caption2 Ingredient Anti-Aging Facial Mask
Bananas and Avocado's contain vitamins A, C & E together which work well as a moisturiser, instantly brightens dull skin, fights free radicals and can repair damage.
I'm not sure if this happens to everyone, but both bananas and avocados seem to be fine one day then overripe the next, so it's also a good way to use them up. If avocados are out of season or too expensive you can simply make a one ingredient brightening facial mask with just banana (see here).
The great thing is that you can use this as often as you like, and if you have a baby starting solids at home, it is a wonderful food to start them off on and you can steal a tablespoon for your face before or after you feed them 😉
You also don't need a lot, so you can reserve a slice of avocado from your meal and add a small piece of banana. You will be taking care of your outsides as well as nourishing your insides!
2 Ingredient Anti-Aging Facial Mask
2 INGREDIENT ANTI-AGING FACIAL MASK
You will need:
1cm slice of avocado
1cm slice of banana
Method:
mash both ingredients together to form a smooth paste
apply to face and neck
leave for 15 minutes, if you can take the time to lay down and place some sliced cucumbers on your eyes
feel free to add some honey or yoghurt to boost the mask properties
yoghurt contains high amounts of lactic acid known to refine pores, exfoliate the skin and stimulate collagen production.
honey helps the skin stay soft and moisturised
use a damp cloth to remove the mask
if you have more time, don't throw the banana skin away, you can apply the banana skin to the forehead for further anti-wrinkle treatment
I like to dab some coconut oil around my eyes and lips afterwards and I moisturise with a couple of drops of rose hip oil (buy it here)
Thanks for visiting, feel free to leave me a comment if you have any questions 🙂
May xx
2 Ingredient Anti-Aging Facial Mask
Ingredients
1cm slice of avocado
1cm slice of banana
Instructions
mash both ingredients together to form a smooth paste
apply to face and neck
leave for 15 minutes, if you can take the time to lay down and place some sliced cucumbers on your eyes
feel free to add some honey or yoghurt to boost the mask properties
yoghurt contains high amounts of lactic acid known to refine pores, exfoliate the skin and stimulate collagen production.
honey helps the skin stay soft and moisturised
use a damp cloth to remove the mask
if you have more time, don't throw the banana skin away, you can apply the banana skin to the forehead for further anti-wrinkle treatment
I like to dab some coconut oil around my eyes and lips afterwards and I moisturise with a couple of drops of rose hip oil (buy it here)