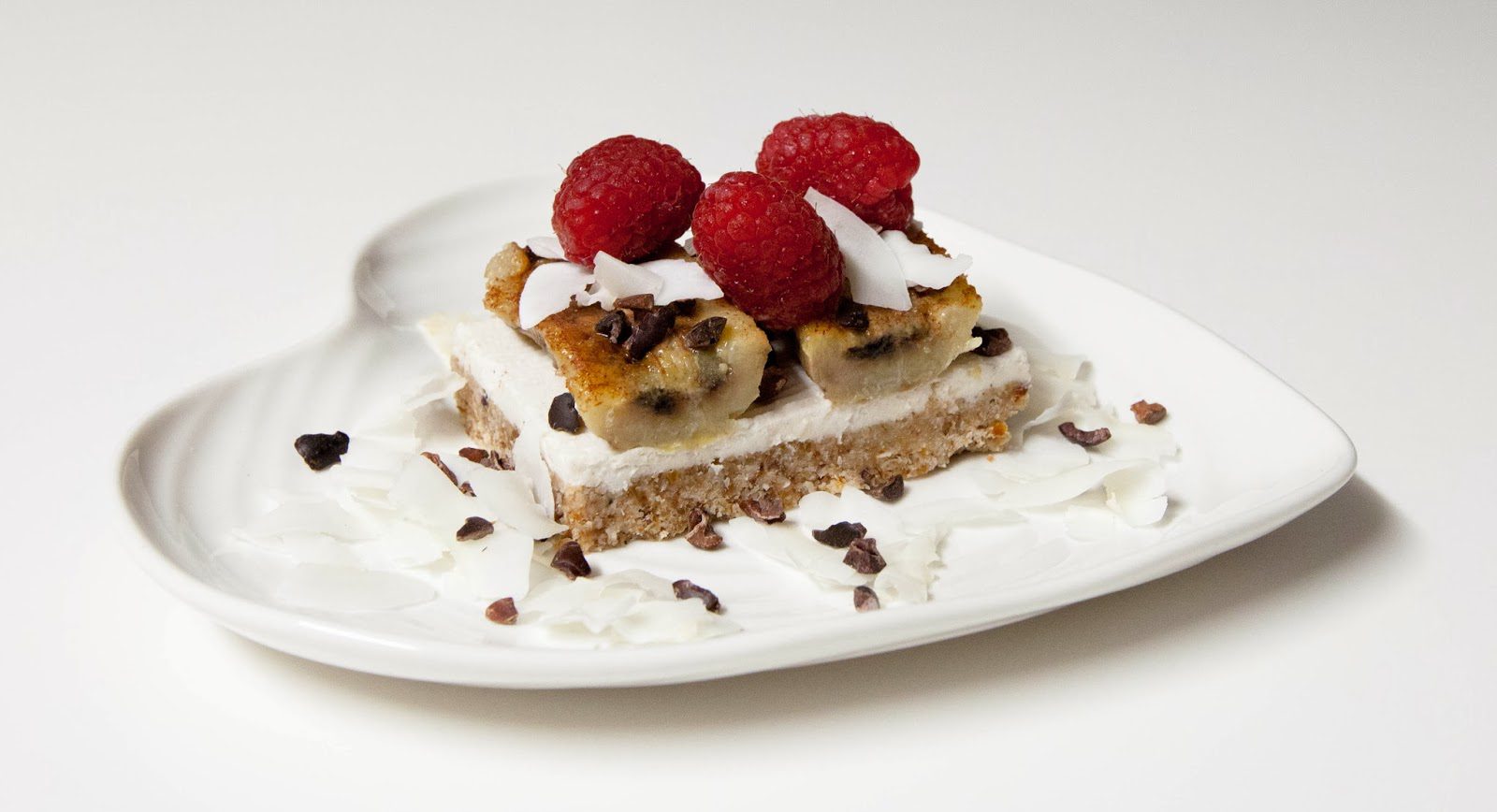 No Bake Banana & Raspberry Slice (Nut Free)
This is a really simple but delicious dessert that can be made in around 30mins. It has a no bake sweet & salty nut free raw base topped with cinnamon coconut cream, grilled bananas, raspberries, cacao nibs & coconut flakes. You can top it with whatever is in season or to your preference, grilled peaches would also be lovely.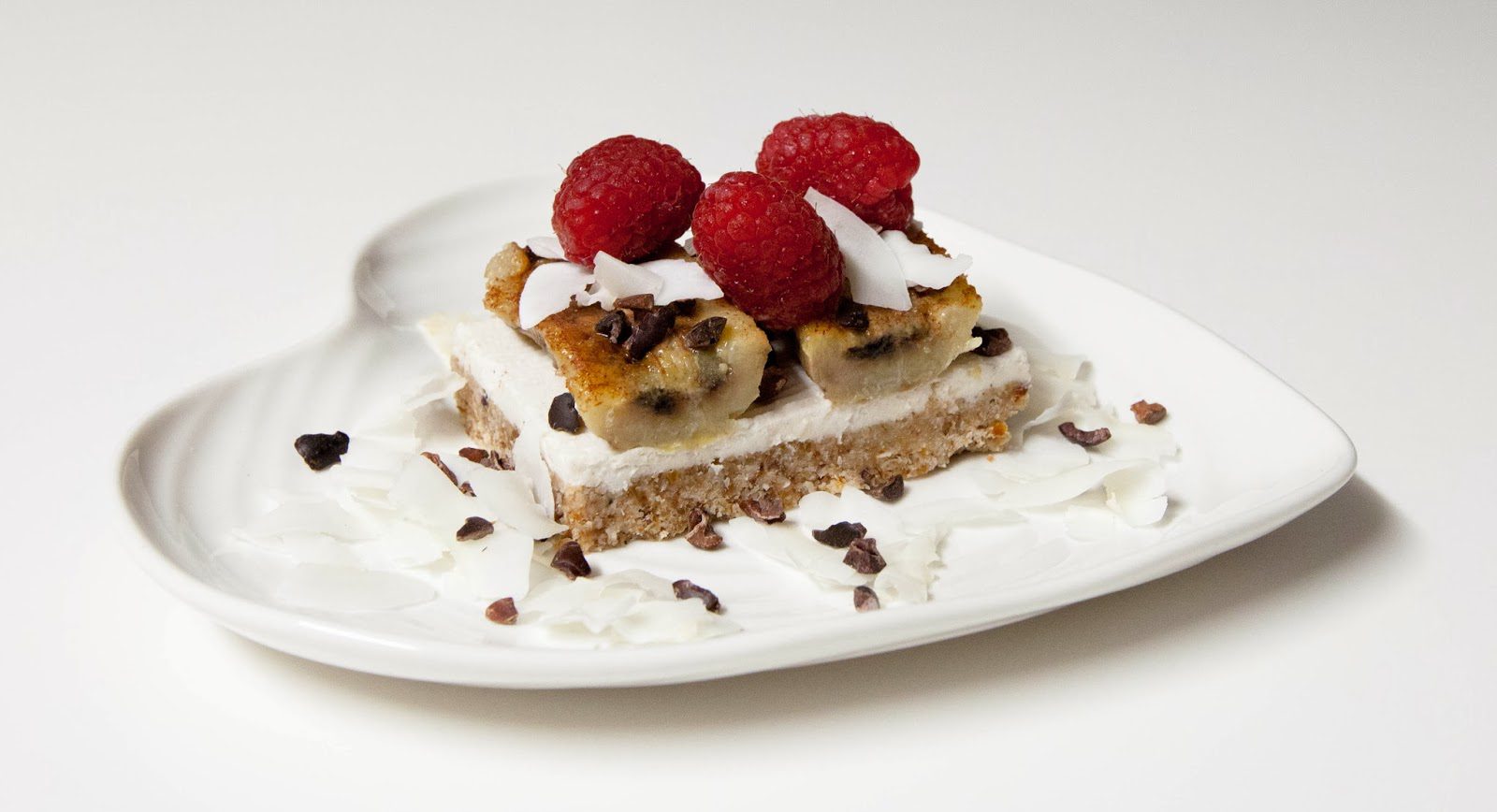 No Bake Banana & Raspberry Slice (Nut Free)
I have used lucuma powder in the base which adds a nice caramel flavour and additional sweetness. It's full of vitamins & minerals and makes for a nutritious sweetener alternative. This is optional and the base will work fine without it, but I do recommend getting some lucuma if you can. Lucuma is a fruit native to Peru and is often used to flavour ice creams and can be baked with but you will lose some of the nutritional content so it's more ideal in smoothies and raw goodies etc.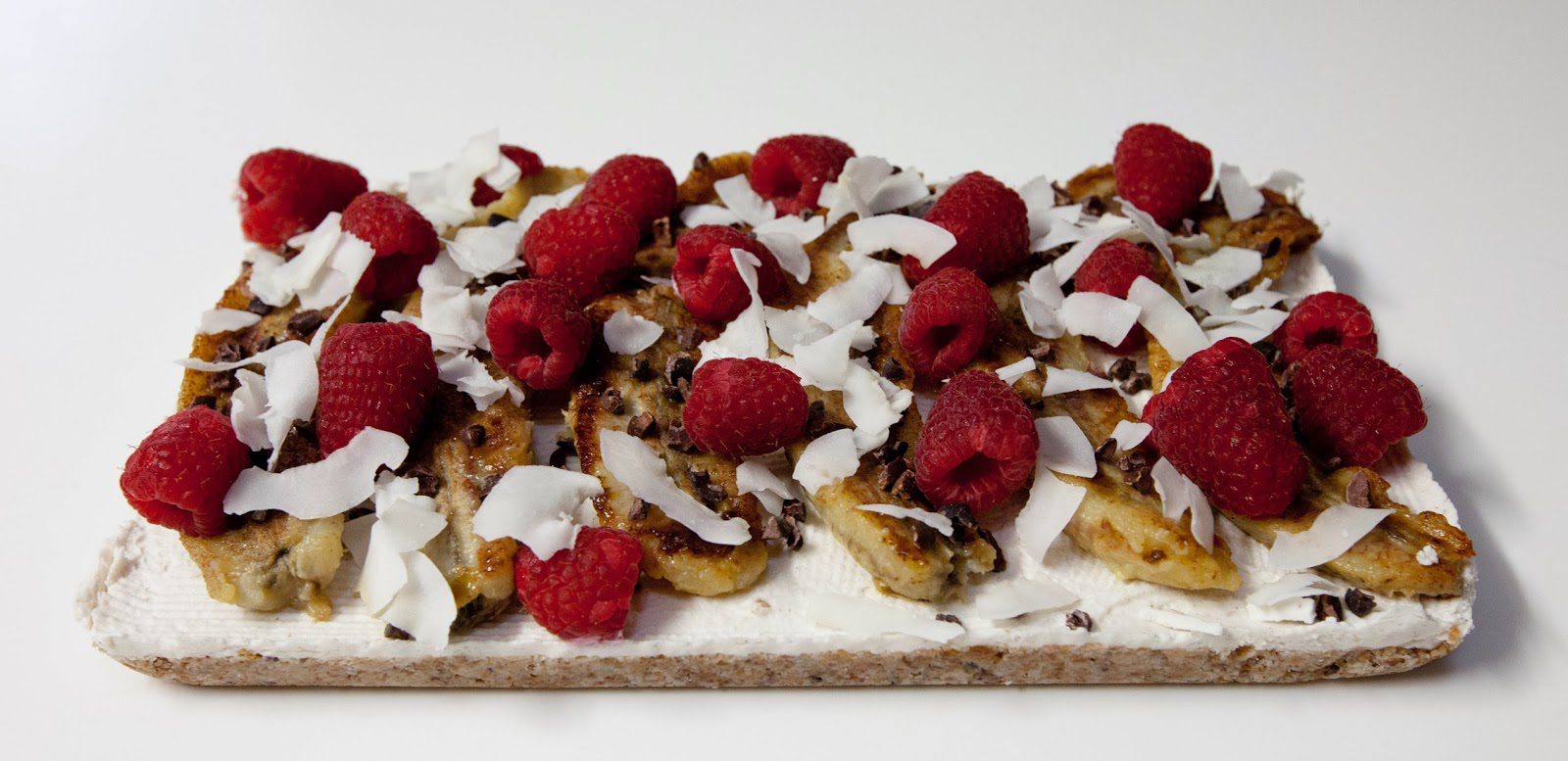 NO BAKE BANANA & RASPBERRY SLICE (NUT FREE)
Prep Time: 30mins
Makes 8 slices approx
Can be made completely Raw (use fresh sliced bananas without grilling) or Vegan (use coconut oil instead of butter or ghee)
You will need:
For the base:
2 cups finely shredded coconut (dedicated, preservative free)
10 medjool dates pitted
1/3 cup lucuma powder
4-8 tbsp coconut oil melted
1 tbsp cacao nibs
1/2 to 1 tsp salt
For the Cinnamon Coconut cream:
1 can coconut cream chilled overnight in the fridge
1 tsp cinnamon ground
1-2 tsp coconut sugar
For the topping:
3 ripe bananas (best with slight black spots)
Cinnamon
1 punnet raspberries
2 tbsp ghee, butter or coconut oil (for Vegan option, omit for completely Raw)
2 tbsp coconut flakes
1 tbsp cacao nibs
Method:
Gently wash raspberries and leave on paper towel to dry
Peel and slice bananas lengthways, sprinkle cinnamon cut side up
Heat non stick pan with fat of choice (I used butter) on medium high and place the bananas cut side down (skip for completely raw)
Brown the bananas (approx 3 mins) then turn over to brown the other side
Place the bananas cut side up on a plate to cool while preparing the cream & base
Place all the base ingredients in a food processor starting only with 4 tbsp coconut oil
Process until all combined, remove a tsp and squeeze the mixture together to see if it holds, it if doesn't, add 1 tbsp coconut oil at a time and retest until the mixture holds together
Line a slice tin with baking paper so the sides overhang, then firmly press the base mixture in
Use the back of a spoon to smooth the base over and place in the fridge to set
Open the chilled can of coconut cream and spoon out the solid cream on the top part of the can into a medium bowl.
Stop when you get to the liquids, you do not want any water/liquids in the cream (use the remainder in cooking or smoothies)
Add the coconut sugar & cinnamon and beat until well combined
Spoon the coconut cream over the base and even it with the back of the spoon
Place the cooled bananas cut side up on the coconut cream layer
Sprinkle the raspberries on top
Return to the fridge to set for around 20mins or until serving
When ready to serve, sprinkle the cacao nibs and coconut flakes on top, then run a knife along the edges and gently lift the slice out by holding onto the baking paper
Store in the fridge for approx 2 days, can be made the day before
Hope you enjoy! leave a comment if you do, Thank you! May xx
No Bake Banana & Raspberry Slice (Nut Free)
Ingredients
For the base:
2 cups finely shredded coconut (dedicated, preservative free)
10 medjool dates pitted
⅓ cup lucuma powder
4-8 tbsp coconut oil melted
1 tbsp cacao nibs
½ to 1 tsp salt
For the Cinnamon Coconut cream:
1 can coconut cream chilled overnight in the fridge
1 tsp cinnamon ground
1-2 tsp coconut sugar
For the topping:
3 ripe bananas (best with slight black spots)
Cinnamon
1 punnet raspberries
2 tbsp ghee, butter or coconut oil (for Vegan option, omit for completely Raw)
2 tbsp coconut flakes
1 tbsp cacao nibs
Instructions
Gently wash raspberries and leave on paper towel to dry
Peel and slice bananas lengthways, sprinkle cinnamon cut side up
Heat non stick pan with fat of choice (I used butter) on medium high and place the bananas cut side down (skip for completely raw)
Brown the bananas (approx 3 mins) then turn over to brown the other side
Place the bananas cut side up on a plate to cool while preparing the cream & base
Place all the base ingredients in a food processor starting only with 4 tbsp coconut oil
Process until all combined, remove a tsp and squeeze the mixture together to see if it holds, it if doesn't, add 1 tbsp coconut oil at a time and retest until the mixture holds together
Line a slice tin with baking paper so the sides overhang, then firmly press the base mixture in
Use the back of a spoon to smooth the base over and place in the fridge to set
Open the chilled can of coconut cream and spoon out the solid cream on the top part of the can into a medium bowl.
Stop when you get to the liquids, you do not want any water/liquids in the cream (use the remainder in cooking or smoothies)
Add the coconut sugar & cinnamon and beat until well combined
Spoon the coconut cream over the base and even it with the back of the spoon
Place the cooled bananas cut side up on the coconut cream layer
Sprinkle the raspberries on top
Return to the fridge to set for around 20mins or until serving
When ready to serve, sprinkle the cacao nibs and coconut flakes on top, then run a knife along the edges and gently lift the slice out by holding onto the baking paper
Store in the fridge for approx 2 days, can be made the day before