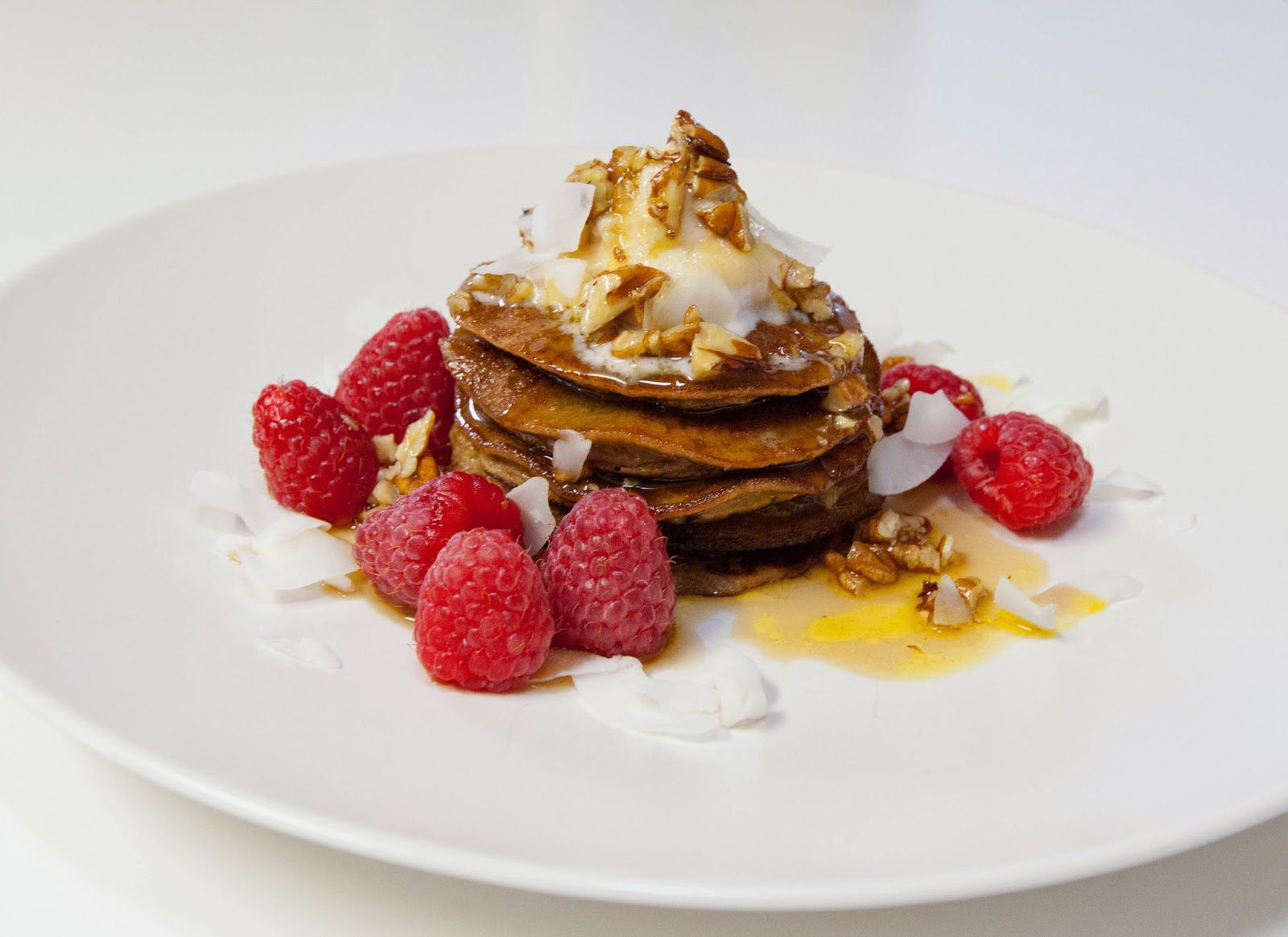 Chocolate Banana Coconut Flour Pancakes (Grain free, Gluten free)
This is a chocolaty twist to the 2 ingredient banana pancakes and were a hit with the kids. I topped it with maple nut butter syrup, cinnamon coconut cream, raspberries & coconut flakes. I have to be honest, it tasted amazing, but I don't normally top the pancakes so generously and I usually leave out the nuts. This is definitely a treat for us, so feel free to leave out the steps for the toppings if you are rushed for time, the pancakes do taste great on their own!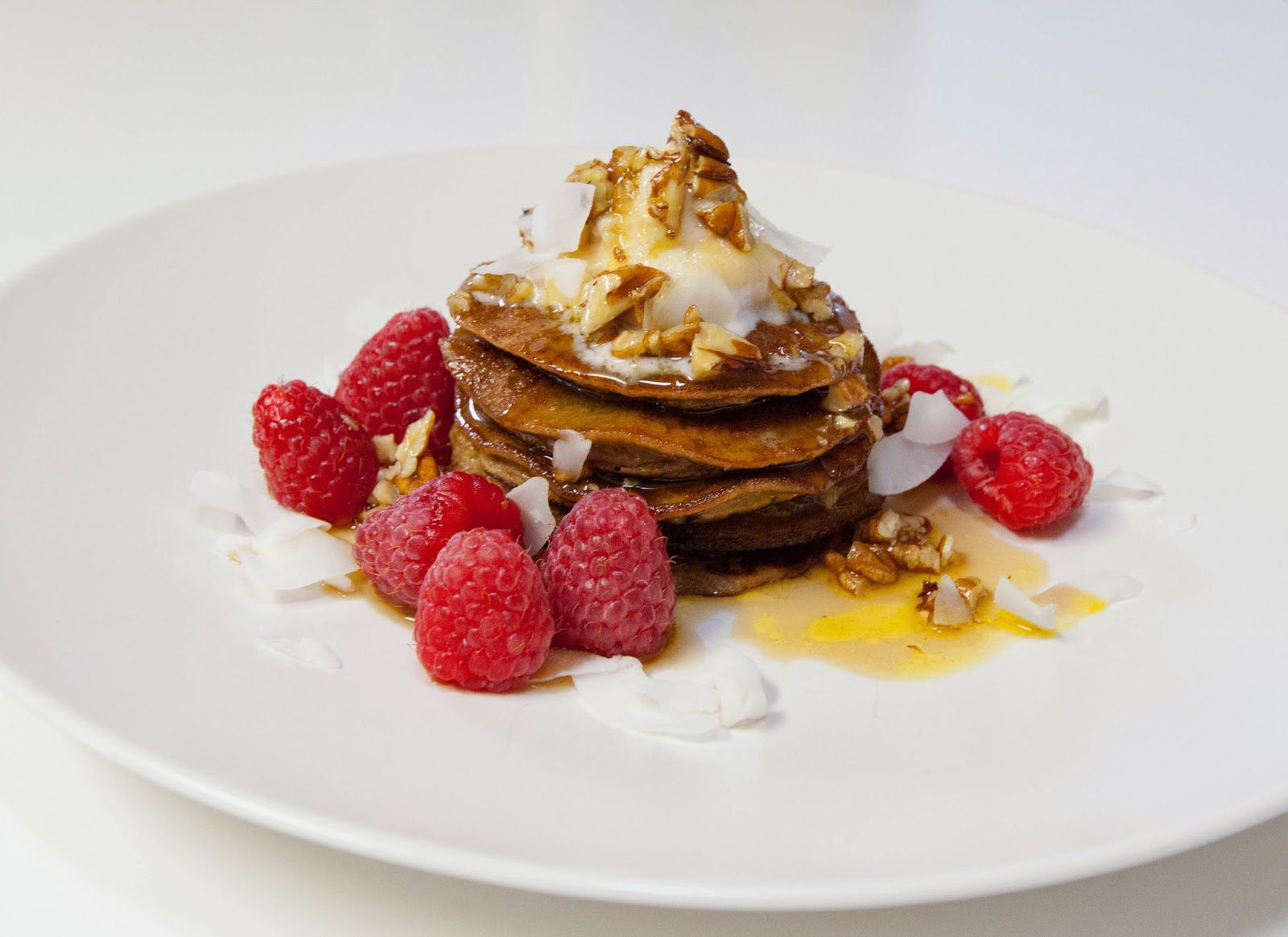 Chocolate Banana Coconut Flour Pancakes (Grain free, Gluten free)
CHOCOLATE BANANA COCONUT FLOUR PANCAKES (GRAIN FREE, GLUTEN FREE)
Prep Time: 15 mins
Cook Time: 20 mins
Serves 4 approx
You will need:
For the pancakes:
2 ripe bananas (preferably with black spots)
4 eggs
1 tbsp coconut flour
2 tsp cacao powder
1 tsp cinnamon
1/4 tsp baking powder
butter for cooking
For the cinnamon coconut cream:
1 can coconut cream chilled overnight in the fridge
1 tsp cinnamon
1-2 tsp coconut sugar (or sweetener of choice)
For the maple nut butter syrup:
1 cup maple syrup
1/2 cup nuts of choice coarsely crushed (I used pecans)
2 tbsp melted butter
Optional toppings:
raspberries
coconut flakes
Method:
Make the cinnamon coconut cream by scooping the cream from the top of the chilled coconut can and place in a medium mixing bowl (do not shake the can prior and stop before you get to the liquids)
Add the sugar and cinnamon and beat until well blended and smooth
Place in the fridge and move onto the maple nut butter syrup
Crush the pecans (or nut of choice)
Melt the butter in a small saucepan, then add the maple syrup and nuts, set aside
Place all the pancake ingredients in a blender until smooth (I used my magic bullet)
Place 1 tbsp butter in a non stick pan on medium heat
Pour batter in pan to make a pancake approx 8cm in diameter (the larger they are, the trickier it is to flip so I find this size to be the easiest)
I usually fit 3 pancakes in the pan at a time
Cook for about 45-60 seconds per side (best to keep the temperature low as they burn easy)
Repeat until all the batter is used up
Plate and stack the pancakes, add a scoop of coconut cream and drizzle the maple nut butter syrup with any additional toppings
Enjoy!
Hope you enjoy this recipe! xx
Chocolate Banana Coconut Flour Pancakes (Grain free, Gluten free)
Ingredients
For the pancakes:
2 ripe bananas (preferably with black spots)
4 eggs
1 tbsp coconut flour
2 tsp cacao powder
1 tsp cinnamon
¼ tsp baking powder
butter for cooking
For the cinnamon coconut cream:
1 can coconut cream chilled overnight in the fridge
1 tsp cinnamon
1-2 tsp coconut sugar (or sweetener of choice)
For the maple nut butter syrup:
1 cup maple syrup
½ cup nuts of choice coarsely crushed (I used pecans)
2 tbsp melted butter
Optional toppings:
raspberries
coconut flakes
Instructions
Make the cinnamon coconut cream by scooping the cream from the top of the chilled coconut can and place in a medium mixing bowl (do not shake the can prior and stop before you get to the liquids)
Add the sugar and cinnamon and beat until well blended and smooth
Place in the fridge and move onto the maple nut butter syrup
Crush the pecans (or nut of choice)
Melt the butter in a small saucepan, then add the maple syrup and nuts, set aside
Place all the pancake ingredients in a blender until smooth (I used my magic bullet)
Place 1 tbsp butter in a non stick pan on medium heat
Pour batter in pan to make a pancake approx 8cm in diameter (the larger they are, the trickier it is to flip so I find this size to be the easiest)
I usually fit 3 pancakes in the pan at a time
Cook for about 45-60 seconds per side (best to keep the temperature low as they burn easy)
Repeat until all the batter is used up
Plate and stack the pancakes, add a scoop of coconut cream and drizzle the maple nut butter syrup with any additional toppings
Enjoy!
Hope you enjoy this recipe! xx