Nut Free Chocolate Banana Bread (Paleo, Grain free & Gluten free)
When I buy bananas I always like to buy a little extra so we end up with some bananas that over ripen, I usually freeze them for smoothies or bake with them. This is my 10 yo's favourite lunch box treat. The recipe is based on Slim Palate's Paleo Banana Bread recipe which is by far the best grain free banana bread recipe I have tried and a favourite of ours. I needed to make a nut free version since my 5 yo is allergic to nuts and also to be able to add it to their school lunch box so this is my kid friendly, school friendly, nut free version.
   Updated pic 🙂 I used raw cacao nibs instead of cacao powder for this one. Yum Yum!
(July 27th, 2015) Update: I just added some new pics using golden flax meal and cacao nibs instead cacao powder. I scored a bargain of 13kg's of organic bananas for $10 and had a lot of bananas to use up. I placed 2 extra whole bananas in the mixture, you can see the delicious bananas in the bread below when you slice it up. I was able to use 6 bananas per loaf 🙂
If you have extra bananas, throw them whole into the batter to get a delicious sweet bite of banana through the bread
Below is a pic of the banana bread using cacao powder and flax meal which results in a darker loaf but equally as delicious and great for a school lunch box treat if there is a no nut policy at your school.
                          Nut free Paleo Chocolate Banana Bread (Grain free, Gluten free)
NUT FREE CHOCOLATE BANANA BREAD (PALEO, GRAIN FREE & GLUTEN FREE)
You will need:
3 over ripe bananas mashed plus 1 over ripe banana sliced lengthways into 2-3 slices to decorate on top
1/2 cup coconut flour
1/2 cup golden flax meal (or flax meal for a darker colour or almond meal for GAPS and if nuts allowed)
4 eggs
1/2 cup melted coconut oil (or butter if tolerated) plus extra to grease the tin
2 tbsp raw cacao powder or raw cacao nibs for a lovely crunchy texture (omit for GAPS)
1/4 cup raw honey or sweetener of choice
1 tsp vanilla extract
1 tsp ground cinnamon
1 tsp baking soda
1/2 tsp salt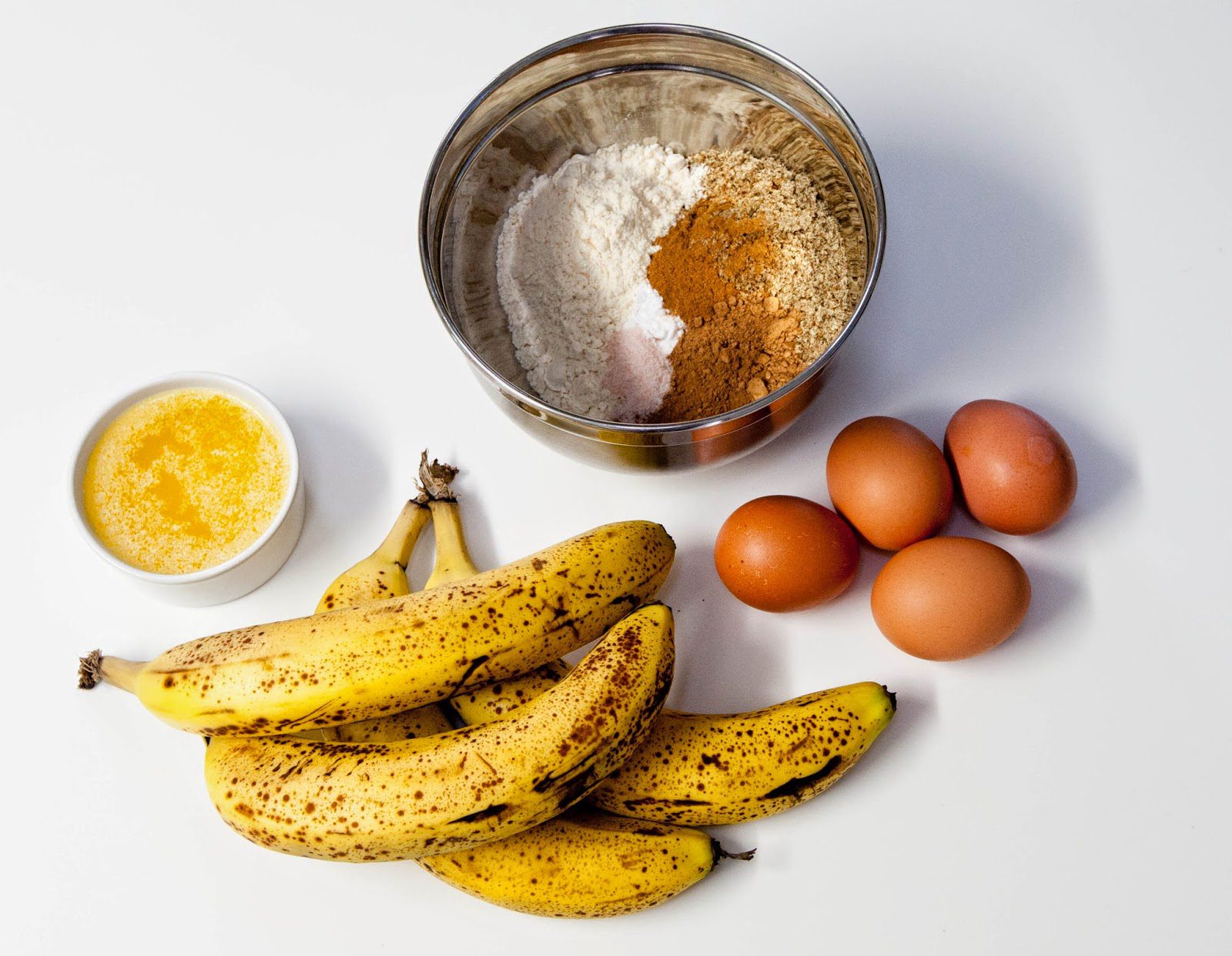 Everything you need to make this Nut Free Chocolate Banana Bread
Method:
Pre-heat the oven to 180 degrees Celsius (350 F)
Grease and line a loaf tin with the baking paper overhanging on the sides to lift the loaf out easily
Mash 3 of the bananas with a fork (I like to leave mine lumpy, otherwise you could blend the wet ingredients for a smoother consistency)
In a large mixing bowl, whisk the eggs gently then add the honey, vanilla extract and bananas. Mix well
Stir in the coconut flour, golden flax meal or almond flour, cacao powder or cacao nibs, baking soda, salt, cinnamon and mix well
Gently combine the melted coconut oil or butter
Pour the batter into the loaf tin
Place the sliced banana cut side up on top
Bake for 50 mins approximately
Allow to cool in tin for 10mins before removing to cool on a rack to cool completely
You can lift the loaf out by the overhanging sides of the baking paper
Store in an airtight container for a few days, my boys enjoy it in their lunch boxes and as an after school treat
                        I really recommend throwing in some whole bananas in the loaf 🙂
Hope you enjoy! xx
Nut Free Chocolate Banana Bread (Paleo, Grain free & Gluten free)
Ingredients
3 over ripe bananas mashed plus 1 over ripe banana sliced lengthways into 2-3 slices to decorate on top
½ cup coconut flour
½ cup golden flax meal (or flax meal for a darker colour or almond meal for GAPS and if nuts allowed)
4 eggs
½ cup melted coconut oil (or butter if tolerated) plus extra to grease the tin
2 tbsp raw cacao powder or raw cacao nibs for a lovely crunchy texture (omit for GAPS)
¼ cup raw honey or sweetener of choice
1 tsp vanilla extract
1 tsp ground cinnamon
1 tsp baking soda
½ tsp salt
Instructions
Pre-heat the oven to 180 degrees Celsius (350 F)
Grease and line a loaf tin with the baking paper overhanging on the sides to lift the loaf out easily
Mash 3 of the bananas with a fork (I like to leave mine lumpy, otherwise you could blend the wet ingredients for a smoother consistency)
In a large mixing bowl, whisk the eggs gently then add the honey, vanilla extract and bananas. Mix well
Stir in the coconut flour, golden flax meal or almond flour, cacao powder or cacao nibs, baking soda, salt, cinnamon and mix well
Gently combine the melted coconut oil or butter
Pour the batter into the loaf tin
Place the sliced banana cut side up on top
Bake for 50 mins approximately
Allow to cool in tin for 10mins before removing to cool on a rack to cool completely
You can lift the loaf out by the overhanging sides of the baking paper
Store in an airtight container for a few days, my boys enjoy it in their lunch boxes and as an after school treat