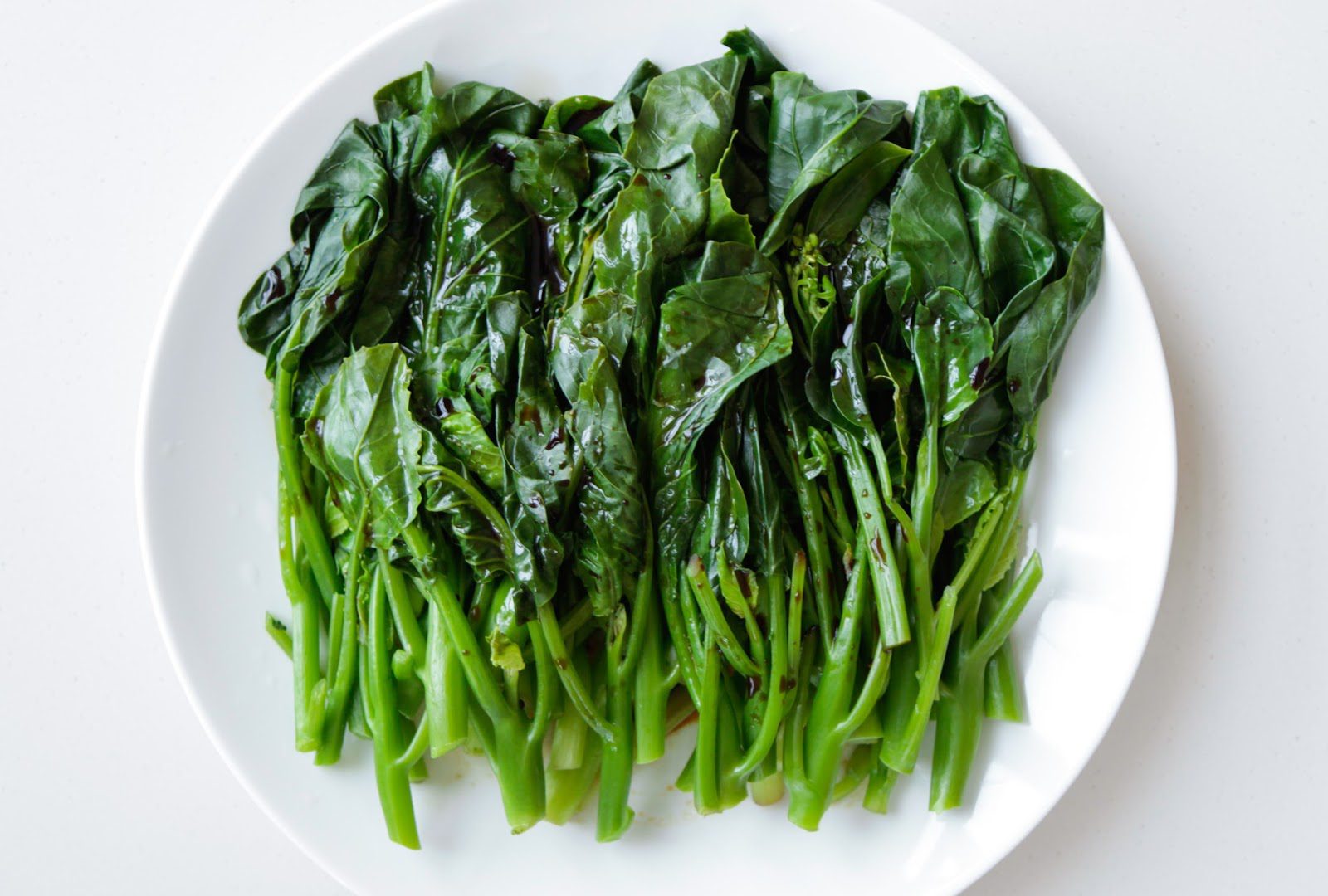 Chinese Broccoli (Gai Lan) with Tamari and Sesame Oil
Chinese broccoli also known as Gai Lan or Kai Lan, is a nutritious Asian green that belongs to the same family as broccoli (brassica oleracea). Broccolini is actually a cross between Chinese broccoli and broccoli which is why it looks like a leafier version of broccolini. It has a similar taste to broccoli and when served with a sauce the leaves really absorb the flavours. My 12 year old and I could easily do a plate each of this Chinese Broccoli with Tamari and Sesame oil! I sometimes just have a plate of this for dinner as it's soo tasty!
Chinese Broccoli (Gai Lan) with Tamari and Sesame Oil
Chinese broccoli is a nutrient dense vegetable, having a large surface area with the leaves I would try and source organic whenever possible. It contains folate, vitamins (A, C & K) and high in fibre. It also is a source of iron and calcium. Dark leafy greens are also very alkalising for the body (most diseases start when our bodies are in an acidic state).
This recipe is quick and simple making it an easy side to any meal. I use a wheat free tamari sauce, you can also use coconut aminos or liquid aminos to give the 'soy' taste.
Chinese Broccoli (Gai Lan) with Tamari and Sesame Oil
Thank you for supporting this site with purchases made through links in this post
Cook Time: 4 mins
Prep Time: 10 mins
You will need:
300gms baby Chinese broccoli (or mature Chinese broccoli would work too), washed
Use discount code
BBH440
for a discount off your first order on iHerb. With worldwide delivery including Vietnam (just keep your order under $100 for import taxes)
Method:
Bring a large pot or fry pan to boil with about 5cm water (2 inches) – you just need something wide enough to fit the Chinese broccoli in
Place the washed Chinise broccoli in the boiling water for 4-5 mins, if using mature Chinese broccoli, trim the ends and cut in half
Drain the Chinese broccoli and plate
Drizzle over the tamari and sesame oil
Sprinkle toasted sesame seeds if using
Serve immediately or at room temperature
Can I ask a favour? if you like this recipe, please leave me a comment, like or share this post, it really helps me out 🙂
Hope you enjoy!
May xx
Love, Create, Explore & Inspire <3
Chinese Broccoli (Gai Lan) with Tamari and Sesame Oil
Ingredients
300gms baby Chinese broccoli (or mature Chinese broccoli would work too), washed
2 tbsp wheat free tamari - buy from iherb or amazon(or coconut aminos buy from iherb or amazon)
1 tbsp sesame oil (buy from iherb or amazon)
optional tbsp toasted sesame seeds (buy from iherb or amazon)
Instructions
Bring a large pot or fry pan to boil with about 5cm water (2 inches) - you just need something wide enough to fit the Chinese broccoli in
Place the washed Chinise broccoli in the boiling water for 4-5 mins, if using mature Chinese broccoli, trim the ends and cut in half
Drain the Chinese broccoli and plate
Drizzle over the tamari and sesame oil
Sprinkle toasted sesame seeds if using
Serve immediately or at room temperature