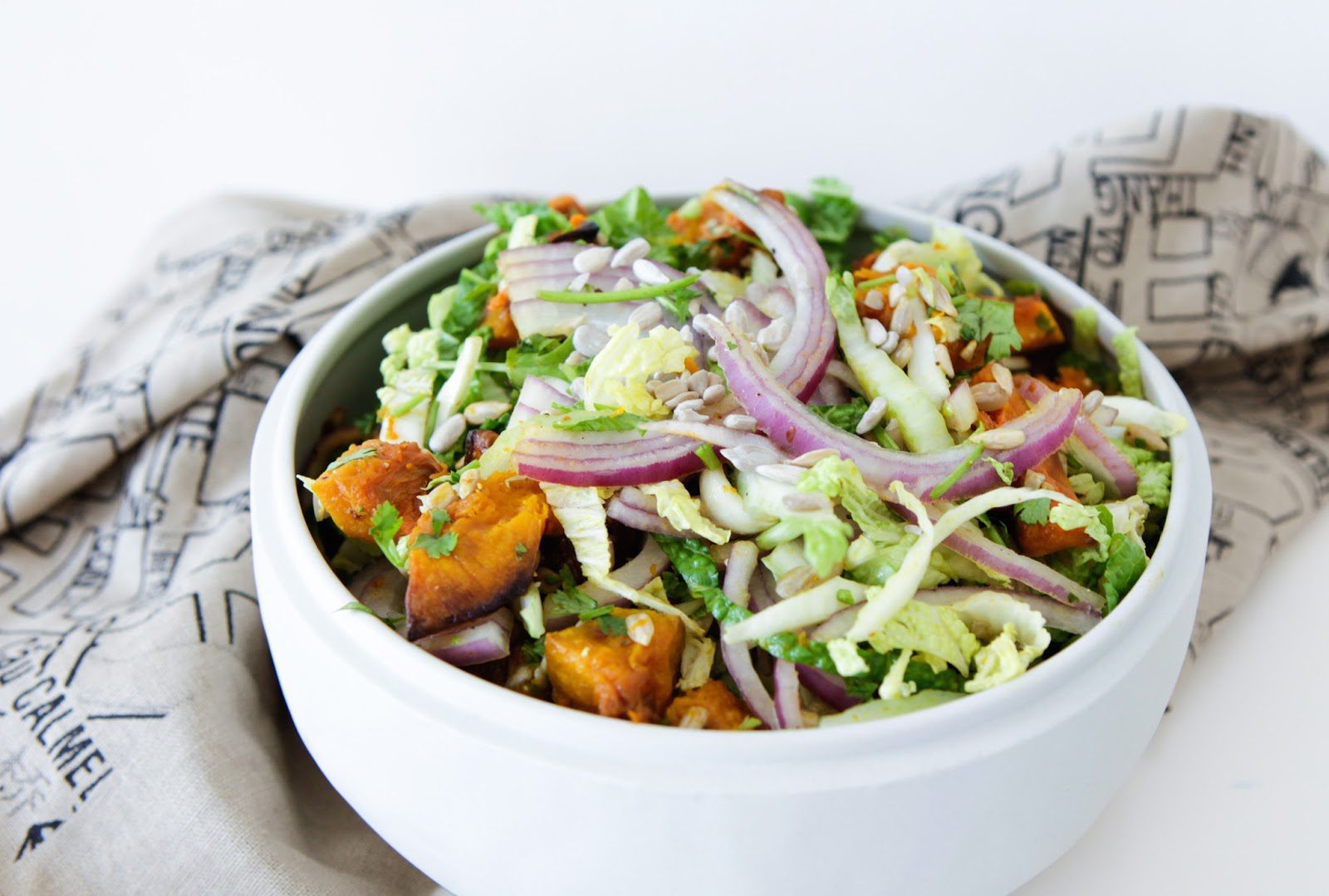 Roast Pumpkin & Chinese Cabbage Salad (Napa, Wombok)
I love salads that keep all day without getting soggy. They're perfect to take on picnics or pack for lunch. This roast pumpkin and Chinese cabbage salad can be made the day before and is easy to make with only five ingredients. The dressing is super tasty with a wheat free tamari, lime and sesame dressing which you can keep aside until ready to eat. Over the weekends I usually make a big batch and portion it out or leave it on the table for everyone to help themselves throughout the day along with a few other veggies. I then only need to heat up some healing bone broth, cook up some protein for the kids and I am set for the day.
Roast Pumpkin & Chinese Cabbage Salad (Napa, Wombok)
I love roast pumpkin with everything (check out my roast pumpkin with quinoa salad here). I usually get a whole pumpkin every week and roast the whole thing up to store in the fridge. It's great for adding a little sweetness to any dish, building a salad with or just nibbling on it's own.
Chinese cabbage is different to your standard cabbage, it is long and oval in shape with soft frilly edges.  It can be cooked or eaten raw and is the cabbage used in kim chi recipes. I find it sweeter and nicer to eat raw as the frilly yellow and green leaves are softer. It's a good source of folate, vitamin C, K and contains many other vitamins and minerals. With the addition of all the other ingredients like pumpkin, spanish onion, coriander and sunflower seeds this salad is jam packed with good stuff.
Roast Pumpkin & Chinese Cabbage Salad (Napa, Wombok)
Thank you for supporting this site with purchases made through links in this post.
Prep Time: 15 mins
Cook time: 30 mins
Serves 4 or more as a side
You will need:
500gm pumpkin (I use Kent or Jap)
200gm Chinese cabbage
1/2 Spanish onion thinly sliced (about 100gms)
1 cup chopped coriander (or spring onions or both!)
Optional toasted sesame seeds to garnish
For the dressing:
1/2 cup extra virgin olive oil
2 tbsp wheat free tamari or coconut amino (buy tamari from iherb or amazon or buy coconut aminos from iherb or amazon)
2 tbsp lime juice
Method:
Pre-heat the oven at 200c (390f)
Peel and dice the pumpkin
Place on a lined baking sheet and roast for 20 mins, then flip and roast for another 10 mins
Set aside and allow to cool while preparing the rest of the salad (you can roast the pumpkin 2-3 days ahead to save time), place in large mixing bowl
Wash and thinly the Chinese Cabbage, add to bowl
Add the sliced Spanish onion, chopped coriander and sunflower seeds
In a small jar, add all the dressing ingredients and shake until mixed well, there will be extra – Don't pour the whole jar over your salad!
Pour about 1/3rd of the dressing over the salad and toss to coat evenly
Taste and add more dressing if needed
The dressing will last in the jar for 3-5 days
You can change up the salad with anything you have on hand, this one had spinach, purple kraut and sesame seeds added
Can I ask a favour? if you like this recipe, please leave me a comment, like or share this post, it really helps me out 🙂
Hope you enjoy!
May xx
Love, create, explore & inspire <3
Roast Pumpkin & Chinese Cabbage Salad (Napa, Wombok)
Ingredients
500gm pumpkin (I use Kent or Jap)
200gm Chinese cabbage
½ Spanish onion thinly sliced (about 100gms)
1 cup chopped coriander (or spring onions or both!)
¼ cup sunflower seeds (buy on iherb or amazon)
Optional toasted sesame seeds to garnish
For the dressing:
½ cup extra virgin olive oil
2 tbsp wheat free tamari or coconut amino (buy tamari from iherb or amazon or buy coconut aminos from iherb or amazon)
1 tbsp sesame oil (buy from iherb or amazon)
2 tbsp lime juice
½ tsp salt (buy on iherb or amazon)
½ tsp pepper (buy from iherb or amazon)
Instructions
Method:
Pre-heat the oven at 200c (390f)
Peel and dice the pumpkin
Place on a lined baking sheet and roast for 20 mins, then flip and roast for another 10 mins
Set aside and allow to cool while preparing the rest of the salad (you can roast the pumpkin 2-3 days ahead to save time), place in large mixing bowl
Wash and thinly the Chinese Cabbage, add to bowl
Add the sliced Spanish onion, chopped coriander and sunflower seeds
In a small jar, add all the dressing ingredients and shake until mixed well, there will be extra - Don't pour the whole jar over your salad!
Pour about ⅓rd of the dressing over the salad and toss to coat evenly
Taste and add more dressing if needed
The dressing will last in the jar for 3-5 days