Chocolate Cake (Grain Free, Paleo, Nut Free, Dairy Free)
It's my first recipe post on Enlightened Foodie (previously Loveurbelly) and after almost a 1.5 year break from posting, I'm going to celebrate by sharing my children's favourite grain free chocolate cake recipe that is paleo friendly with a nut free option. It's also dairy free and refined sugar free using wholesome simple ingredients for a deliciously moist chocolatey cake.
This grain free chocolate cake is my go to cake for each of my children's birthday parties and a hit with all their friends who have no idea how much healthier this chocolate cake is! I also love that you can throw everything into the blender and bake, it's that simple. So if you follow my pantry essentials list (see
here
) you should already have all the ingredients to make this cake!
You can make this cake ahead of time and store in the fridge for 1 week or in the freezer for 1 month with or without the icing.
If you're child has a nut allergy, you can make this cake into little muffin sized cakes and freeze, ready and prepared to bring along for any class parties or birthday parties so they don't feel like they're missing out!
Chocolate Cake (Grain Free, Paleo, Nut Free, Dairy Free)
Makes a 15cm round cake pan or 1 loaf pan (double recipe for 20cm or larger round cake pan)
You will need:
4 eggs
1/2 cup coconut flour
1/2 cup golden flax meal (or almond flour if nuts allowed)
1/2 cup coconut oil
1/2 cup honey (or maple syrup / natvia / preferred sweetener)
2 tbsp raw cacao powder
1 tsp baking soda
1 tsp vanilla extract
1 tbsp cacao nibs to decorate or topping of choice
For the icing :
1/4 cup coconut oil (melted if solidified)
1/3 raw cacao powder
1/2 cup maple syrup (at room temperature)
Method:
Pre-heat oven at 160˚C (320˚F)
Grease and line a 15cm round cake pan or 1 loaf pan with baking paper
Place all ingredients (except icing ingredients) in a blender or food processor until smooth
Pour into cake pan
Bake on middle rack  for 45 minutes, check doneness by inserting a bamboo skewer through the middle. The skewer should come out clean, if still wet, bake another 5 minutes or until done
Allow to cool for 10 minutes, then remove from pan and place on a wire rack to completely cool
While waiting for the cake to cool, make the icing by placing all the ingredients in a bowl and mixing well until smooth. If the weather is cool and your coconut oil solidifies, gently heat it over low heat in a pan
Set aside until cake has cooled completely, slice cake in half horizontally
Place the icing bowl in the fridge for around 10 minutes to slightly thicken up if it is too runny
Spoon enough raw chocolate icing to cover the bottom layer of cake
Place the top half of the cake on the icing and pour the enough icing over the cake and allow the icing to run over the edges
You will have some left over icing which serves as a great dip for bananas and strawberries!
Place the cake in the fridge to set at least 1 hour before serving
Store in the fridge for 1 week or 1 month in the freezer
May xx
Love, create, explore & inspire <3
(If you enjoyed this recipe, please leave me a comment! would love to hear from you and it really helps me out 🙂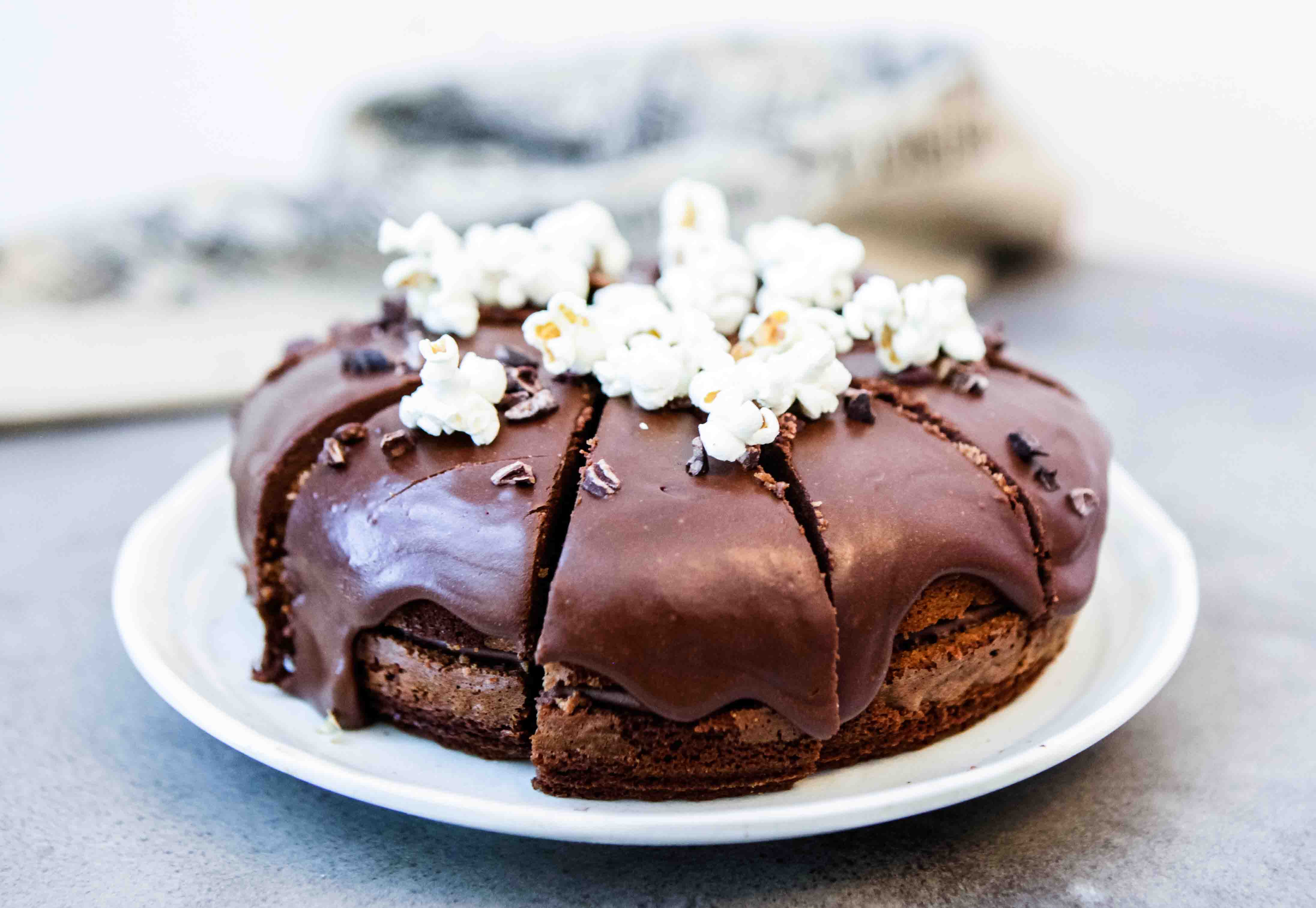 Grain Free Chocolate Cake (Paleo, Dairy Free, Nut Free)
Ingredients
You will need:
4 eggs
½ cup coconut flour
½ cup golden flax meal (or almond flour if nuts allowed)
½ cup coconut oil
2 tbsp raw cacao powder
1 tsp baking soda
1 tsp vanilla extract
1 tbsp cacao nibs to decorate or topping of choice
For the icing :
¼ cup coconut oil (melted if solidified)
⅓ raw cacao powder
½ cup maple syrup (at room temperature)
Instructions
Pre-heat oven at 160˚C (320˚F)
Grease and line a 15cm round cake pan or 1 loaf pan with baking paper
Place all ingredients (except icing ingredients) in a blender or food processor until smooth
Pour into cake pan
Bake on middle rack  for 45 minutes, check doneness by inserting a bamboo skewer through the middle. The skewer should come out clean, if still wet, bake another 5 minutes or until done
Allow to cool for 10 minutes, then remove from pan and place on a wire rack to completely cool
While waiting for the cake to cool, make the icing by placing all the ingredients in a bowl and mixing well until smooth. If the weather is cool and your coconut oil solidifies, gently heat it over low heat in a pan
Set aside until cake has cooled completely, slice cake in half horizontally
Place the icing bowl in the fridge for around 10 minutes to slightly thicken up if it is too runny
Spoon enough raw chocolate icing to cover the bottom layer of cake
Place the top half of the cake on the icing and pour the enough icing over the cake and allow the icing to run over the edges
You will have some left over icing which serves as a great dip for bananas and strawberries!
Place the cake in the fridge to set at least 1 hour before serving
Store in the fridge for 1 week or 1 month in the freezer