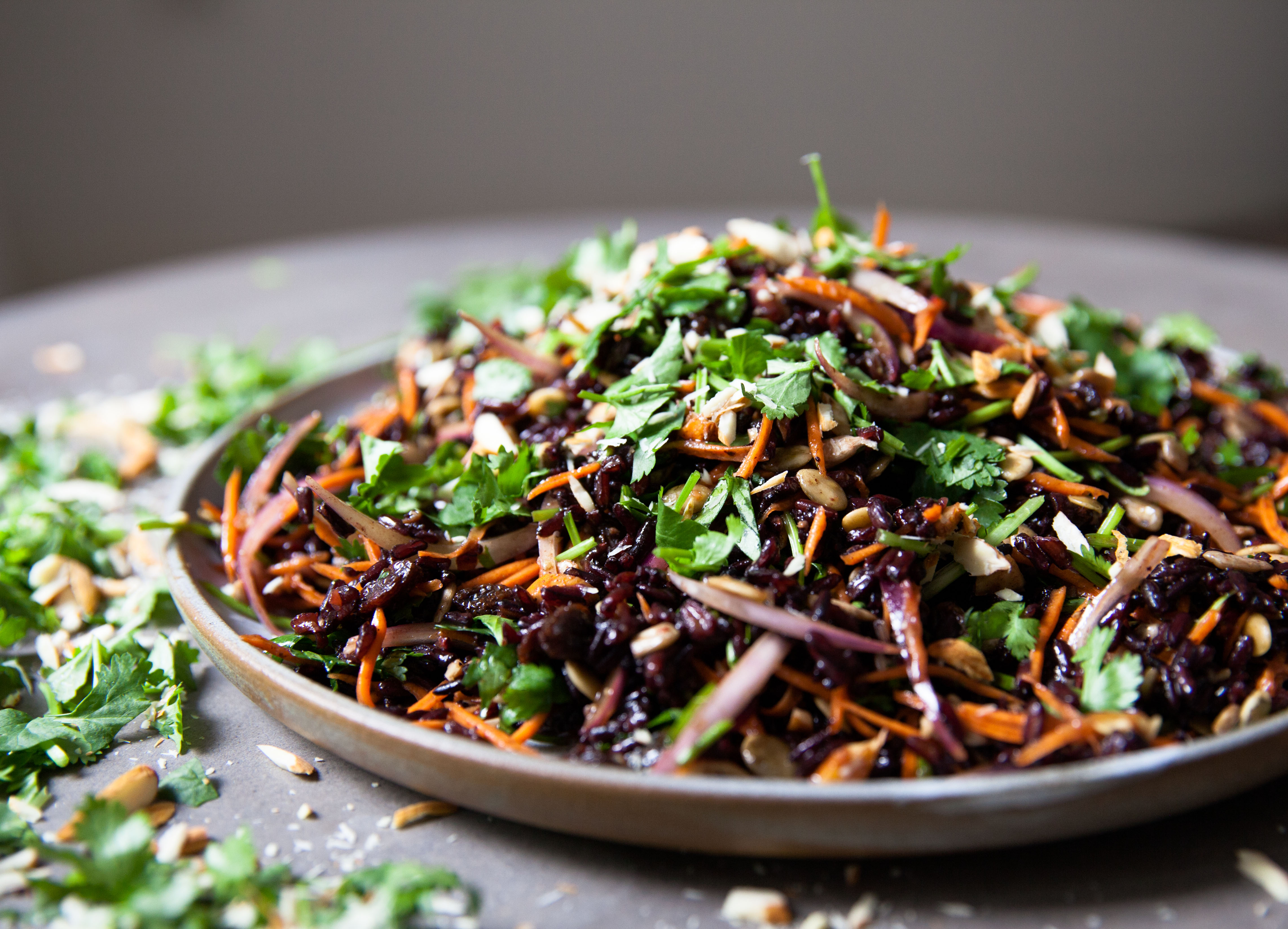 Wild Black Rice Salad
One of my favourite entertaining recipes at the moment is this Wild Black Rice Salad as you can make it the day before and leftovers store in the fridge for a few days. It's a winner every time I serve it and it pays to double the quantity to make sure there are leftovers for lunch the next few days.
It's also been really exciting to incorporate a little rice back in occasionally, I especially love the balance of sweet raisins, crunchy almonds, sunflower seeds and a tangy tamari dressing with fresh fragrant coriander. Salad's can be so morish!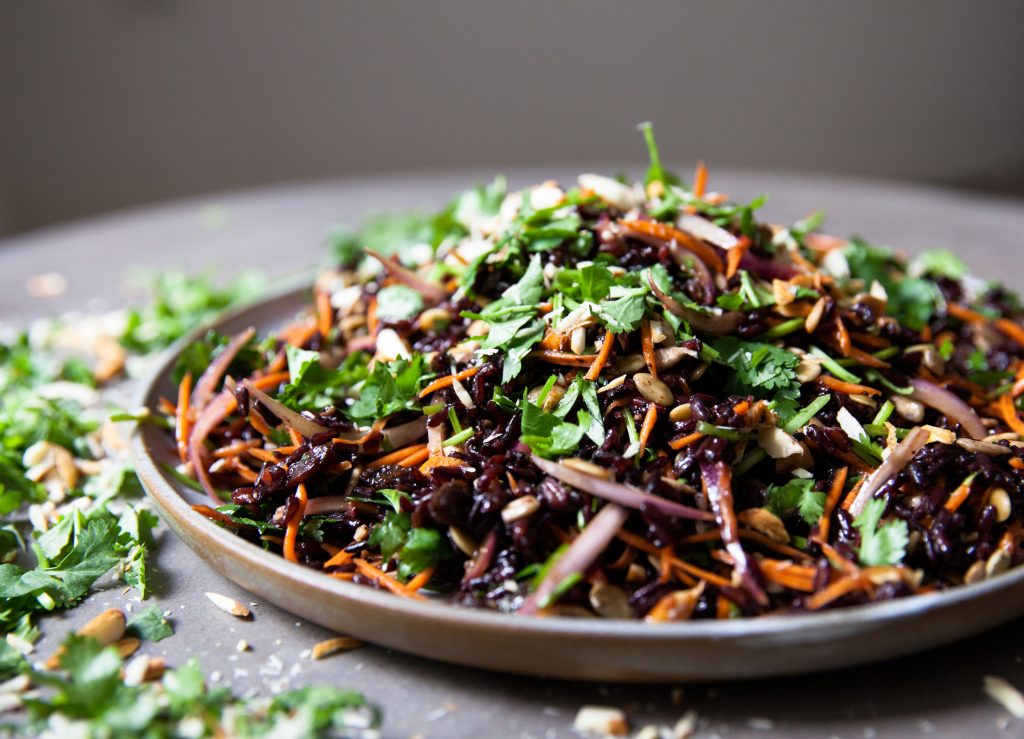 Wild Black Rice Salad
Serves 4
You will need:
1 cup wild black rice
1 large carrot (or 2 medium) grated or julienned with a mandolin
1 small spinach onion thinly sliced
1 cup chopped coriander
1/2 cup chopped spring onion
1/2 cup raisins
1/4 cup sunflower seeds (or preferred seeds)
1/4 cup chopped almonds (or preferred seeds for nut free version)
For the dressing:
1/4 cup olive oil
2 tbsp lime juice
2 tbsp tamari
1/2 tsp sea salt
1/2 tsp black pepper
Method:
Cook rice as per instructions on packet and allow to cool
While rice is cooling, julienne carrots using a mandolin or zoodle grater (a standard grater will work but won't give the nice crunchy texture) and  place in large mixing bowl
Thinly slice Spanish onion and add to bowl
Reserve 1 tbsp of seeds and almonds then add the rest to bowl
Add cooled rice to bowl
Mix dressing ingredients and add to bowl, mixing well
Reserve 2 tbsp of fresh coriander and spring onion then add the rest to the bowl and gently mix through
Plate rice salad and garnish with reserved herbs, almonds and seeds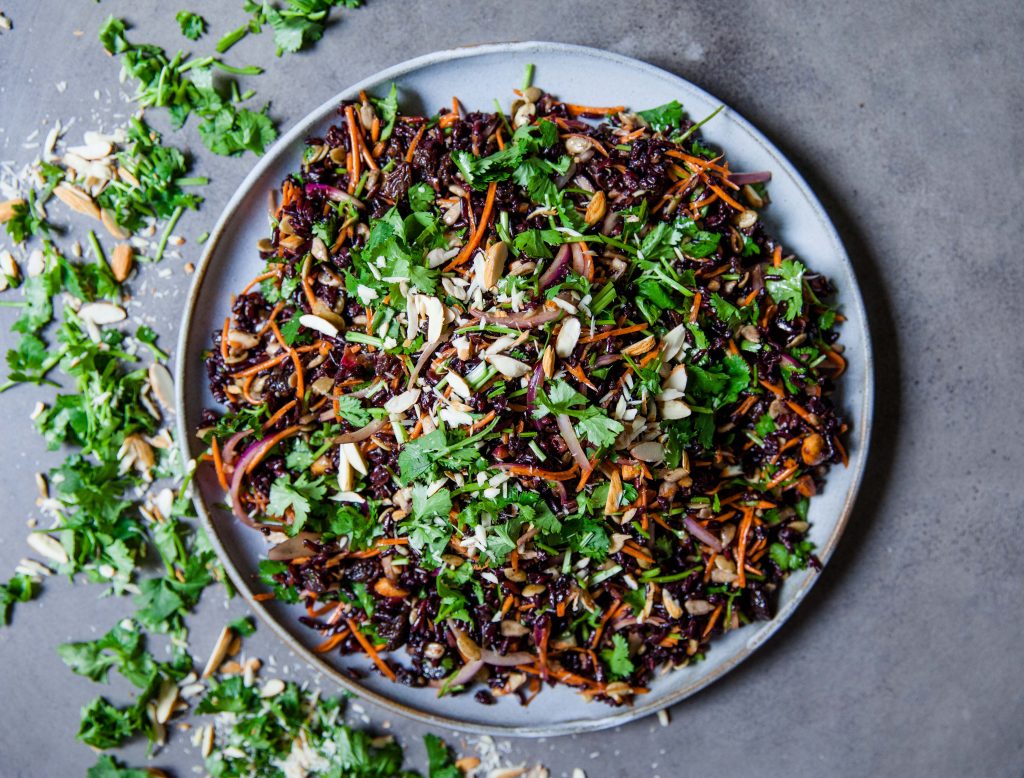 If you like this recipe, leave me a comment, would love to hear from you and it really helps me out 🙂
Hope you enjoy!
May xx
Love, create, explore & inspire <3
Wild Black Rice Salad
Wild Black Rice Salad
Ingredients
You will need:
1 cup wild black rice
1 large carrot (or 2 medium) grated or julienned with a mandolin
1 small spinach onion thinly sliced
1 cup chopped coriander
½ cup chopped spring onion
½ cup raisins
¼ cup sunflower seeds (or preferred seeds)
¼ cup chopped almonds (or preferred seeds for nut free version)
For the dressing:
¼ cup olive oil
2 tbsp lime juice
2 tbsp tamari
½ tsp sea salt
½ tsp black pepper
Instructions
Method:
Cook rice as per instructions on packet and allow to cool
While rice is cooling, julienne carrots using a mandolin or zoodle grater (a standard grater will work but won't give the nice crunchy texture) and  place in large mixing bowl
Thinly slice Spanish onion and add to bowl
Reserve 1 tbsp of seeds and almonds then add the rest to bowl
Add cooled rice to bowl
Mix dressing ingredients and add to bowl, mixing well
Reserve 2 tbsp of fresh coriander and spring onion then add the rest to the bowl and gently mix through
Plate rice salad and garnish with reserved herbs, almonds and seeds