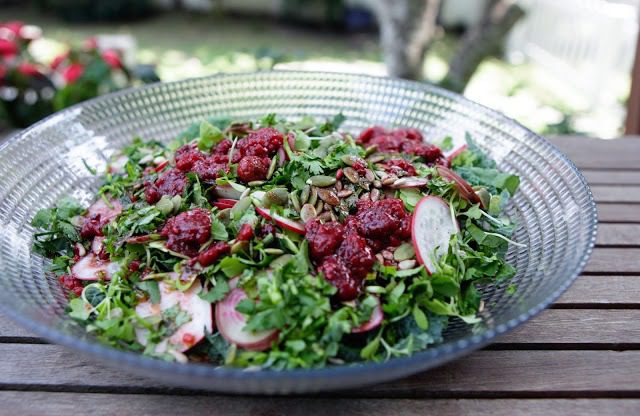 Kale Salad with Raspberry Vinaigrette
I really missed kale when I moved to Vietnam, it took a really long time for me to find and was so happy when my local organic store started stocking it. Kale is power packed with lots of beneficial nutrients like iron, vitamin a & c, calcium. It is anti-inflammatory, full of anti-oxidants and high in naturally occurring folate. In addition to all these benefits, what I love most about kale is that it doesn't really go soggy, so it makes for a great salad to pack for work or a picnic. My kids love this kale salad with raspberry vinaigrette, the sweetness of the raspberries make it really appealing for little taste buds!
Kale Salad with Raspberry Vinaigrette
KALE SALAD WITH RASPBERRY VINAIGRETTE
Serves 4
Prep Time: 15 mins
Kale Salad with Raspberry Vinaigrette
You will need:
1 small bunch of kale (or half a large bunch), washed
3/4 cup micro greens or sprouts
4 radish thinly sliced
1/2 cup chopped parsley
1/2 cup chopped coriander
For the dressing:
1/2 frozen organic raspberries
6 tbsp extra virgin olive oil
2 tbsp balsamic vinegar
Place all ingredients in a jar and shake well, allow the raspberries to thaw
Method:
remove the washed kale from the stems (you can ferment the stems or add them to a stew or slow / pressure cooker recipe)
thinly slice the kale and add to bowl
add the micro greens or sprouts
add the radish
add the chopped parsley and coriander
add the seeds
once the raspberries have thawed, pour dressing over the salad
gently toss and serve
if packing for a picnic or lunch later in the day, keep the dressing in the jar until needed
Hope you enjoy this recipe. I haven't been blogging much lately as I have been spending my time at the local orphanage. Fruit is a treat and not part of their daily diet, I'm trying to help the kids get their 2 pieces of fruit a few times a week so I've been working with a local fruit lady to deliver fruit each week.
My husband said its like double happiness, the children get a treat and we get to support a local person. Some of these people survive on $5 
a day that's about $150 a month. The lady I buy the fruit from cannot read, write or calculate maths, she relies on total honesty. 
This is Double Happiness… If you include how I feel it's triple happiness then x that by all the wonderful volunteers!
Take a look at the things we get up to on my new Facebook page 
Double Happiness
.
Dieu Giac Orphanage – Fruit & Fun Night
Love, create, explore and inspire.. May xx
Kale Salad with Raspberry Vinaigrette
Ingredients
1 small bunch of kale (or half a large bunch), washed
¾ cup micro greens or sprouts
4 radish thinly sliced
½ cup chopped parsley
½ cup chopped coriander
1 tbsp sunflower seeds (buy on iherb or amazon)
1 tbsp pumpkin seeds (buy on iherb or amazon)
For the dressing:
½ frozen organic raspberries
6 tbsp extra virgin olive oil
2 tbsp balsamic vinegar
¼ tsp sea salt (buy on iherb or amazon)
freshly cracked pepper to taste (buy on iherb or amazon)
Place all ingredients in a jar and shake well, allow the raspberries to thaw
Instructions
remove the washed kale from the stems (you can ferment the stems or add them to a stew or slow / pressure cooker recipe)
thinly slice the kale and add to bowl
add the micro greens or sprouts
add the radish
add the chopped parsley and coriander
add the seeds
once the raspberries have thawed, pour dressing over the salad
gently toss and serve
if packing for a picnic or lunch later in the day, keep the dressing in the jar until needed