Oodles of Zoodles & other Veggie 'noodles' with Lemon Tahini Dressing & Creamy Nut Free Pesto
Zoodles or zuchini noodles are a favourite in our house. I usually get a 10kg box of organic zuchini and we manage to go through it in just over 2 weeks with the majority of it's uses as zoodles. Its a great dish to bring along as a guest, it usually generates a lot of curiosity to these strange noodles are and people are surprised to learn it's just zuchini. So far they have been a hit with our non Paleo family & friends.
Last night for dinner, we had zoodles with with carrot, beetroot & radish, cherry tomatoes & basil in a lemon tahini sauce. I held out from buying a spiraliser for a long time, and was quite happy with my mandolin, you can even just use a knife to evenly and finely slice the zuchini. In the end I decided the price it would cost for a spiraliser was well worth it if we were going to be eating this regularly, the cute little spirals of veggies also won me over.
   Oodles of Zoodles & other Veggie Noodles
It's also a lot of fun to let the kids get involved and spiralise the veggies. There is also very little chance of getting bored with this dish as there are so many ways to dress it and also mix it up with different root veggies. A rainbow of veggies including beetroot, carrot & radish looks amazing. You can add a sprinkling of seeds too.
  Add a sprinkling of seeds for a nice variation
You can use any type of sauce that you would normally have with regular pasta, like a creamy pesto sauce, bolognese, a paleo friendly mayo with some tuna or eggs, a simple lemon & herb or tomato, olive & basil sauce. It really is endless. Best of all you can eat it all raw without any cooking.
Although if you do prefer it warmed up, you can lightly steam or pan fry the 'noodles'. I like it warmed up with the pesto, it's amazing with some left over chicken tossed through. It can be served as the main meal or a side. The variations are really endless!
For the large bowl of zoodles & veggies noodles I have pictured (this serves 4-6 adults):
Spiralise or use a mandolin for the below 4 veggies:
2 small to medium zuchini
2 large radish
1 large beetroot
2 small to medium carrots
a handful of cherry tomatoes halved
a handful of basil
Some variations on some sauces I use at home:
Tahini & Lemon dressing:
3 tbsp tahini
juice of 1 lemon
1 tsp salt
water
Method:
Mix tahini, lemon juice & salt
Add enough water to make a 'sauce' consistency
Taste and adjust as required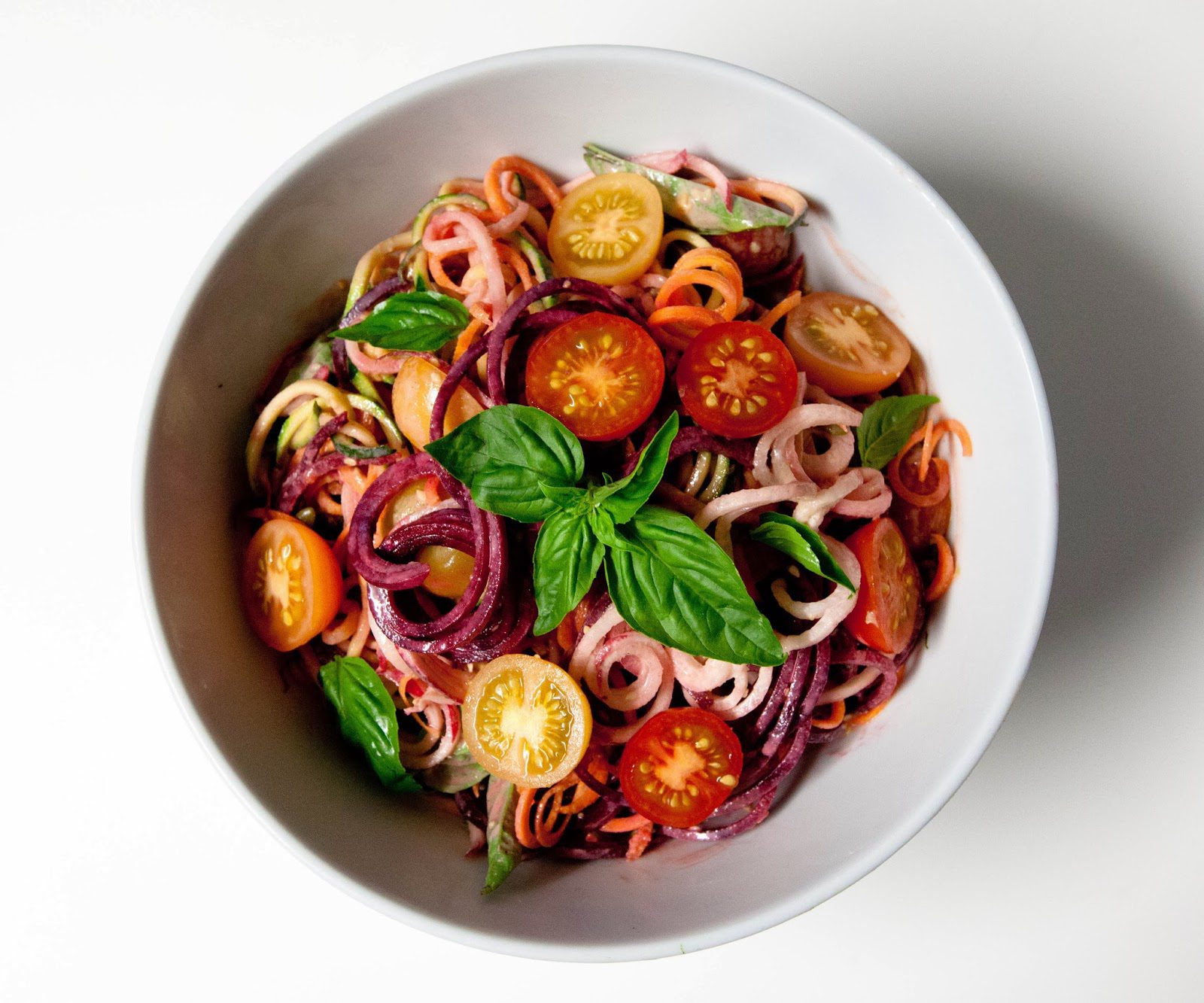 Dressed with Lemon & Tahini
Creamy Nut Free Pesto:
1 bunch of basil, washed, dried & leaves picked
1/2 cup extra virgin olive oil
4 tbsp pumpkin seeds
2 cloves of garlic
50gm parmesan cheese grated or cut into small chunks (if using a blender/food processor)
Hot water (optional)
Dressed with Creamy Nut Free Pesto & Served Warm
Method:
Place all ingredients except water in a food processor, blender or magic bullet
Blend until smooth
Store in a closed jar with a little olive oil to cover the top
When ready to use, mix with some hot water to help the sauce combine with the raw veggie noodles or if using with cooked veggie noodles, you won't need the water
Add some left over protein like chicken or some eggs
Creamy Paleo Friendly Mayo:
1 cup EVOO (Extra Virgin Olive Oil) or Avocado Oil
2 egg yolks
1 tsp dijon mustard
1 tbsp lemon juice
1 tbsp ACV (Apple Cider Vinegar, I use Bragg's Organic Raw ACV)
Good pinch of sea salt
Method:
Measure out the oil and set aside
In a large bowl, add all the ingredients except the oil
Using a ballon whisk, combine all the ingredients
Very slowly, gradually drip the oil in whilst continuously whisking
Keep going until a creamy consistency is made
Taste and adjust seasoning to your preference (if too tart, add more oil, if too bland, add more salt and ACV etc)
Add some flaked tuna, eggs & avocado for a nice variation
Oodles of Zoodles & other Veggie 'noodles' with Lemon Tahini Dressing & Creamy Nut Free Pesto
Ingredients
1. Spiralise or use a mandolin for the below 4 veggies:
2 small to medium zuchini
2 large radish
1 large beetroot
2 small to medium carrots
a handful of cherry tomatoes halved
a handful of basil
Some variations on some sauces I use at home:
Tahini & Lemon dressing:
3 tbsp tahini
juice of 1 lemon
1 tsp salt
water
2. Creamy Nut Free Pesto:
1 bunch of basil, washed, dried & leaves picked
½ cup extra virgin olive oil
4 tbsp pumpkin seeds
2 cloves of garlic
50gm parmesan cheese grated or cut into small chunks (if using a blender/food processor)
Hot water (optional)
3. Creamy Paleo Friendly Mayo:
1 cup EVOO (Extra Virgin Olive Oil) or Avocado Oil
2 egg yolks
1 tsp dijon mustard
1 tbsp lemon juice
1 tbsp ACV (Apple Cider Vinegar, I use Bragg's Organic Raw ACV)
Good pinch of sea salt
Instructions
Mix tahini, lemon juice & salt
Add enough water to make a 'sauce' consistency
Taste and adjust as required
Place all ingredients except water in a food processor, blender or magic bullet
Blend until smooth
Store in a closed jar with a little olive oil to cover the top
When ready to use, mix with some hot water to help the sauce combine with the raw veggie noodles or if using with cooked veggie noodles, you won't need the water
Add some left over protein like chicken or some eggs
Measure out the oil and set aside
In a large bowl, add all the ingredients except the oil
Using a ballon whisk, combine all the ingredients
Very slowly, gradually drip the oil in whilst continuously whisking
Keep going until a creamy consistency is made
Taste and adjust seasoning to your preference (if too tart, add more oil, if too bland, add more salt and ACV etc)