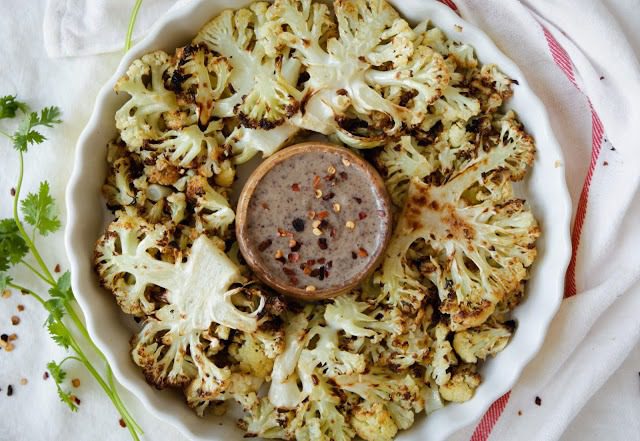 Roasted Cauliflower with Spicy Tahini Dip
This is a catchup recipe from my Instagram account I posted a little while ago. Cauliflower is such a versatile and yummy veg, a bit like potatoes you can roast them, mash them & boil them but without the carbs and starch of potatoes. My 2 yr old loves them roasted in ghee and a little salt (no luck with the older 2, but that's ok, can't win them all!). We sometimes have this spicy tahini dip to go with them (it would go well with any roasted veggies you have on had 🙂
ROASTED CAULIFLOWER WITH SPICY TAHINI DIP
Prep Time: 2 mins
Cook Time: 16 mins
You will need:
For the dip:
1-2 tbsp lime juice
1 tbsp sumac (buy on amazon)
Optional 2 tbsp natural yoghurt (helps keeps the dip creamy)
1 clove minced garlic
2 tsp apple cider vinegar  (buy on amazon)
1 tsp chili flakes (to your preference)
2 tbsp water
Method:
Preheat your oven with top element (grill) to 200C degrees (390 F)
Remove any outer leaves on the cauliflower and wash well
Slice the cauliflower any way you prefer. I prefer just to slice it whole in 1cm thick slices so I get lovely big branch like slices, but you can also cut the florets individually. Don't throw the stem out though, roast that too!
spread the cauliflower in one layer
Place on a baking tray and spread ghee evenly or oil of choice
Place on the second highest rack for 10 mins or until golden brown, then flip over for another 6 mins or until golden brown
flip the cauliflower over once golden brown
While the cauliflower is baking, prepare the dipping sauce
Mix all the dip ingredients in a bowl
Gradually add a little water to obtain a 'dipping' consistency, taste and adjust with extra lime juice and salt as needed, it should be slightly sweet and tangy
Set aside until cauliflower is ready
If the tahini dip thickens before serving, add more water
You can store any left over in the fridge, just add more water to thin when needed
Roasted Cauliflower with Spicy Tahini Dip
Hope you enjoy!
May xx
Love, Create, Explore and Inspire <3
Roasted Cauliflower with Spicy Tahini Dip
Ingredients
1 whole cauliflower, remove any outer leaves
About 2 tbsp ghee (buy on iherb or amazon)
For the dip:
3 heaped tbsp tahini (buy on iherb or amazon)
1-2 tbsp lime juice
1 tbsp raw honey (buy on iherb or amazon)
1 tbsp sumac (buy on amazon)
Optional 2 tbsp natural yoghurt (helps keeps the dip creamy)
1 clove minced garlic
2 tsp apple cider vinegar (buy on amazon)
1 tsp chili flakes (to your preference)
¼ tsp salt (buy on iherb or amazon)
2 tbsp water
Instructions
Preheat your oven with top element (grill) to 200C degrees (390 F)
Remove any outer leaves on the cauliflower and wash well
Slice the cauliflower any way you prefer. I prefer just to slice it whole in 1cm thick slices so I get lovely big branch like slices, but you can also cut the florets individually. Don't throw the stem out though, roast that too!
Place on a baking tray and spread ghee evenly or oil of choice
Place on the second highest rack for 10 mins or until golden brown, then flip over for another 6 mins or until golden brown
While the cauliflower is baking, prepare the dipping sauce
Mix all the dip ingredients in a bowl
Gradually add a little water to obtain a 'dipping' consistency, taste and adjust with extra lime juice and salt as needed, it should be slightly sweet and tangy
Set aside until cauliflower is ready
If the tahini dip thickens before serving, add more water
You can store any left over in the fridge, just add more water to thin when needed