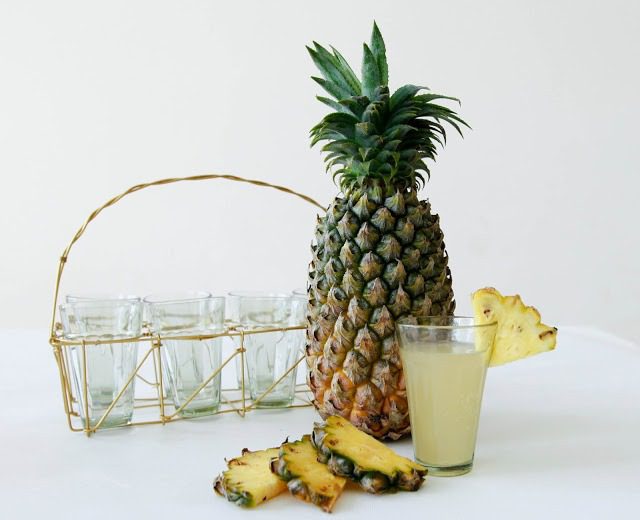 Pineapple Kombucha Tea Recipe
I'm so lucky living in a tropical environment with all the amazing fresh fruit. The pineapples are plentiful, incredibly sweet and cheap. I had extra pineapple left over from our fruit platter and it was bottling day for my kombucha so I decided to throw some in. After one day, the pineapple Kombucha tea was so fizzy and the pineapple smell was incredible.
Pineapple Kombucha Tea Recipe
I left the pineapple Kombucha tea to ferment for another day to reduce the sugar content even though it was already so fizzy, then moved it to the fridge. The taste is just incredible. I cannot believe I had not tried pineapples in Kombucha before. I also served it up with some coconut cream for a virgin piña colada Kombucha tea 🙂 A M A Z I N G!
PINEAPPLE KOMBUCHA TEA RECIPE
You will need:
1/2 cup fresh very ripe and sweet pineapple cut into small strips (so it is easier to remove from the bottle)
800ml approx fermented tea
1 litre flip top bottle (or recycled clear glass bottle with screw kid works fine, just remember to 'burp' the jar every day to reduce the chance of the bottle exploding)
Method:
Clean bottle with hot water and vinegar
If your tap water is not reliable, boil some bottled water and swish about 100mls of the hot boiled water in the bottle with the lid on
Allow the bottle to cool completely
Add the pineapple
If they were frozen, I leave them for 10mins or so
Then add the already fermented Kombucha tea
Make sure you leave at least a 5cm – 8cm gap to avoid bottles exploding from the gas build up
All to ferment 2-5 days
Check the bottle by opening it slowly after day one to let some gass out, I found the sweet pineapple fermented a lot faster than other ingredients
If it is cold where you live, it should be ok to check on day 2 or 4
Move to the fridge
Enjoy 🙂
May xx
Pineapple Kombucha Tea Recipe
Ingredients
½ cup fresh very ripe and sweet pineapple cut into small strips (so it is easier to remove from the bottle)
800ml approx fermented tea
1 litre flip top bottle (or recycled clear glass bottle with screw kid works fine, just remember to 'burp' the jar every day to reduce the chance of the bottle exploding)
Instructions
Clean bottle with hot water and vinegar
If your tap water is not reliable, boil some bottled water and swish about 100mls of the hot boiled water in the bottle with the lid on
Allow the bottle to cool completely
Add the pineapple
If they were frozen, I leave them for 10mins or so
Then add the already fermented Kombucha tea
Make sure you leave at least a 5cm - 8cm gap to avoid bottles exploding from the gas build up
All to ferment 2-5 days
Check the bottle by opening it slowly after day one to let some gass out, I found the sweet pineapple fermented a lot faster than other ingredients
If it is cold where you live, it should be ok to check on day 2 or 4
Move to the fridge