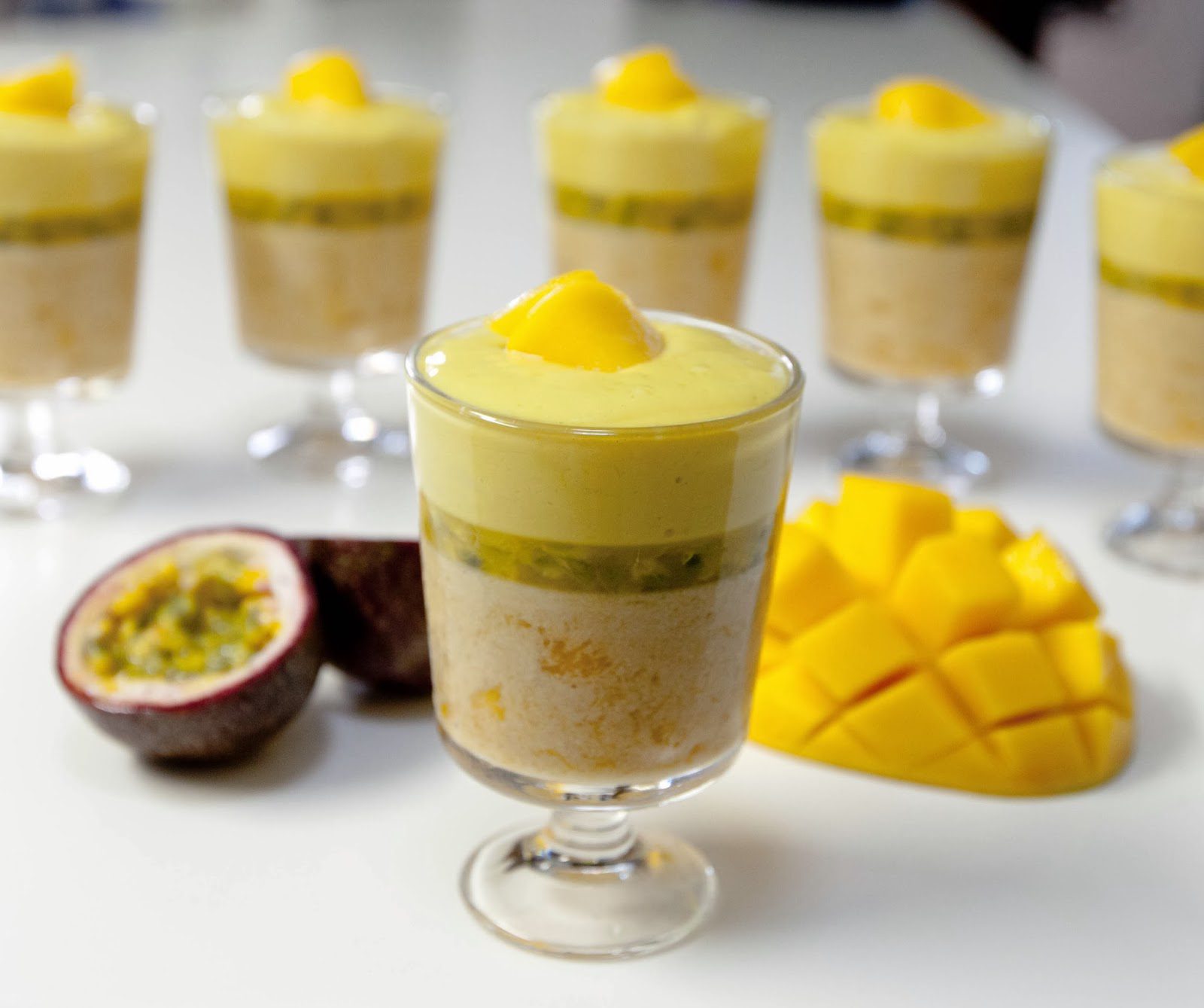 Simple Mango Passionfruit Pudding and Strawberry Pudding variation
One of my favourite desserts at Yum Cha was Mango Pudding. Usually made with mango, evaporated milk, sugar & mango jelly. This version uses coconut cream, tummy healing & nutritious grass fed gelatin, low GI coconut sugar and of course lots of real juicy mangoes. I added a layer of passion fruit to add a nice. It's deliciously simple to make and can be made the day before. It's also easily transported as the first 2 layers are set, so it's a great dessert to bring to a dinner party and impress your host! You can also use small shot glasses for a healthy kids party treat instead of packet jelly shots.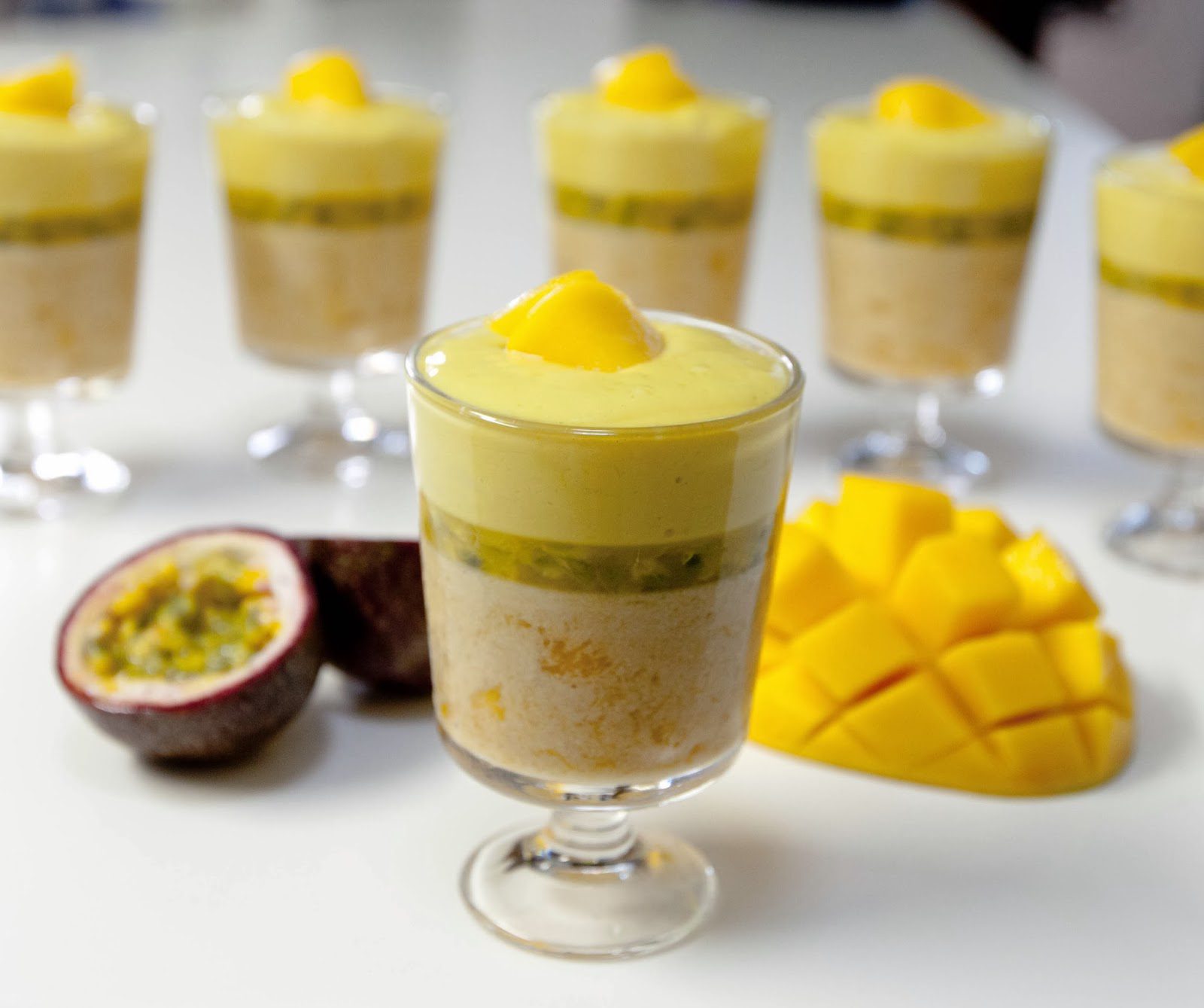 Mango Passionfruit Pudding
This basic recipe can be varied with any fruit you have on hand. I have also made a Strawberries & Cream Pudding variation. Some nice options could be peaches, raspberries, mixed berries or even durian if you are game!
Serves 6 (I used 200ml capacity glasses)
You will need:
For the Mango Pudding Layer
1 large ripe (soft to touch) mango (mashed about 1.5 cups) – frozen will also work
1/2 cup coconut cream (can left at room temperature and shaken)
1/2 cup water
2 tbsp of coconut sugar (or any sweetener of choice)
1 tbsp gelatin (I use Great Lakes, or agar for vegan option)
1 tsp vanilla extract
For the Passionfruit Layer
6 Passionfruit Pulp (about 1/2 cup)
1/4 cup water
3 tbsp coconut sugar
1 tsp gelatin
For the Mango Cream & Decoration
1 medium to large ripe mango (firm but ripe is best) about 1 cup
3/4 cup coconut cream (can left at room temperature and shaken)
You can buy Great Lakes Grass Feed Gelatin for AU delivery 
here
 or 
here
  for USA, Canada & Worldwide delivery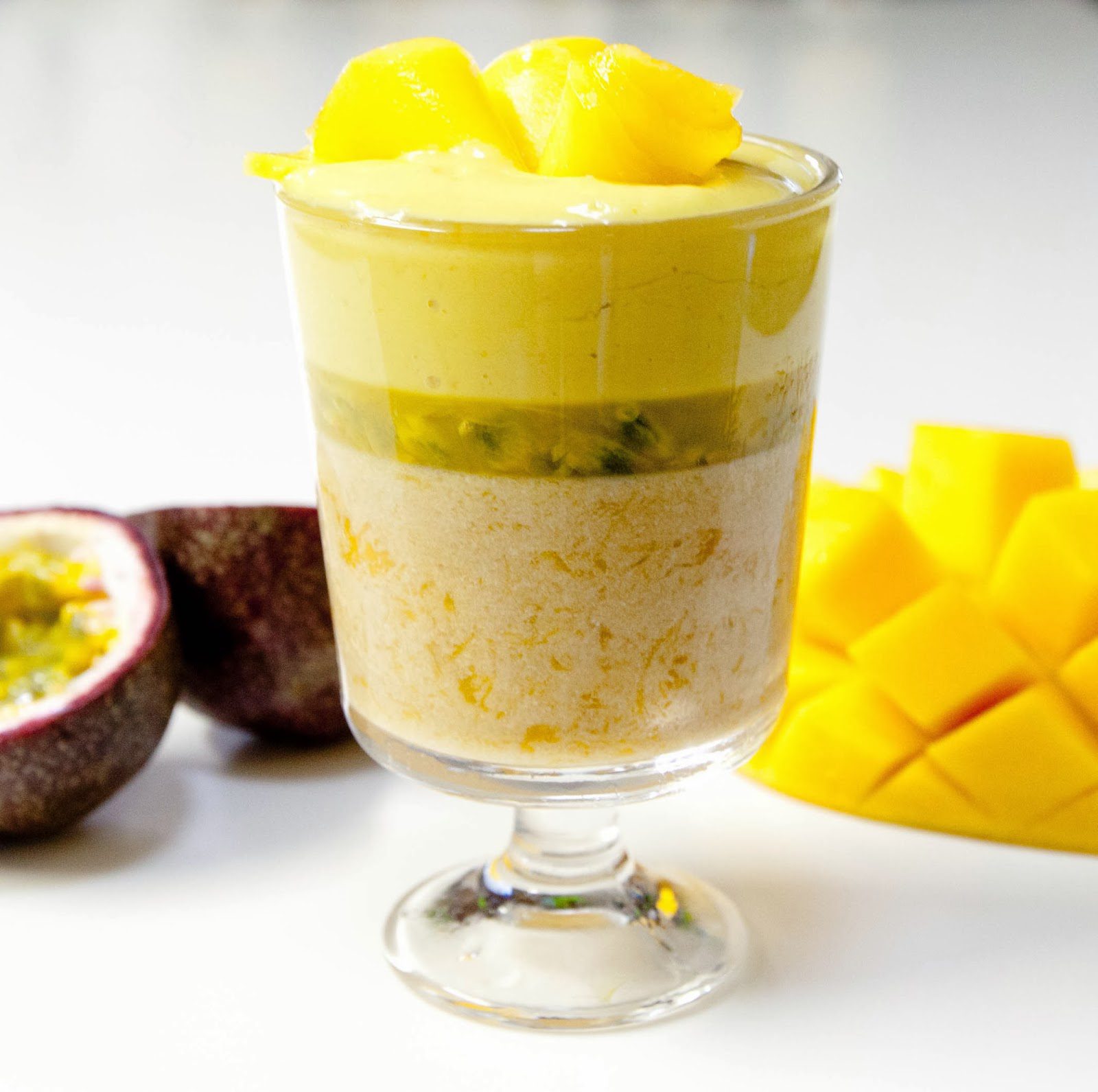 Method:
Peel, chop and mash the 1 large ripe soft mango with a fork or masher, leaving some chunky bits. This should make about 1.5 cups
In a saucepan, add the coconut cream, water, coconut sugar, vanilla extract and lightly sprinkle in the gelatin to avoid clumps. Stir to combine
Place on low to medium heat and stir constantly until gelatin is dissolved
Once dissolved, remove from heat and stir through the mango
Divide into the 6 glasses or baby shot glasses if using
Place in the fridge to slightly set for about 45mins (or freezer if in a hurry)
Place the 1/4 cup of water in a small saucepan with the coconut sugar, then lightly sprinkle in the gelatin and stir to combine
Bring to a low simmer and stir until gelatin dissolves
Once dissolved, remove from heat and stir through the passionfruit
Check the mango layer has slightly set by touching the top of the mango layer, when firm, divide the passionfruit mixture evenly
Return to the fridge to completely set over night or for at least 2 hours
To make the mango cream & decoration, take the remaining firm ripe mango, either peel first then slice or slice the cheeks off, reserve 1 cheek for decoration and place the remaining mango in the blender or magic bullet, blend until smooth (best made on the day of serving)
Peel and thinly slice the remaining cheek lengthways
Divide the cream over the glasses, then take a few slices of mango and decorate each glass
Serve immediately or refrigerate until needed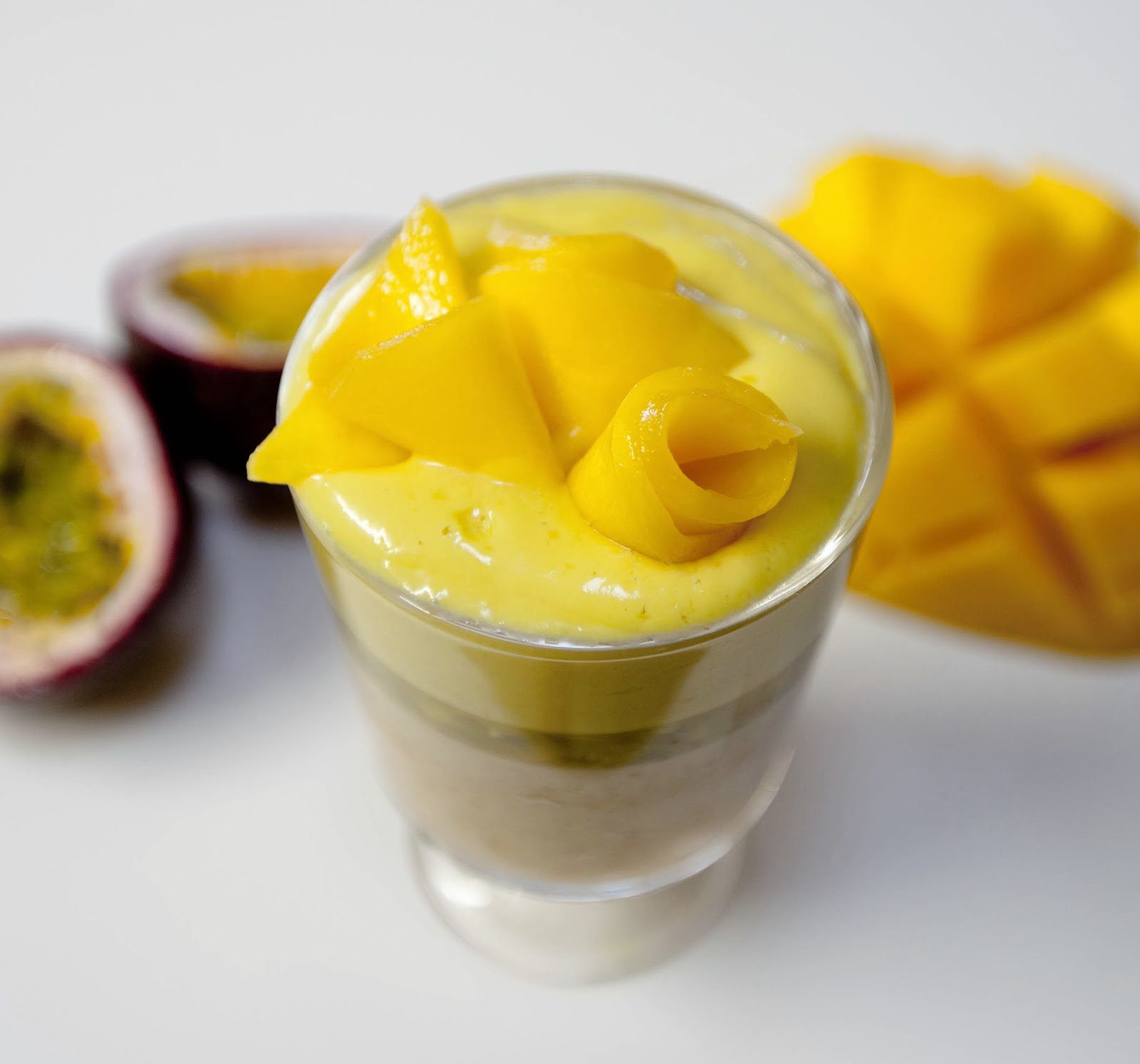 You can easily substitute the mango with any fruit you have on hand or prefer. I also made a Strawberries & Cream Pudding.
The process was the same except for when making the Strawberry cream layer on top, the ratio of cream was 1 to 1, so 1 cup coconut cream to 1 cup of strawberries and add 1 tsp coconut sugar, taste the cream and adjust to your preference.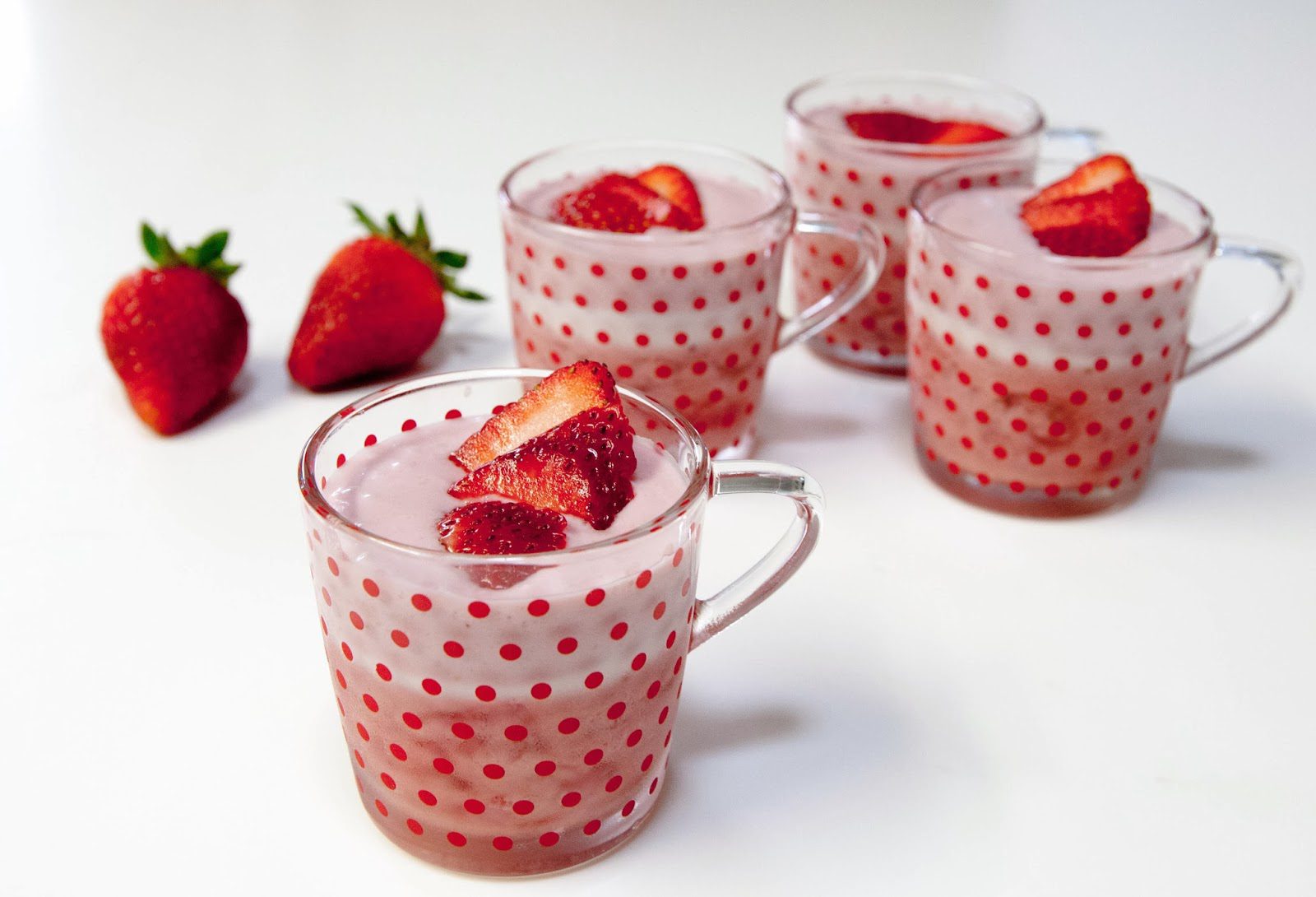 NOTE: if making the day before, make the gelatin layers only. The cream is best made on the day of serving
Hope you enjoy!
Simple Mango Passionfruit Pudding and Strawberry Pudding variation
Serves:
6 (I used 200ml capacity glasses)
Ingredients
For the Mango Pudding Layer
1 large ripe (soft to touch) mango (mashed about 1.5 cups) - frozen will also work
½ cup coconut cream (can left at room temperature and shaken)
½ cup water
2 tbsp of coconut sugar (or any sweetener of choice)
1 tbsp gelatin (I use Great Lakes, or agar for vegan option)
1 tsp vanilla extract
For the Passionfruit Layer
6 Passionfruit Pulp (about ½ cup)
¼ cup water
3 tbsp coconut sugar
1 tsp gelatin
For the Mango Cream & Decoration
1 medium to large ripe mango (firm but ripe is best) about 1 cup
¾ cup coconut cream (can left at room temperature and shaken)
Instructions
Peel, chop and mash the 1 large ripe soft mango with a fork or masher, leaving some chunky bits. This should make about 1.5 cups
In a saucepan, add the coconut cream, water, coconut sugar, vanilla extract and lightly sprinkle in the gelatin to avoid clumps. Stir to combine
Place on low to medium heat and stir constantly until gelatin is dissolved
Once dissolved, remove from heat and stir through the mango
Divide into the 6 glasses or baby shot glasses if using
Place in the fridge to slightly set for about 45mins (or freezer if in a hurry)
Place the ¼ cup of water in a small saucepan with the coconut sugar, then lightly sprinkle in the gelatin and stir to combine
Bring to a low simmer and stir until gelatin dissolves
Once dissolved, remove from heat and stir through the passionfruit
Check the mango layer has slightly set by touching the top of the mango layer, when firm, divide the passionfruit mixture evenly
Return to the fridge to completely set over night or for at least 2 hours
To make the mango cream & decoration, take the remaining firm ripe mango, either peel first then slice or slice the cheeks off, reserve 1 cheek for decoration and place the remaining mango in the blender or magic bullet, blend until smooth (best made on the day of serving)
Peel and thinly slice the remaining cheek lengthways
Divide the cream over the glasses, then take a few slices of mango and decorate each glass
Serve immediately or refrigerate until needed