Paleo Vietnamese Banh Xeo Recipe
Banh xeo also known as Vietnamese Omelette, Crepe or Pancake is traditionally made with Rice Flour, Wheat Flour, Turmeric and filled with pork belly, prawns, cooked mung beans & bean sprouts. The batter is usually crispy along the edges and deliciously tasty served with a range of Vietnamese herbs, salad and Nuoc Mam dipping sauce (watered down fish sauce with lemon juice, sugar & crushed fresh chilli)
Now if you haven't by now come across my current favourite find – My Heart Beet's 3 ingredient naan recipe which can be used in so many ways, you need to see it now! The Banh Xeo batter is based on this recipe to replace the rice & wheat flour and make it paleo friendly. The result is a deliciously crispy pancake that got the thumbs up from my Mum! Now that means alot!!
For this Paleo version, I left out the cooked mung beans that Mum would normally have used in the past, but I did use Bean Sprouts which to me are ok to have occasionally, it's not something I would eat much of anyway, but you can replace it with any other sprouts like sunflower sprouts (one if the highest in protein out of all the sprouts!). Bean sprouts have lower levels of phytic acid than green beans (they are sprouted from Mung beans) and are quite easy to digest so I don't see a problem with them.
To eat this dish, I like to make lettuce wraps (we make lettuce wraps with everything). So you take a really big lettuce leaf, fill it up with some Vietnamese herbs like mint & red perilla, break off a chunk of the banh xeo and add that to the wrap then dunk it in the dipping sauce. If you are lazy and don't want to get your hands dirty, throw it up in a bowl and pour some of the sauce over it. Either way is delicious!
This serves 2-4 people (makes 4 Banh xeo)
You will need:
1 batch of My Heart Beets Naan recipe (leaving out the optionals)
1 tsp turmeric
1/2 cup of thinly sliced green spring onion
200gm thinly sliced pork belly skin on (skin off is ok too)
100gm small baby prawns uncooked with shell on
1/2 brown onion thinly sliced
4 tbsp coconut oil
An assortment of asian style lettuce, mustard leaves, mint, red perilla (all can be found at your local asian grocer)
For the Dipping Sauce:
2 tbsp good quality Fish Sauce (I use Red Boat)
1/2 cup water
Juice of 1-2 limes (depending on size, use lemons if limes are not in season)
2 tbsp of coconut sugar
Crushed Chillies (optional)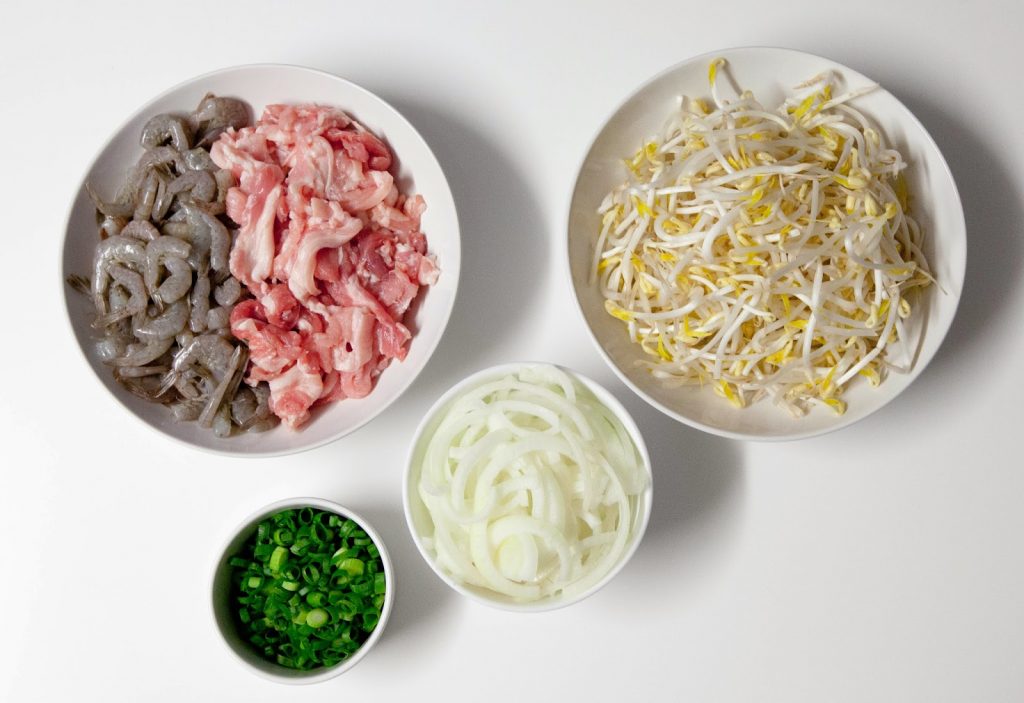 Method – Dipping Sauce:
Prepare the dipping sauce first, and set aside. It should also keep for a couple weeks in the fridge.
Combine coconut sugar & water until dissolved
Add lime juice & fish sauce
Taste for the right balance, it should be sweet, salty, sour & tangy. Adjust if needed
Add crushed chillies if using
I like making my own crushed chillies as the store bought ones contain sugar. I use the magic bullet and put about 2 small red chilllies, a pinch of salt, 1-2 tsp of ACV (Apple Cider Vingegar) and blend (I just use my magic bullet). Adjust the seasoning to taste but be careful, it can be alot spicier than the store bought ones depending on the chillies you use.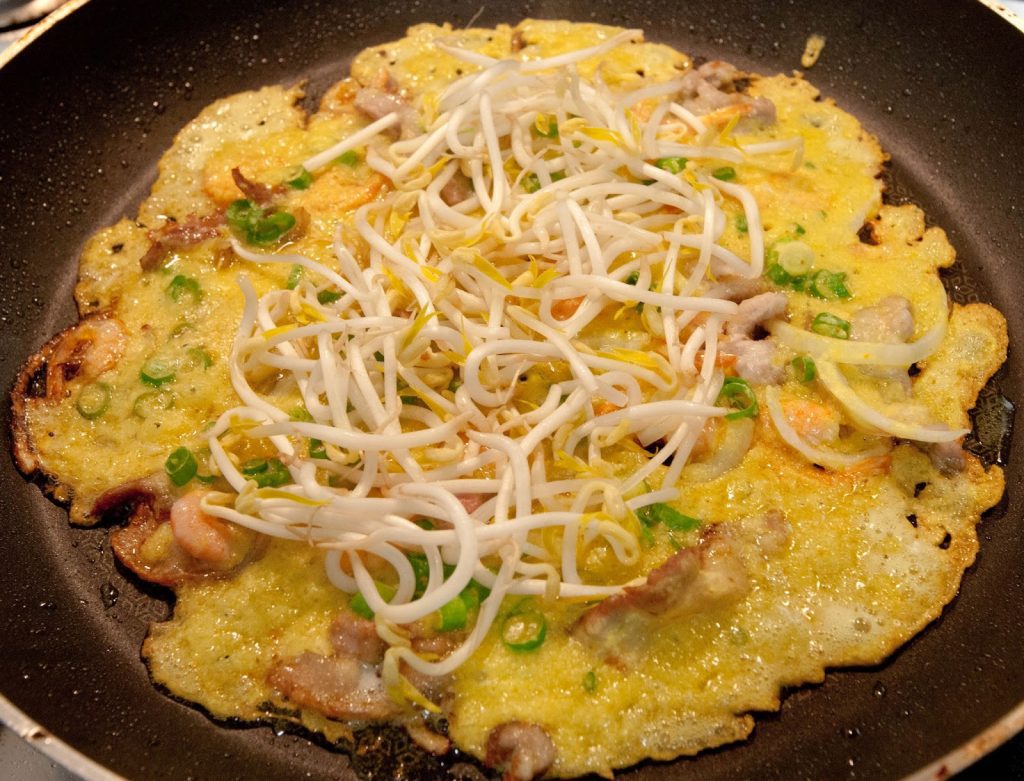 Method – Banh xeo
Paleo Vietnamese Banh Xeo Recipe
Ingredients
1 batch of My Heart Beets Naan recipe (leaving out the optionals)
1 tsp turmeric
½ cup of thinly sliced green spring onion
200gm thinly sliced pork belly skin on (skin off is ok too)
100gm small baby prawns uncooked with shell on
½ brown onion thinly sliced
4 tbsp coconut oil
An assortment of asian style lettuce, mustard leaves, mint, red perilla (all can be found at your local asian grocer)
Instructions
For the Dipping Sauce:
tbsp good quality Fish Sauce (I use Red Boat)
/2 cup water
Juice of 1-2 limes (depending on size, use lemons if limes are not in season)
tbsp of coconut sugar
Crushed Chillies (optional)
Dipping Sauce:
Prepare the dipping sauce first, and set aside. It should also keep for a couple weeks in the fridge.
Combine coconut sugar & water until dissolved
Add lime juice & fish sauce
Taste for the right balance, it should be sweet, salty, sour & tangy. Adjust if needed
Add crushed chillies if using
Banh xeo
Prepare the batter without any of the optionals listed
Add ½ cup water to the batter
Add the sliced green spring onion to the batter, side aside
Thinly slice the pork belly
Wash & drain the prawns on a paper towel
Wash & spin dry the bean sprouts
Thinly slice the brown onion half
Keep all the ingredients within arms reach of the stove
Heat a non stick pan on medium high with 1 tbsp coconut oil
Add ¼ of the pork belly and allow to partially cook, spread it evenly around the pan
Add ¼ of the prawns and ¼ of the sliced onions
Spread evenly around the pan, the prawns should be partially cooked, not all pink
Stir the batter up then scoop ½ cup of the batter and pour evenly in the pan, swirl it around to cover the whole pan
Reduce heat to low, allow the banh xeo to cook low and slow. There should be some oil and fat from the pork in the pan making the edges sizzle
Once the batter is cooked through (it will have an even colour, not light & dark patches) add ¼ of the bean sprouts in the middle
Keep lifting the edges and checking the colour, it should be a light brown.
Allow it to cook further, on very low for about 3-5 minutes and check a few times in between
Be patient
This will result in a very crispy batter without burning it. Your patience will be rewarded!
Once the bottom is cripy and golden brown, fold it in half and slide onto a serving plate
Repeat for the remaining 3
Serve with alot of Vietnamese herbs & lettuce and the dipping sauce
Enjoy! xx
Prepare the batter without any of the optionals listed
Add 1/2 cup water to the batter
Add the sliced green spring onion to the batter, side aside
Thinly slice the pork belly
Wash & drain the prawns on a paper towel
Wash & spin dry the bean sprouts
Thinly slice the brown onion half
Keep all the ingredients within arms reach of the stove
Heat a non stick pan on medium high with 1 tbsp coconut oil
Add 1/4 of the pork belly and allow to partially cook, spread it evenly around the pan
Add 1/4 of the prawns and 1/4 of the sliced onions
Spread evenly around the pan, the prawns should be partially cooked, not all pink
Stir the batter up then scoop 1/2 cup of the batter and pour evenly in the pan, swirl it around to cover the whole pan
Reduce heat to low, allow the banh xeo to cook low and slow. There should be some oil and fat from the pork in the pan making the edges sizzle
Once the batter is cooked through (it will have an even colour, not light & dark patches) add 1/4 of the bean sprouts in the middle
Keep lifting the edges and checking the colour, it should be a light brown.
Allow it to cook further, on very low for about 3-5 minutes and check a few times in between
Be patient
This will result in a very crispy batter without burning it. Your patience will be rewarded!
Once the bottom is cripy and golden brown, fold it in half and slide onto a serving plate
Repeat for the remaining 3
Serve with alot of Vietnamese herbs & lettuce and the dipping sauce
Enjoy! xx