Paleo friendly slaw & my new favourite find – My Heart Beets 3 Ingredient Multipurpose Batter
This is my current favourite find and I just have to share it! If you haven't come across it yet, you have been missing out. Ashley from My Heart Beets has created the most simple and versatile 3 ingredient Naan (Indian Bread) recipe. It is incredibly easy to make and incredibly tasty, even my fussy 5yo loves it and his non paleo cousins. In fact, I need to make a double or triple batch and sometimes I barely get a scrap as it gets gobbled up that fast.
Delicious Crepes made from My Heart Beets Naan Bread recipe
I felt like an indulgent breakfast one morning and decided to use the batter and make crepes. It took less than 2 mins to grab the 3 ingredients and mix it up. I had a supply of organic peaches I bought in bulk at the wholesaler, so I grilled them up in the pan, and whipped up some cinnamon coconut cream, pitted & chopped some medjool dates and assembled on the plate with some red currants I had. Wow this was amazing.
I have also been using the batter to make little 'Blini's, filled with whatever toppings I have on hand. I made a refreshing avocado, sunflower sprout & cherry tomato blini for breakfast the other day.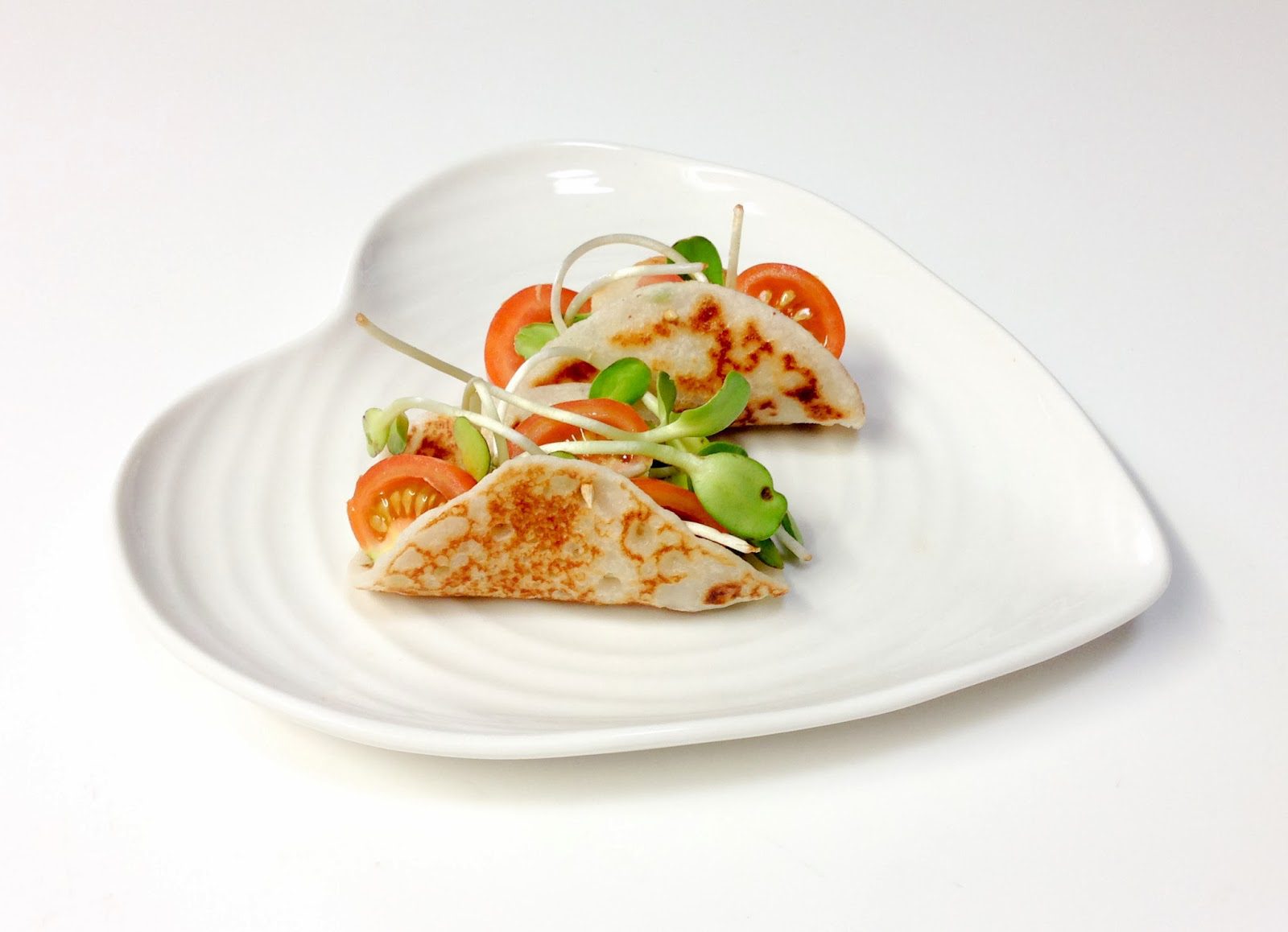 3 Ingredient 'Blini's made from My Heart Beets Naan
Yesterday I made avocado, bacon & 
fermented carrots
 blini's for the kids, I couldn't even assemble them in time at the rate they scoffed them down.
Avocado, Bacon & Fermented Carrot 'Blini's'
It also works as a wrap. A great way to revive any leftovers and is super tasty. We had some left over roast lamb, I took 2 mins to mix up the batter, fry it up in the pan with some coconut oil, and started wrapping the lamb with some Paleo Friendly Slaw. It was super tasty!
My Heart Beets 3 ingredient Naan bread recipe as a Wrap
Get My Heart Beets 3 Ingredient Naan (Multipurpose) Recipe 
here
.
I'm planning to make the naan bread to go with my mum's Vietnamese chicken curry next. Stay tuned for that recipe! here's the Paleo Friendly Slaw recipe:
PALEO FRIENDLY SLAW
You will need:
1/2 small half red cabbage, finely shredded with a mandolin
3 carrots cut into matchsticks with a mandolin
6 small radish thinly sliced with a mandolin (optional)
Redcurrants, pommegranate or finely sliced apple (optional)
Add all these ingredients to a large bowl
For the Mayo/Slaw Dressing:
1 cup light olive oil or Avocado Oil
2 egg yolks
1 tbsp lemon juice
Good pinch of sea salt
Method:
Measure out the oil and set aside
In a large bowl, add all the ingredients except the oil
Using a ballon whisk, combine all the ingredients
Very slowly, gradually drip the oil in whilst continuously whisking
Keep going until a creamy consistency is made
Taste and adjust seasoning to your preference (if too tart, add more oil, if too bland, add more salt and ACV etc)
Add to the shredded cabbage mix, any leftover dressing can be stored in a glass jar for a couple days
Paleo friendly slaw with redcurrants (pommegranate would be great too!)
This version: 1/4 green cabbage, 1/4 red cabbage, 1 green apple + Paleo Slaw Dressing
(Image added Jan 27th, 2014)
Paleo friendly slaw & my new favourite find - My Heart Beets 3 Ingredient Multipurpose Batter
Ingredients
½ small half red cabbage, finely shredded with a mandolin
3 carrots cut into matchsticks with a mandolin
6 small radish thinly sliced with a mandolin (optional)
Redcurrants, pommegranate or finely sliced apple (optional)
Add all these ingredients to a large bowl
For the Mayo/Slaw Dressing:
1 cup light olive oil or Avocado Oil
2 egg yolks
1 tsp dijon mustard
1 tbsp lemon juice
1 tbsp ACV (Apple Cider Vinegar, I use Bragg's Organic Raw ACV)
Good pinch of sea salt
Instructions
Measure out the oil and set aside
In a large bowl, add all the ingredients except the oil
Using a ballon whisk, combine all the ingredients
Very slowly, gradually drip the oil in whilst continuously whisking
Keep going until a creamy consistency is made
Taste and adjust seasoning to your preference (if too tart, add more oil, if too bland, add more salt and ACV etc)
Add to the shredded cabbage mix, any leftover dressing can be stored in a glass jar for a couple days