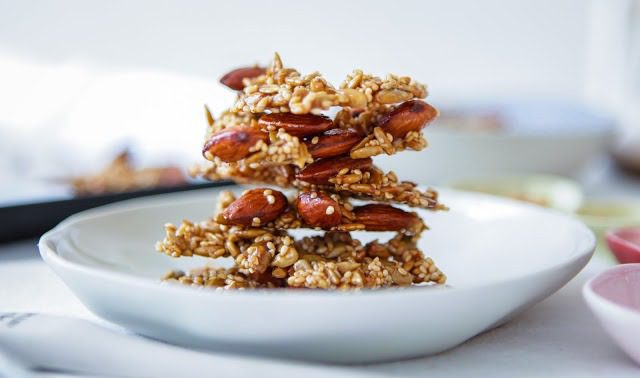 Spicy Nut and Seed Brittle (Snaps)
One of my favourite treats growing up were sesame snaps. They came in a packet with 4 thin rectangles of toasty, crunchy, sugary sesame. It would be the best day ever if I could separate all 4 layers without the rectangles breaking. These spicy nut and seed brittle's remind me of this, except I have added almonds, sunflower seeds and pumpkin seeds. You can leave the almonds out to keep it nut free for school treats and just use your favourite seeds. They are great on their own as a treat or sprinkled on salads for a sweet and spicy crunch, you can leave out the cayenne pepper to keep this nightshade free.
Spicy Nut and Seed Brittle (Snaps)
Thank you for supporting this site with purchases made through links in this post <3
Since my autoimmune diagnosis I cannot have this with the cayenne pepper but still get plenty of requests from my hubby and friends for it (quite torturous making it and not being able to eat it!). I haven't tried this recipe with soaked nuts and seeds yet, but that would be the recommendation if you have digestive issues. Will update the post with a soaked nut & seed version later 🙂 For the time being these are a great treat, and I say treat as they are a treat, not to be eaten all at once or every day 🙂
Spicy Nut and Seed Brittle (Snaps)
SPICY NUT AND SEED BRITTLE (SNAPS)
Prep Time: 5 mins
Cook Time: 12 mins
You will need:
30 grams butter or ghee softened
Method:
Preheat the oven to 170 c degrees (340 f)
Mix all the ingredients in a bowl
Line a tray with baking paper
Spread the mixture evenly in one layer
Place in the oven for 8 minutes
after 8 minutes, give the nuts and seeds a stir
Stir the mixture evenly and bake for another 1-2 minutes, allow some mixture to stick to your spatula and allow it to cool to room temperature. It will be crunchy when cooled, this means it is ready
Be careful it can burn easily at this point
The mixture will still be gooey, remove from the oven to cool down and harden
Break up and store in an airtight container for a few days
Sprinkle on salads or snack on them as a treat 🙂
Spicy Nut and Seed Brittle (Snaps)
Hope you enjoyed this recipe!
Can I ask a favour? if you like this recipe, please leave me a comment, like or share this post, it really helps me out 🙂
May xx
Spicy Nut and Seed Brittle (Snaps)
Ingredients
½ raw almonds (75 grams) (buy on iherb or amazon)
¼ cup pumpkin seeds (30 grams) (buy on iherb or amazon)
¼ cup sunflower seeds (30 grams) (buy on iherb or amazon)
¼ cup sesame seeds (30 grams) (buy from iherb or amazon)
⅓ cup maple syrup (buy on iherb or amazon)
30 grams butter or ghee softened
¼ tsp ground cinnamon (buy on iherb or amazon)
⅛ tsp cayenne pepper (leave out if nightshade free) (buy on iherb or amazon)
pinch of salt (buy on iherb or amazon)
Instructions
Preheat the oven to 170 c degrees (340 f)
Mix all the ingredients in a bowl
Line a tray with baking paper
Spread the mixture evenly in one layer
Place in the oven for 8 minutes
Stir the mixture evenly and bake for another 1-2 minutes, allow some mixture to stick to your spatula and allow it to cool to room temperature. It will be crunchy when cooled, this means it is ready
Be careful it can burn easily at this point
The mixture will still be gooey, remove from the oven to cool down and harden
Break up and store in an airtight container for a few days
Sprinkle on salads or snack on them as a treat 🙂