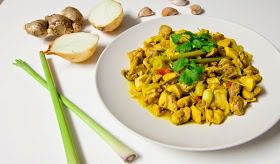 Vietnamese Lemongrass, Ginger and Turmeric Chicken (Paleo)
This dish was one of our staples growing up. Mum would serve it with steaming hot jasmine rice and it was always so delicious. I have adapted my mum's recipe (which included sugar) to make it Paleo friendly using fresh lemongrass, ginger and turmeric, if you can't find any fresh turmeric, you can use powdered turmeric (but fresh is so much better tasting so try and find it at your local asian store) but don't substitute the ginger for powdered ginger. It will be worth it!
Turmeric is well known for its anti-inflammatory properties, ability to help digest fat, assist with gas & bloating and improve skin conditions like eczema. You can read more about the amazing properties of turmeric here.
Serves 2-4
Prep Time: 15mins
Cook time: 25mins
You will need:
500gm chicken thigh fillets
2 stalks of lemongrass
1 small brown onion
1 piece of ginger about 5cm long (as pictured)
1 piece of fresh turmeric about 8cm long (as pictured) can substitute with 1/2 – 1 tsp powdered turmeric if unable to find fresh
2 garlic cloves
1.5 tbsp fish sauce (I use Red Boat brand)
1 tbsp olive oil
Method:
Peel and coarsely chop up the garlic
Peel ginger and turmeric (recommend using gloves as it stains) then using a fine mandolin, thinly slice the ginger and turmeric
Place the ginger in a pile and finely slice, you can do the same to the turmeric but I find as it's smaller I leave it as is
Finely slice the lemongrass thick end first through the fine mandolin or use a sharp knife to finely slice. As you get to the green ends it will get harder. You can then slice the ends into 5cm long pieces, and crush with the flat side of your knife
Peel onion, cut in half then slice about 5mm thick
Dice the chicken thigh fillets
Heat a medium sized pan with 1 tbsp olive oil on medium high, then add the lemongrass & stalks, ginger, turmeric, garlic and cook for about 2 minutes until fragrant
Add the chicken and stir through
Add the fish sauce and stir through
Simmer for 10mins for the juices to evaporate a little
Stir the chicken, and allow to cook for a further 5mins or until cooked through
Add the onion and stir through for another 2 mins
Serve with Jasmine rice (if you can tolerate and allow in your diet – we do occasionally, or cauliflower rice or steamed veggies)
Paleo Vietnamese Lemongrass, Ginger & Turmeric Chicken
Vietnamese Lemongrass, Ginger and Turmeric Chicken (Paleo)
Ingredients
500gm chicken thigh fillets
2 stalks of lemongrass
1 small brown onion
1 piece of ginger about 5cm long (as pictured)
1 piece of fresh turmeric about 8cm long (as pictured) can substitute with ½ - 1 tsp powdered turmeric if unable to find fresh
2 garlic cloves
1.5 tbsp fish sauce (I use Red Boat brand)
1 tbsp olive oil
Instructions
Peel and coarsely chop up the garlic
Peel ginger and turmeric (recommend using gloves as it stains) then using a fine mandolin, thinly slice the ginger and turmeric
Place the ginger in a pile and finely slice, you can do the same to the turmeric but I find as it's smaller I leave it as is
Finely slice the lemongrass thick end first through the fine mandolin or use a sharp knife to finely slice. As you get to the green ends it will get harder. You can then slice the ends into 5cm long pieces, and crush with the flat side of your knife
Peel onion, cut in half then slice about 5mm thick
Dice the chicken thigh fillets
Heat a medium sized pan with 1 tbsp olive oil on medium high, then add the lemongrass & stalks, ginger, turmeric, garlic and cook for about 2 minutes until fragrant
Add the chicken and stir through
Add the fish sauce and stir through
Simmer for 10mins for the juices to evaporate a little
Stir the chicken, and allow to cook for a further 5mins or until cooked through
Add the onion and stir through for another 2 mins
Serve with Jasmine rice (if you can tolerate and allow in your diet - we do occasionally, or cauliflower rice or steamed veggies)