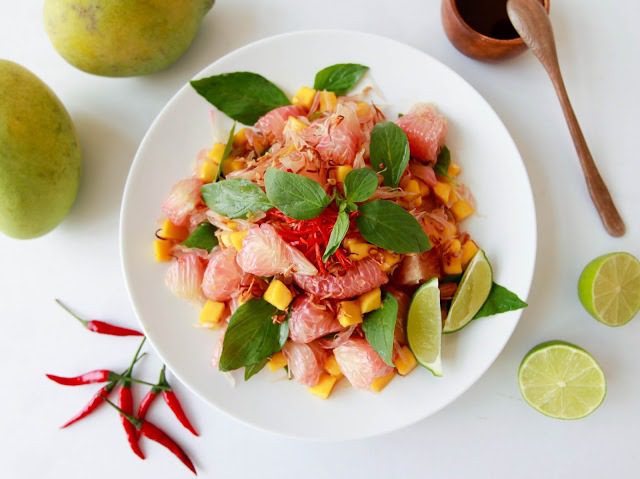 Vietnamese Pomelo Salad
Pomelo's are a type of citrus fruit, quite like a giant grapefruit but very sweet and juicy without the bitter sourness. They grow in abundance in tropical regions and are very popular here in Vietnam. You can pick them up in most asian grocers or markets and I know they can be found back home in Australia. They have a very thick rind and pith that you need to peel off completely before you get to the sweet juicy flesh. This Vietnamese Pomelo Salad is light and refreshing and works well as a starter or side to an asian inspired meal.
Vietnamese Pomelo Salad
One of the key ingredients that makes this dish carry the true Vietnamese flavour is the crunchy fried eschallots and traditionally it would have roasted peanuts which I have left out. It would also have cooked prawns (which I am not fond of) or cooked pork. I didn't feel like adding any meat so feel free to (you could add some slices of the caramelised pork from my rice paper roll recipe here).
My mum approved of my Vietnamese Pomelo Salad (although she said it could have done with some prawns or pork;) so I packed her a jar for lunch while she went visited my grandmother.
                                          Vietnamese Pomelo Jar Salad to take away
This was quite a fun recipe to make with all the beautiful and colourful ingredients.
VIETNAMESE POMELO SALAD
Prep time: 30 mins
Cook time: 5 mins
Total time: 35 mins
Serves 4 as a side or starter to share
You will need:
500 gms peeled pomelo (yellow or pink is ok), if you cannot find pomelo where you are located, use a mix of pink grapefruit and orange segments
1 ripe but firm mango
6 small eschallots
2 red chillies
2 large sprigs of thai basil (found in asian grocers, common basil is ok to substitute but will taste slightly different)
2 tbsp olive oil
lime wedges to serve
For the dressing:
1.5 tbsp coconut sugar (I use this one here)
1 tbsp fish sauce (I use Red Boat brand which has no nasties added)
1 tbsp white vinegar (or kombucha vinegar would work well too)
juice of 1 lime
                                                           Vietnamese Pomelo Salad
Method:
peel and thinly slice the eschallots and keep 1/3 aside
heat a small pan with the olive oil on medium
add the 2/3 eschallots and stir constantly
watch carefully as you want to brown and crisp the eschallots but not burn them
just before you think they are done, remove from heat and place on paper towel to absorb the excess oil
they will continue to brown a little more so be careful not to burn them, they should look like this:
                                                          crispy fried eschallots
set them aside to cool
peel and dice the mango into 1cm cubes
deseed the chillies and thinly slice lengthways
wash and pick all the leaves off the thai basil
place the pomelo, mango, thai basil leaves, half the crispy fried eschallots and the raw eschallots in a mixing bowl
try and keep the pomelos pieces about an inch in size, not too big and not too small
mix the dressing ingredients until the coconut sugar is dissolved
pour half the dressing over the pomelo mixture and gently toss
taste and add more dressing if required
plate with some wedges of lime
garnish with remaining crispy fried eschallots and thinly sliced chillies
hope you enjoy! 🙂
                                                       Vietnamese Pomelo Salad
Leave me a comment if you enjoyed this recipe 🙂 for more ideas, head to my recipes page here.
May xx
Vietnamese Pomelo Salad
Serves:
4 as a side or starter to share
Ingredients
500 gms peeled pomelo (yellow or pink is ok), if you cannot find pomelo where you are located, use a mix of pink grapefruit and orange segments
1 ripe but firm mango
6 small eschallots
2 red chillies
2 large sprigs of thai basil (found in asian grocers, common basil is ok to substitute but will taste slightly different)
2 tbsp olive oil
lime wedges to serve
For the dressing:
1.5 tbsp coconut sugar (I use this one here)
1 tbsp fish sauce (I use Red Boat brand which has no nasties added)
1 tbsp white vinegar (or kombucha vinegar would work well too)
juice of 1 lime
Instructions
peel and thinly slice the eschallots and keep ⅓ aside
heat a small pan with the olive oil on medium
add the ⅔ eschallots and stir constantly
watch carefully as you want to brown and crisp the eschallots but not burn them
just before you think they are done, remove from heat and place on paper towel to absorb the excess oil
they will continue to brown a little more so be careful not to burn them, they should look like this:
set them aside to cool
peel and dice the mango into 1cm cubes
deseed the chillies and thinly slice lengthways
wash and pick all the leaves off the thai basil
place the pomelo, mango, thai basil leaves, half the crispy fried eschallots and the raw eschallots in a mixing bowl
try and keep the pomelos pieces about an inch in size, not too big and not too small
mix the dressing ingredients until the coconut sugar is dissolved
pour half the dressing over the pomelo mixture and gently toss
taste and add more dressing if required
plate with some wedges of lime
garnish with remaining crispy fried eschallots and thinly sliced chillies
hope you enjoy! 🙂