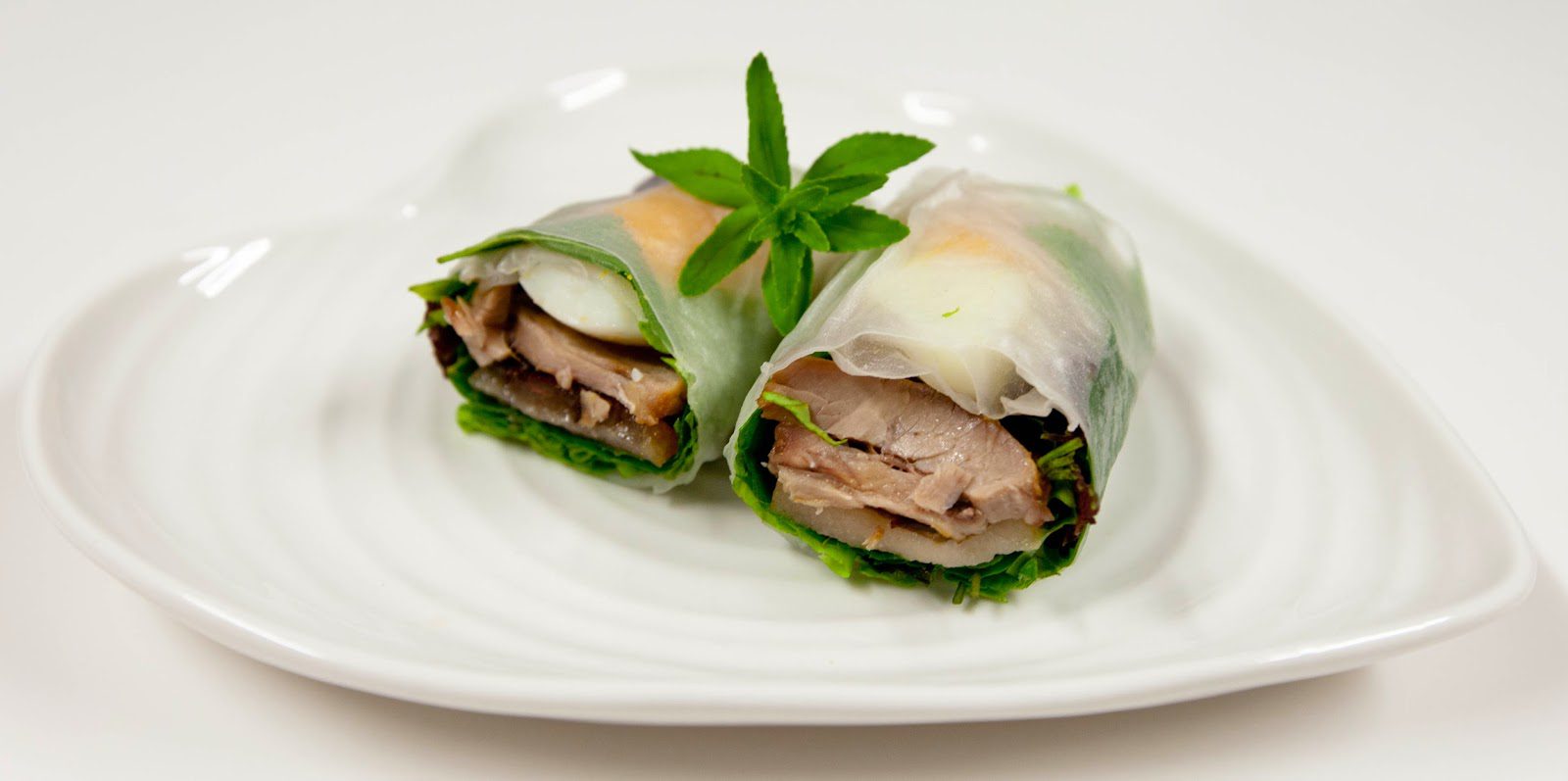 Vietnamese Caramelised Pork & Egg Rice Paper Rolls
We often have this version of rice paper rolls at home as I'm not that big a prawn fan. Traditionally it is Pork & Prawn with herbs & vermicelli noodles known as Goi Cuon. We leave out the vermicelli but we do have rice paper as it is such a small component to all the fresh herbs & lettuce but you can leave the rice paper out and just use lettuce wraps to make this 100% paleo (we don't have any problems with rice so it's ok for us every now and then).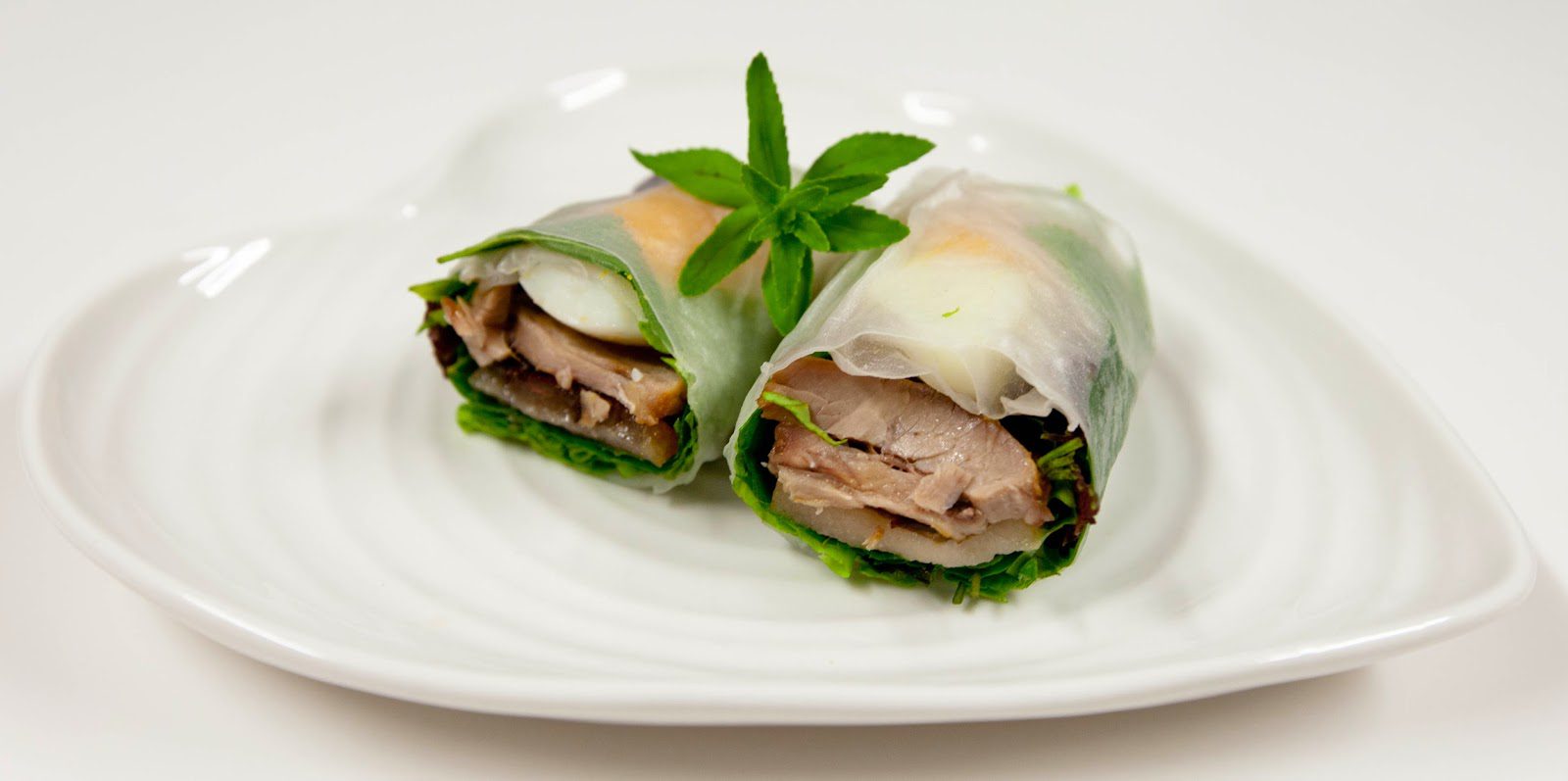 Vietnamese Pork & Egg Rice Paper Rolls
Rice paper can be tricky if not prepared properly, you might end up with a gooey sheet of rice paper impossible to roll or hold any fillings as it breaks on touching or sticks to itself into one clumpy mass. I have read some recipes that call for the rice paper to be soaked until soft and I think that is where most people go wrong.
Growing up as the 'rice paper' refiller at home, what we do is get a bowl of hot water (not boiling, just hot from the tap is ok) and dunk the rice paper in very quickly, turning it around if the bowl is not deep enough to dunk it all in one go. Remove it immediately, shake off the excess water and place it on a plate. It should still be hard like it was prior to dunking in the water. Leave it for 30-60 secs and it should gradually soften up just right for wrapping.
We dunk our rice paper and stack them on plastic rice paper holders that can stack on top of each other which is very handy & space saving on the dinner table, but using ceramic or plastic plates would work fine. Don't use paper plates as the rice paper will stick to the plate and there is no hope of wrapping anything with it unless you like that taste of real paper in your wrap!
Serves 4-8 people (As a meal or entree)
You will need:
2kg pork belly (free range organic if possible)
About 1 litre of coconut water (I used cocobella but you can also use fresh drinking coconuts)
3/4 tsp salt
3 cloves of garlic smashed with the flat blade of a knife or your palm and remove the skins
12 eggs boiled & quartered lenthways (free range organic if possible)
A selection of fresh Vietnamese herbs & lettuce (or any lettuce preferred if using for lettuce wraps)
Rice paper
For the Vietnamese Dipping sauce (Nuoc Cham / Nuoc Mam), click 
here
.
Method:
Cut the pork belly into 5cm wide strips (skin on)
Place the pork in one layer in a pot
Gradually pour in the coconut water until it is just barely covered like the picture (you may not need the entire 1L)
Add the salt
Cover and bring to boil, once boiling, reduce to a simmer for about 12 mins
In the meantime, boil the eggs medium (here is a chart to help with timing)
Wash and spin dry the lettuce and assorted herbs
Make the Vietnamese dipping sauce while you are waiting
The pork should be almost cooked through
Remove the lid and allow to continue simmering to evaporate the liquids
When the liquids are almost completely evaporated, add the smashed garlic
Give it a stir around to brown the garlic and release the flavours
The Pork should start caramelising now, turn frequently and allow to brown on all sides
Turn off the heat and allow to cool enough to handle for slicing
Thinly slice the pork and plate with the quartered eggs, lettuce and herbs
Serve with Rice Paper & Vietnamese dipping sauce to wrap & roll as you go
Hope you enjoy! please leave a comment if you do xx
Vietnamese Caramelised Pork & Egg Rice Paper Rolls
Ingredients
2kg pork belly (free range organic if possible)
About 1 litre of coconut water (I used cocobella but you can also use fresh drinking coconuts)
¾ tsp salt
3 cloves of garlic smashed with the flat blade of a knife or your palm and remove the skins
12 eggs boiled & quartered lenthways (free range organic if possible)
A selection of fresh Vietnamese herbs & lettuce (or any lettuce preferred if using for lettuce wraps)
Rice paper
Instructions
Cut the pork belly into 5cm wide strips (skin on)
Place the pork in one layer in a pot
Gradually pour in the coconut water until it is just barely covered like the picture (you may not need the entire 1L)
Add the salt
Cover and bring to boil, once boiling, reduce to a simmer for about 12 mins
In the meantime, boil the eggs medium (here is a chart to help with timing)
Wash and spin dry the lettuce and assorted herbs
Make the Vietnamese dipping sauce while you are waiting
The pork should be almost cooked through
Remove the lid and allow to continue simmering to evaporate the liquids
When the liquids are almost completely evaporated, add the smashed garlic
Give it a stir around to brown the garlic and release the flavours
The Pork should start caramelising now, turn frequently and allow to brown on all sides
Turn off the heat and allow to cool enough to handle for slicing
Thinly slice the pork and plate with the quartered eggs, lettuce and herbs
Serve with Rice Paper & Vietnamese dipping sauce to wrap & roll as you go