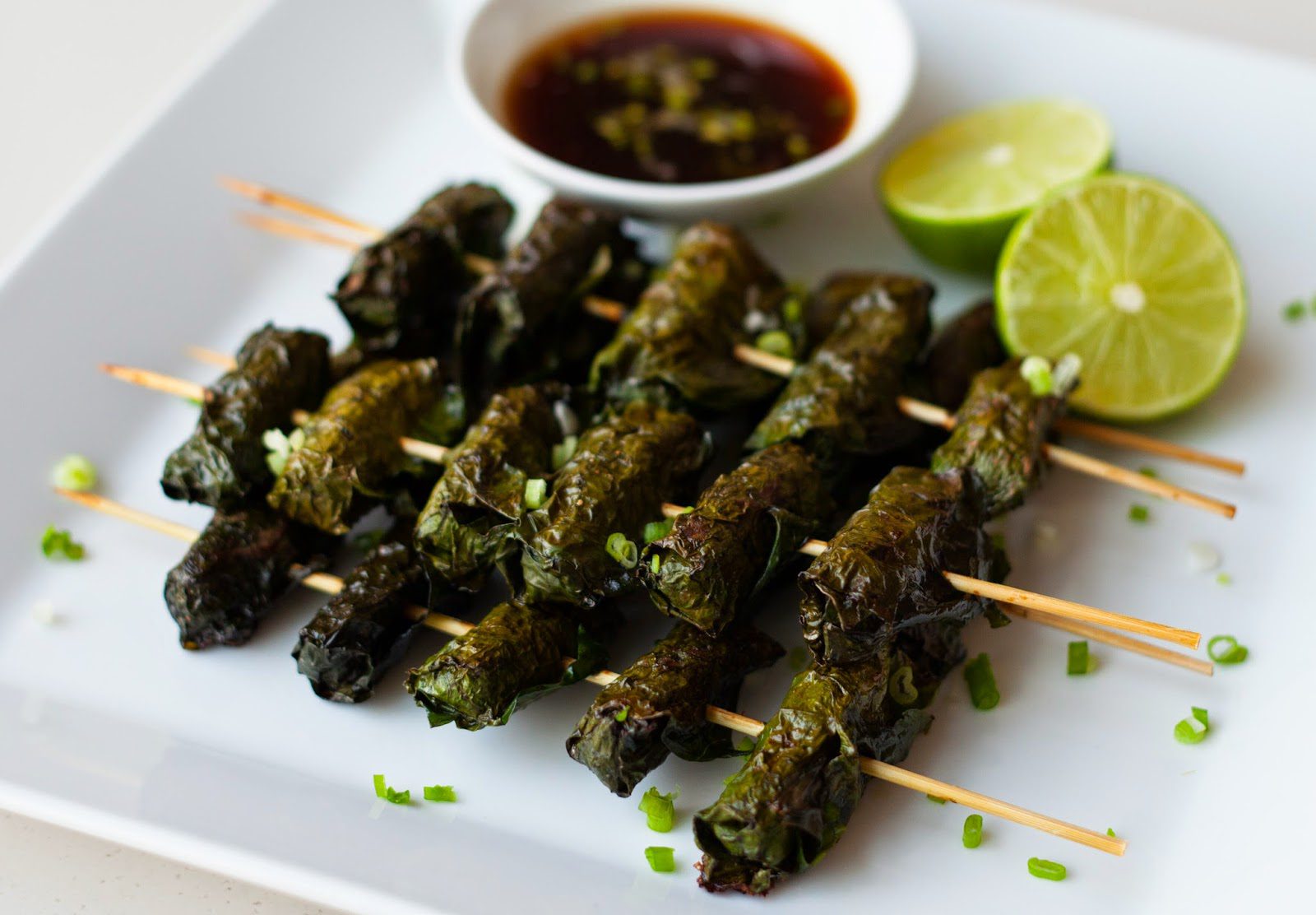 Beef in Wild Betel Leaves (Bo La Lot) with Kombucha Dipping Sauce
One thing my kids miss a lot are spring rolls, the fried kind. It's always the most popular party dish, especially my mums version, the filling is usually ok but the wrapper and the oil used to deep fry the spring rolls makes it a terrible choice for us to put on the table. So the replacement I found to be a real hit and good substitute is Vietnamese Beef in Wild Betel leaves (Bo La Lot). Although they are two totally separate and well known Vietnamese recipes, they both are technically little rolls of meat and herbs in a wrapper, and instead of being deep fried, these are grilled.
I serve these beef in betel leaf rolls wrapped with fresh lettuce, Vietnamese herbs and a Kombucha dipping sauce (don't worry if you don't have Kombucha vinegar, you can easily substitute that). We have these Vietnamese beef in wild betel leaves every Wednesday night for dinner. It's also a great party / finger food (you can prep them the day before with the salad and dipping sauce) then throw them in the oven or cook them up on the bbq.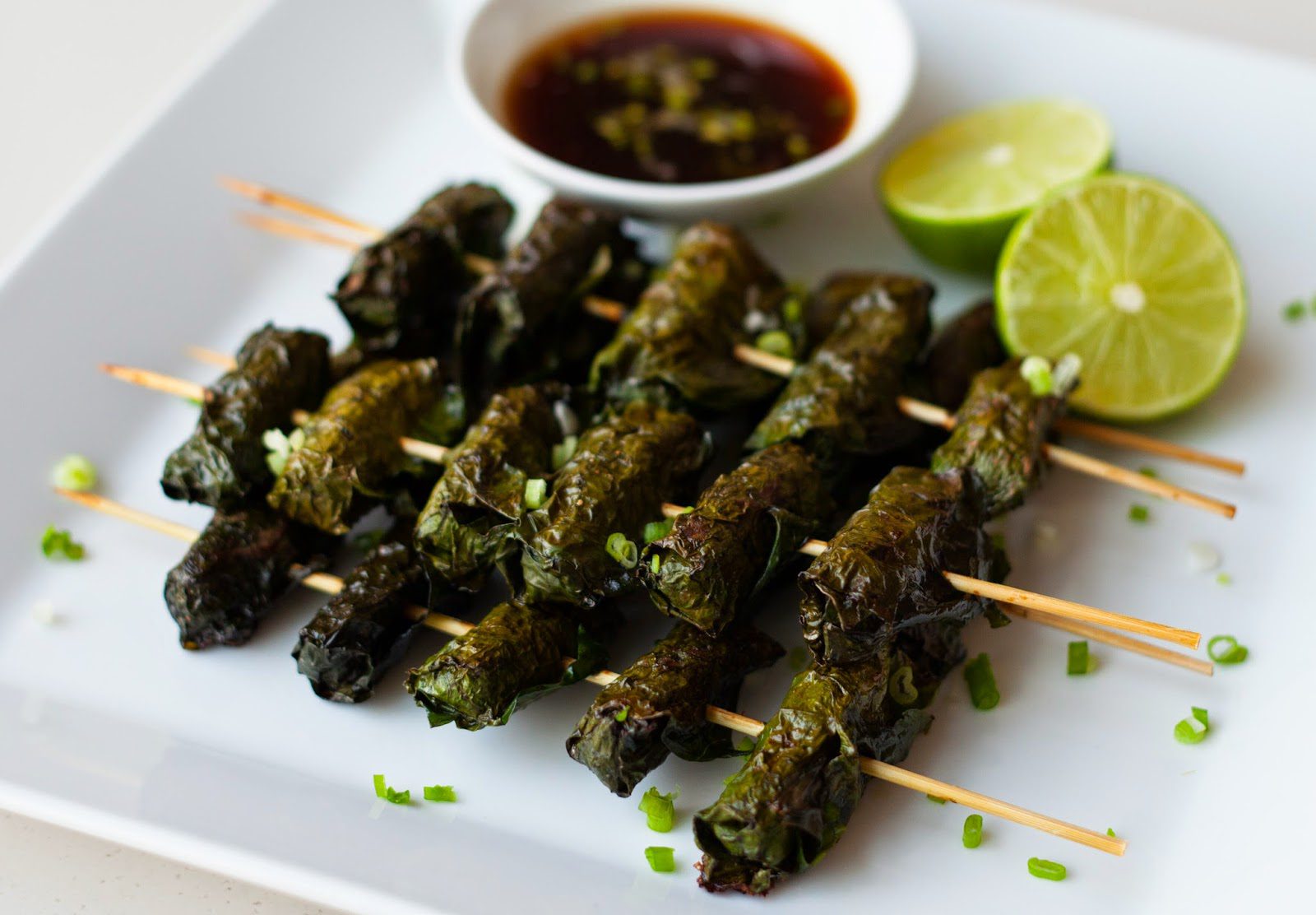 Beef in Wild Betel Leaves (Bo La Lot) with Kombucha Dipping Sauce
The wild betel leaves known as 'la lot' in Vietnamese, usually can be found in your local Vietnamese grocery store in the fresh produce section, if you are unable to locate any you can try substituting with large purple perilla leaves (I haven't tried that yet but think it could work). Once they are grilled up, the aroma of the leaves are incredible.
Wild Betel Leaves
I like to use kombucha vinegar to substitute white vinegar whenever I can, since it has more beneficial properties than white vinegar. If you don't already brew your own kombucha, you can read more about it here (I also supply kombucha starter kits Australia wide and within HCMC, Vietnam).
Serves 4 (as a meal with lettuce wraps) or 40-50 rolls
You will need:
1 bunch of wild betel leaves (as pictured above)
500gms beef mince (not lean as you need some fat otherwise it is quite dry)
1 lemongrass stalk minced
2 garlic cloves minced
1 eschallot minced
1 tbsp fish sauce (I use Red Boat fish sauce which was no added chemicals)
1/2 tsp natural sea salt
1/2 ground white pepper
olive oil for brushing
sliced spring onions for decorating
1 bunch of preferred lettuce
assorted Vietnamese herbs (perilla, mint, coriander, thai basil all work well)
fermented grated carrots (optional – we try and have fermented veggies with each meal and this is a great way to add some in, click here for my recipe)
8-10 skewers
For the Kombucha Dipping Sauce:
3 tbsp coconut sugar
2 tbsp fish sauce (I use Red Boat fish sauce which was no added chemicals)
2 tbsp kombucha vinegar (or white vinegar)
juice of 1-2 limes (add 1 juice of 1 lime first then taste and adjust by adding more lime)
Method:
Wash the wild betel leaves, lettuce and herbs, set aside on a clean tea towel to dry (or spin dry careful not to bruise the betel leaves)
In a medium bowl, add the beef, minced lemongrass, minced garlic, minced eschallot, fish sauce, salt and white pepper, mix well then set aside
Make your kombucha dipping sauce by mixing all the ingredients together until the coconut sugar has dissolved and set aside
Select the larger betel leaves (makes for easier rolling), place the leaf shiny side down so the matt side is facing you with the tip pointing to 12 o'clock
The betel leaf has two sides, the underside is matt (left) and the outer side is shinier (right)
Place 1 tsp of the beef mixture below the middle of the leaf and shape into a log
Fold in both sides as pictured
Roll the betel leaf from the bottom upwards
Your roll should look like this
If you are preparing a day ahead, place the rolls in a container, careful to ensure the tip is placed at the bottom and secured down by the weight of the roll
Otherwise, skewer the roll and ensure the tip is secured with the skewer
Repeat until all the beef is used up (5 rolls per skewer, allow about 1cm between each roll)
Heat the oven with the top element (grill) at 200 degrees celcius
Place the skewers on a lined backing tray in one layer (you will need to do a few batches)
Brush some olive oil on each roll
Bake for 8 mins, then turn over for another 6-8mins (careful not to overcook as it will dry the beef out)
Serve with some sliced spring onions scattered on top
Wrap each roll as you go with some lettuce, herbs, fermented carrots (if using) and dip in the kombucha dipping sauce
Hope you enjoy! This recipe might sound a little difficult if you haven't used betel leaves before, but after one or two attempts you will see how easy it is (well, that's how I felt at first 🙂 If you are trying to add more fermented foods to your diet, using the kombucha vinegar and adding the fermented carrots is a great way to include some in. My kids love these beef in wild betel leaf rolls (they currently are 11, 6 and 2 yo) and so have our visitor's kiddo's so I hope this is something your whole family can enjoy too!
Let me know how you like them if you try them out in the comments below xx May
Beef in Wild Betel Leaves (Bo La Lot) with Kombucha Dipping Sauce
Ingredients
1 bunch of wild betel leaves (as pictured above)
500gms beef mince (not lean as you need some fat otherwise it is quite dry)
1 lemongrass stalk minced
2 garlic cloves minced
1 eschallot minced
1 tbsp fish sauce (I use Red Boat fish sauce which was no added chemicals)
½ tsp natural sea salt
½ ground white pepper
olive oil for brushing
sliced spring onions for decorating
1 bunch of preferred lettuce
assorted Vietnamese herbs (perilla, mint, coriander, thai basil all work well)
fermented grated carrots (optional - we try and have fermented veggies with each meal and this is a great way to add some in, click here for my recipe)
8-10 skewers
For the Kombucha Dipping Sauce:
3 tbsp coconut sugar
2 tbsp fish sauce (I use Red Boat fish sauce which was no added chemicals)
2 tbsp kombucha vinegar (or white vinegar)
juice of 1-2 limes (add 1 juice of 1 lime first then taste and adjust by adding more lime)
Instructions
Wash the wild betel leaves, lettuce and herbs, set aside on a clean tea towel to dry (or spin dry careful not to bruise the betel leaves)
In a medium bowl, add the beef, minced lemongrass, minced garlic, minced eschallot, fish sauce, salt and white pepper, mix well then set aside
Make your kombucha dipping sauce by mixing all the ingredients together until the coconut sugar has dissolved and set aside
Select the larger betel leaves (makes for easier rolling), place the leaf shiny side down so the matt side is facing you with the tip pointing to 12 o'clock
Place 1 tsp of the beef mixture below the middle of the leaf and shape into a log
Fold in both sides as pictured
Roll the betel leaf from the bottom upwards
Your roll should look like this
If you are preparing a day ahead, place the rolls in a container, careful to ensure the tip is placed at the bottom and secured down by the weight of the roll
Otherwise, skewer the roll and ensure the tip is secured with the skewer
Repeat until all the beef is used up (5 rolls per skewer, allow about 1cm between each roll)
Heat the oven with the top element (grill) at 200 degrees celcius
Place the skewers on a lined backing tray in one layer (you will need to do a few batches)
Brush some olive oil on each roll
Bake for 8 mins, then turn over for another 6-8mins (careful not to overcook as it will dry the beef out)
Serve with some sliced spring onions scattered on top
Wrap each roll as you go with some lettuce, herbs, fermented carrots (if using) and dip in the kombucha dipping sauce