Mango Sesame Salad
I am munching away on this delicious salad as I type, the sweet mango and tangy sesame 'soy' dressing is so yummy together. I had this salad at a friends house the other night for dinner and had to recreate it again, the combination is just perfect. I have a few other posts backlogged but since it's been over a month since my last post, I think I might work backwards and publish my most recent adventures while they are fresh in my head 🙂
I cannot believe I missed the whole of March!! A lot has happened, I turned a year older, my parents flew back home to Australia, we had a few little holidays and I haven't been in the kitchen as much (there is way too much good food and places to eat over here in Vietnam!) so thanks for sticking around, I promise there will be more yummy posts to come <3
Mango Sesame Salad
I know it's Autumn back home and mango season is probably finishing up and for those in the northern hemisphere Spring has arrived which means you may not have any mangoes yet (luckily for us over here in tropical Vietnam we have them all year round), you can easily substitute with thin slices of apples, strawberries, peaches, watermelon or any preferred in season fruit. Feel free to substitute any salad ingredients you have on hand too, the sesame 'soy' dressing works well with most greens.
It's easy to boost up your salad with some super foods like adding some fermented veggies & seeds. Instead of freshly grated/sliced carrots I added fermented carrots for an extra probiotic nutritious boost. It is also easier to digest and allows the body to absorb more nutrients than eating it raw. I have a simple recipe 
here
 for fermented carrots which are also a great introduction to fermented foods for young children (I serve these daily for my kids at each meal. They are smaller than the 
fermented carrot sticks
 which makes it easier for young kids to chew and if you always have some on hand, they make a nice addition to any salad or filling for wraps)
The added sesame seeds also have some amazing health benefits that are known to help with diabetes, high blood pressure, gingivitis/dental plaque, arteriosclerosis, depression, cancer and more. You can read more 
here
.
And lastly you can add your preferred protein such as diced cooked chicken, salmon or keep it vegetarian friendly.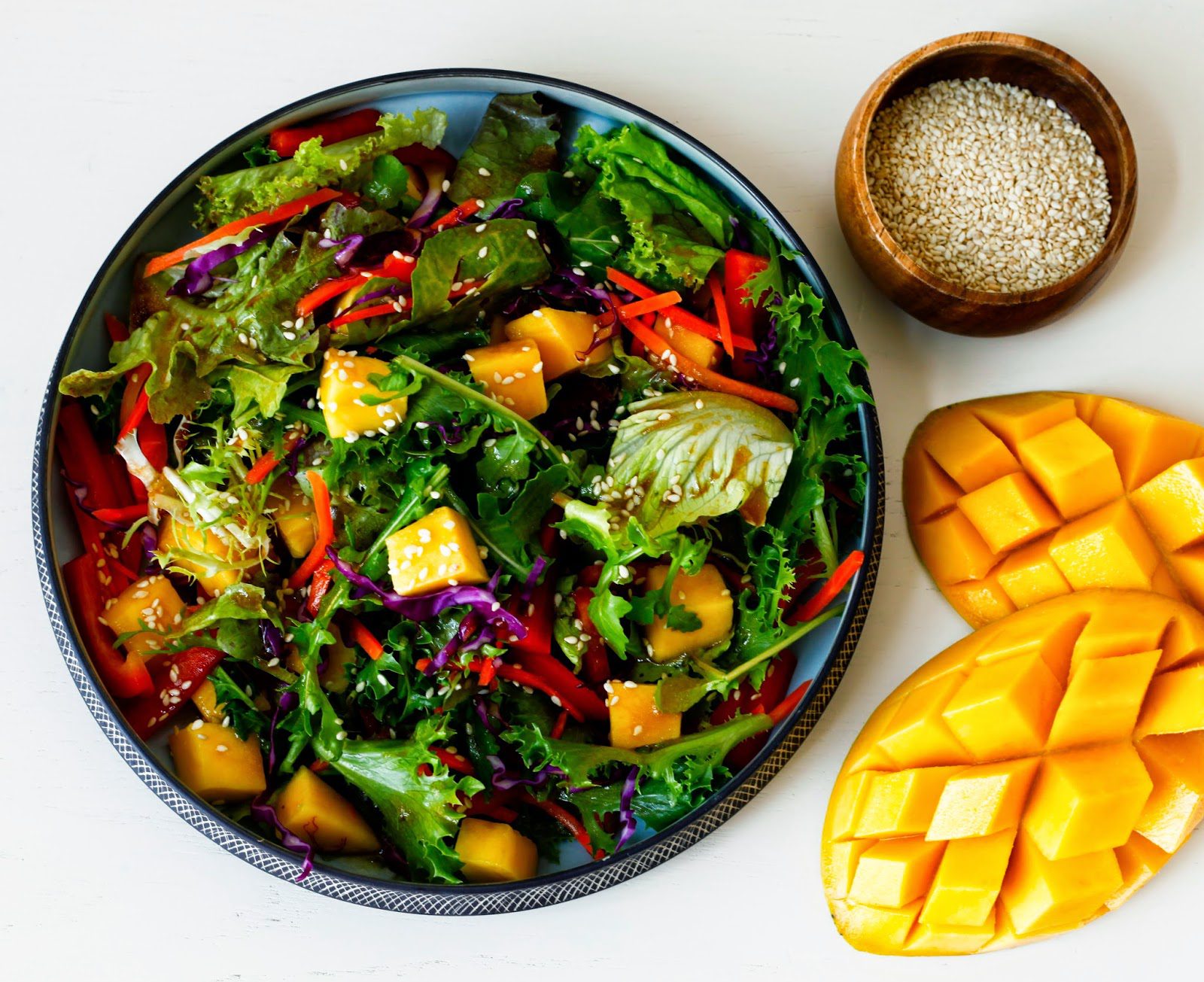 Mango Sesame Salad
Serves 2 approx
You will need:
2 cups of mixed lettuce leaves
Small handful of rocket (arugula)
1/3 capsicum cut into thin slices, then halved lengthways
1 mango (both cheeks) peeled and cubed
1/3 cup fermented carrots or freshly grated carrots
1/4 cup finely shredded purple cabbage
2 tsp sesame seeds lightly toasted
For the dressing:
Lightly toast the sesame seeds on the stove, careful to stir frequently as they can brown quickly
Wash and spin dry lettuce mix and rocket (arugula) (don't skip the spin drying of the lettuce, any residue water makes a soggy salad)
Thinly slice the capsicum, then halve lengthways
Cut off both mango cheeks, score cubes with a knife, then use a large spoon to scoop the seeds out (or peel the mango before cutting the cheeks off, then chop into cubes) – I find the scooping with a spoon method faster but doesn't look as good as peeling first then chopping
Peel and grate your carrot if not using fermented carrots
Finely slice some purple cabbage or use a mandolin
Place all the salad ingredients, except sesame seeds in a large bowl
Make the dressing by adding all the ingredients in a jar with lid, shake until well combined
Toss the salad gently and place in serving bowl/plate
Sprinkle with toasted sesame seeds
Top with any other additions such as cooked diced chicken or salmon
Mango Sesame Salad
Hope you enjoy 🙂 xx May
Mango Sesame Salad
Ingredients
2 cups of mixed lettuce leaves
Small handful of rocket (arugula)
⅓ capsicum cut into thin slices, then halved lengthways
1 mango (both cheeks) peeled and cubed
⅓ cup fermented carrots or freshly grated carrots
¼ cup finely shredded purple cabbage
2 tsp sesame seeds lightly toasted
For the dressing:
2 tbsp extra virgin olive oil
1 tbsp white vinegar (can use ACV or Kombucha vinegar)
2 tsp coconut aminos (or wheat free tamari sauce)
1 tsp coconut sugar
½ tsp sesame oil
Instructions
Lightly toast the sesame seeds on the stove, careful to stir frequently as they can brown quickly
Wash and spin dry lettuce mix and rocket (arugula) (don't skip the spin drying of the lettuce, any residue water makes a soggy salad)
Thinly slice the capsicum, then halve lengthways
Cut off both mango cheeks, score cubes with a knife, then use a large spoon to scoop the seeds out (or peel the mango before cutting the cheeks off, then chop into cubes) - I find the scooping with a spoon method faster but doesn't look as good as peeling first then chopping
Peel and grate your carrot if not using fermented carrots
Finely slice some purple cabbage or use a mandolin
Place all the salad ingredients, except sesame seeds in a large bowl
Make the dressing by adding all the ingredients in a jar with lid, shake until well combined
Toss the salad gently and place in serving bowl/plate
Sprinkle with toasted sesame seeds
Top with any other additions such as cooked diced chicken or salmon