Coconut Jelly recipe (Rau Cau Dua) and our holiday with the kids to Ben Tre
We took an overnight holiday with the kids to Ben Tre last week with some of their school friends and family. Even with 8 kids aged between 3 to 11 we managed to have one of the most relaxing holidays thanks to
Cocohut Farm-stay
where they cooked homestyle Vietnamese food for us and planned many activities to help the kids reconnect with nature and keep them entertained. The food was incredible and I would probably rate it right next to my mum's Vietnamese cooking.
One of the highlights on the menu was my all time favourite Vietnamese dessert Rau Cau Dua also known as Coconut Jelly or Coconut agar. The jelly is set using agar which is made from seaweed so it is suitable for vegetarians and also has many health benefits. The other great thing about agar is that it doesn't melt like gelatin can in warm environments which is important over here in Vietnam! The jelly is usually set inside the coconut which is supposed to improve the coconut taste but you can set it in any container, preferably clear if you choose to add a coconut milk layer on top.
The coconuts shown in the photo have not been dipped in any chemicals to keep the outer husk white,  so they turn a natural brown but don't confuse them for the dry mature brown coconuts you find in the stores where the flesh is thick, hard and you have to crack them open. These are young coconuts where the juice is sweet and the flesh is soft and can be scooped out with a spoon.
New Photo Update April 2016 – I made some mini coconut jelly in round moulds which were a perfect single serve as the whole coconut can be quite filling if you're not sharing. Note when using a natural sweetener the jelly won't be as clear but the taste is as great and so much better for you!
Note: scroll to the end for the Coconut Jelly recipe (Rau Cau Dua recipe) if you are in a hurry, or grab a cup of tea and enjoy the trip to Cocohut with the kids.
Ben Tre is about 2 hours from Saigon in the Mekong Delta area of Vietnam and is also known as 
the land of the coconut
 with the coverage of about 40,000 hectares and a wide range of coconut species, they have the best tasting coconuts and really fresh produce grown on a small scale with little to no chemical pesticides.
We hired a bus to take us to 
Cocohut's Farm-stay
 where they met us just off the main road and transported us and our bags by motorcycle. It was my 3yo's first ride on the bike, I was a little nervous but the bike trip was pretty short and he absolutely loved it.
Our transport in to Cocohut's Farmstay
We were greeted with the sweetest refreshing coconuts, homegrown guavas and shown to our air conditioned rooms (they have 3 AC rooms, and you can also book a spare mattress or 3 open air bungalow style rooms with fans).
Home grown guavas
The kids all jumped into the pool, while we explored the grounds. One of the ladies that worked there climbed the star apple tree to pick the fruit for us to eat. I couldn't believe when she told us she was 54 years old, she climbed the tree better than my kids.
The incredibly fit 54 yo lady that climbed the star apple tree for us!
Freshly picked organic star apples (vu sua aka breast milk fruit)
Our lunch menu on the first day included small fried fish with tamarind dipping sauce, banh xeo (vietnamese pancake – I have a paleo version here), thit kho trung cuc (caramelised pork & quail eggs), ga roti (caramelised 'soy' chicken – click here for my paleo ga ro ti recipe) and fresh mit (jackfruit) from their tree.
small fried fish with tamarind dipping sauce
banh xeo (vietnamese pancake – I have a paleo version here)
thit kho trung cuc (caramelised pork & quail eggs)
fresh mit (jackfruit) from coconut's tree
After feeding our bellies the staff took us to feed some of the animals, net fishing by the local stream, picking organic guava and winter melon and walking around the rice paddies and farm.
We went to the neighbouring farms to feed the cows grass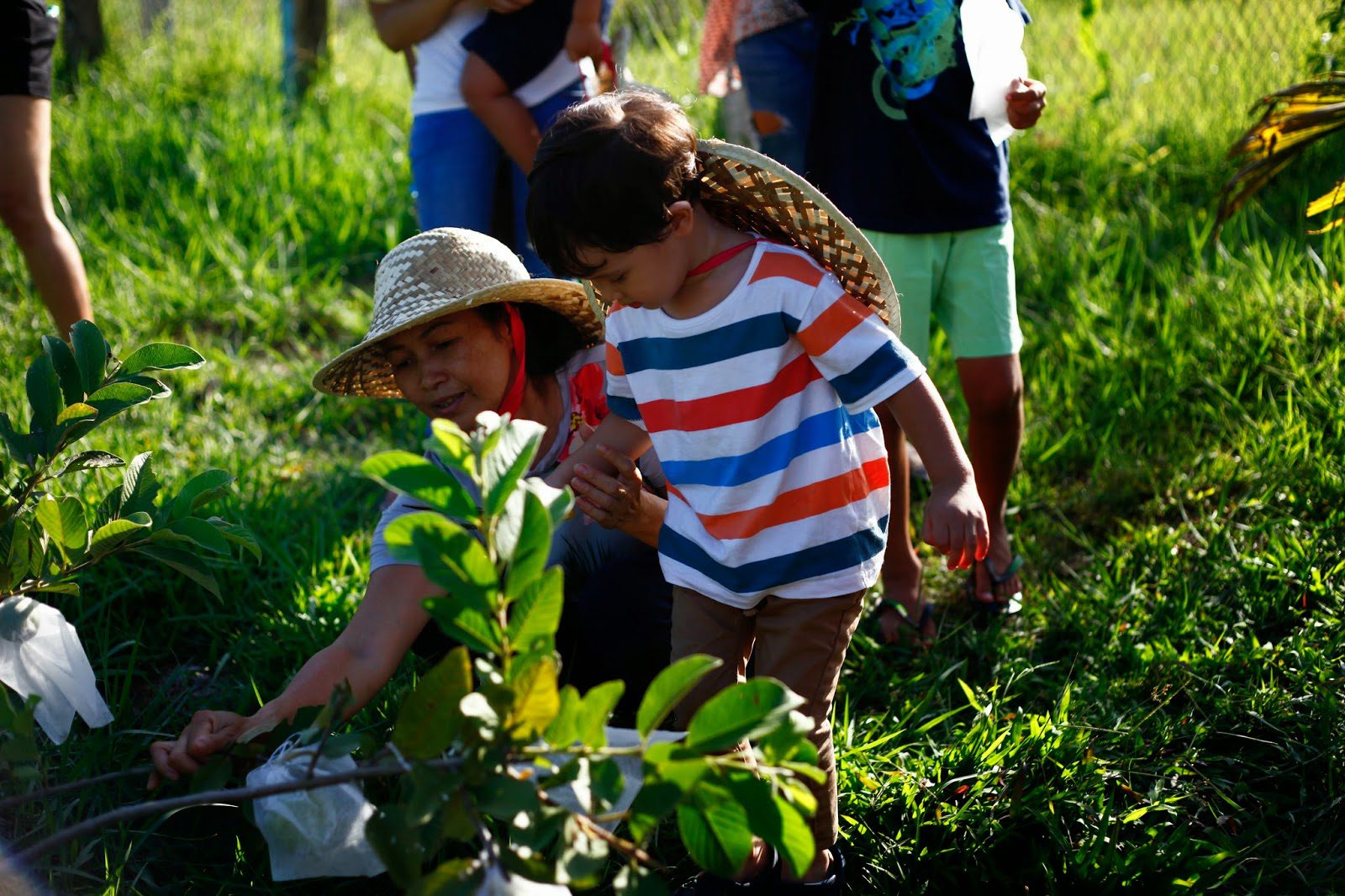 Picking their home grown guavas, you can see they are individually bagged to prevent bugs
Net fishing with the kids
Exploring the rice paddies
Picking winter melon for dinner
The kids jumped straight back into the pool to cool off once we arrived back, some of us had a siesta in the hammocks while we waited for dinner to be served. I didn't manage to take any photos of dinner, it was dark and I was too excited to eat. For dinner, we were served steamed fresh shrimp in coconut juice, coconut rice, chicken salad with banana blossom & congee (goi ga & chao ga) and steamed banana cake with coconut milk. Again, our bellies stuffed, the kids played late into the night. Surprisingly the mosquitos were not a big problem (we went in March, so I'm unsure how the mosquito population is all year round). I used a natural mosquito repellent and that was enough protection as I don't like using repellents containing deet. I was only disappointed to not see any fire flies as it wasn't the right season.
The next morning the owner of Cocohut asked us what we wanted for breakfast and was so accommodating when we requested to try a little of everything, she set off on her motorbike to the markets and returned with sticky corn and sticky rice, the cooks make trung ga op la (eggs sunny side up, traditionally eaten some salt & pepper, soy sauce and the runny yolk is mopped up with a crispy Vietnamese bread roll #notpaleo but so friggin yummy it was worth it!)
Checkout was at 12pm so we took the morning easy and slowly packed our rooms while the kids continued to play in the pool and run around. By lunch time we all were eagerly waiting to see what food was on the menu and was not disappointed. We were served a platter of freshly steamed vegetables from their garden including winter melon, okra, baby bok chou, green beans with this incredible dip, sour soup (canh chia), caramelised fish & pork (ca thit kho) and coconut jelly (rau cau dua).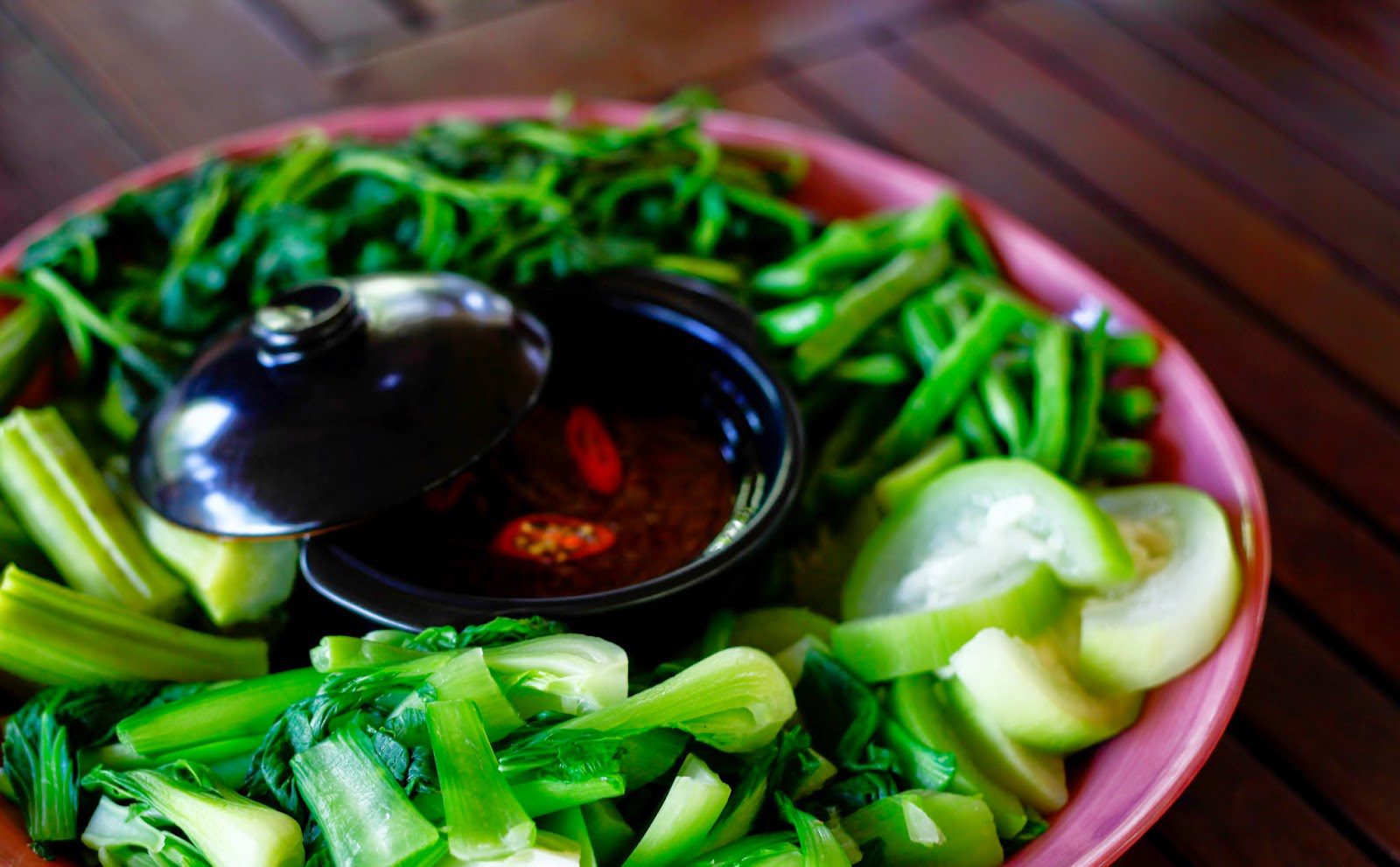 Steamed home grown vegetables with Vietnamese dip
Sour soup (canh chua)
caramelised fish & pork (ca thit kho)
We were treated to the coconut jelly after our last meal at Cocohut Ben Tre. The Vietnamese are a big fan of agar, I grew up with all sorts of agar agar jellies and moulded jellies. It stays firm all day and doesn't melt or go soft like gelatin does. It is very different from gelatin (which is made from the bones & cartilage of animals usually cattle) but has it's own nutritious and beneficial qualities just like gelatin does (you can read more about the benefits of gelatin here and check out some of my gelatin gummy treats like lemon chia, coffee & cream and mango passionfruit pudding).
Agar comes in strips, flakes or powder form. Agar can act as an appetite suppressant, once it is wet it swells and can give the feeling of fullness to aid with weight loss. It is rich in minerals as it is derived from red marine kelp (seaweed) and is said to be able to help with diabetes and constipation.
Recipe for 1 coconut or 1 standard cup (you can also use mini moulds as pictured below)
I used maple sugar for this version. Nativa, honey or half and half also work well to keep the jelly a light colour. I cannot bring myself to use refined white sugar just for the appearance of the jelly as it has no nutritional benefit.
You will need:
1 young coconut (choose Thai coconuts, they are generally sweeter or in Vietnam choose Dua xiem) or 250ml 100% coconut water from the carton or bottle (check the carton and choose the ones from Thailand for the best taste)
1-2 tbsp sweetener of choice, increase if your coconut juice is not naturally sweet enough (stevia, natvia, honey or maple sugar work well or coconut sugar (this will darken the coconut jelly to a brown though so be ware!)
2 tbsp coconut milk for the top layer of jelly
1 tsp agar powder or if your are in Australia, you can order it here (from iHerb)
Method:
Cut the top off the coconut (I do this by placing the coconut on its side, and gently tapping the bottom corner of my meat clever) the cut needs to be large enough for your spoon to fit in (discard the coconut if the flesh and liquid has a pink tinge, the coconut has expired)
Measure out 1 cup (250ml) and place the juice into a saucepan
Have a taste of the juice, and add sweetener to taste. The juice should be sweeter than you would like as once the agar sets, it becomes less sweet. I usually add 1 tbsp of sweetener
Add the agar powder and stir to combine well
Place on the stove on low to medium heat and stir until the agar and sweetener has dissolved
Reserve about 1/4 cup of coconut liquid and pour the rest of the liquid into the coconut or a glass
Place the coconut or glass in the fridge to set (about 10 minutes)
Keep the remaining liquid in the saucepan and add the 2 tbsp of coconut milk
Stir well and keep on the hot plate where it was simmering but ensure the hotplate is turned off
If you find the coconut milk starting to set in the saucepan you can lightly reheat it
Once the coconut juice has set (try gently shaking the coconut or glass to see if it is set)add the coconut milk layer on top and return to the fridge to set
This is a Coconut Jelly (Rau Cau Dua) from a street food vendor found almost everywhere in Ho Chi Minh City
Hope you enjoy this recipe! I'm ending with a beautiful pic of the sunset at 
Cocohut Ben Tre
 <3
Coconut Jelly recipe (Rau Cau Dua) and our holiday with the kids to Ben Tre
Ingredients
1 young coconut (choose Thai coconuts, they are generally sweeter or in Vietnam choose Dua xiem) or 250ml 100% coconut water from the carton or bottle (check the carton and choose the ones from Thailand for the best taste)
1-2 tbsp sweetener of choice, increase if your coconut juice is not naturally sweet enough (stevia, natvia, honey or maple sugar work well or coconut sugar (this will darken the coconut jelly to a brown though so be ware!)
2 tbsp coconut milk for the top layer of jelly
1 tsp agar powder or if your are in Australia, you can order it here (from iHerb)
Instructions
Cut the top off the coconut (I do this by placing the coconut on its side, and gently tapping the bottom corner of my meat clever) the cut needs to be large enough for your spoon to fit in (discard the coconut if the flesh and liquid has a pink tinge, the coconut has expired)
Measure out 1 cup (250ml) and place the juice into a saucepan
Have a taste of the juice, and add sweetener to taste. The juice should be sweeter than you would like as once the agar sets, it becomes less sweet. I usually add 1 tbsp of sweetener
Add the agar powder and stir to combine well
Place on the stove on low to medium heat and stir until the agar and sweetener has dissolved
Reserve about ¼ cup of coconut liquid and pour the rest of the liquid into the coconut or a glass
Place the coconut or glass in the fridge to set (about 10 minutes)
Keep the remaining liquid in the saucepan and add the 2 tbsp of coconut milk
Stir well and keep on the hot plate where it was simmering but ensure the hotplate is turned off
If you find the coconut milk starting to set in the saucepan you can lightly reheat it
Once the coconut juice has set (try gently shaking the coconut or glass to see if it is set)add the coconut milk layer on top and return to the fridge to set