Paleo Mini Burger Platter
Growing up in a Vietnamese house, mum always served up several dishes with each meal. Each dish would cover one of the five basic tastes.  Sweet, salty, sour, bitter and umami. So naturally I love having a meal when there are a lot of options that cover all these tastes and this Paleo Mini Burgers Platter does just that!
It's simple to get right for everyone's taste as the whole idea is to serve up lots of sides to go with the patties to cater for all palates including toddlers. The options are endless but I have listed 10 sides that are my favourites including a fermented veg to give this meal an extra nutritious gut healing boost. You can also try more variations in the one meal as the patties are mini size so you could easily have 3-4 patties with different toppings.
                      Paleo Mini Burgers with Caramelised Balsamic Onions
I'm loving my Staub Cast Iron Grill Pan for my mini burgers and pineapple! (get it here)
                                                               Paleo Mini Burgers
In many Vietnamese dishes we like to wrap our meat or fillings with lettuce and herbs, getting your hands dirty is all part of the experience so this Paleo Mini Burger Platter is not far off how I grew up eating except the ingredients are different.
It may seem a little tedious getting so many ingredients together, but it will be totally worth it when you sit down and taste the flavours all together. You can of course cut down the sides and choose what works for you based on your time availability and palate. All these ingredients (except for the fermented veg) can be made the day before.
                                                             Paleo Mini Burgers
If you haven't made fermented veggies before, you can try out the fermented carrots which I think is a great introductory for kids. This one seems to be the most popular with all of our non paleo friends or you can scroll to the fermented foods section on the recipe page for some ideas. You will need to allow 7 days for the fermentation, so in the meantime, you can just add grated carrots instead.
This recipe will serve between 2-4 people depending on how much meat you normally consume per meal, but it covers our family of 2 adults and 3 kids.
For the meat patties, you will need:
Prep time: 10 mins
Cook time: 12 mins (2 batches depending how big your frypan is)
                              Paleo Mini Burgers (this was a double portion)
Method:
Mix all the ingredients together with your hands
Take about a walnut size ball of the mixture, roll then flatten slightly
If you want to make the caramelised onions, put your patties aside and scroll down below to start on your onions first, then return here 🙂
Otherwise heat a frypan on medium high with about 2 tbsp olive oil
Cook for about 3 minutes each side or until brown and cooked through
If you are including pineapple, you can add them to the pan to cook in the juices now 🙂
Serve with any of the sides below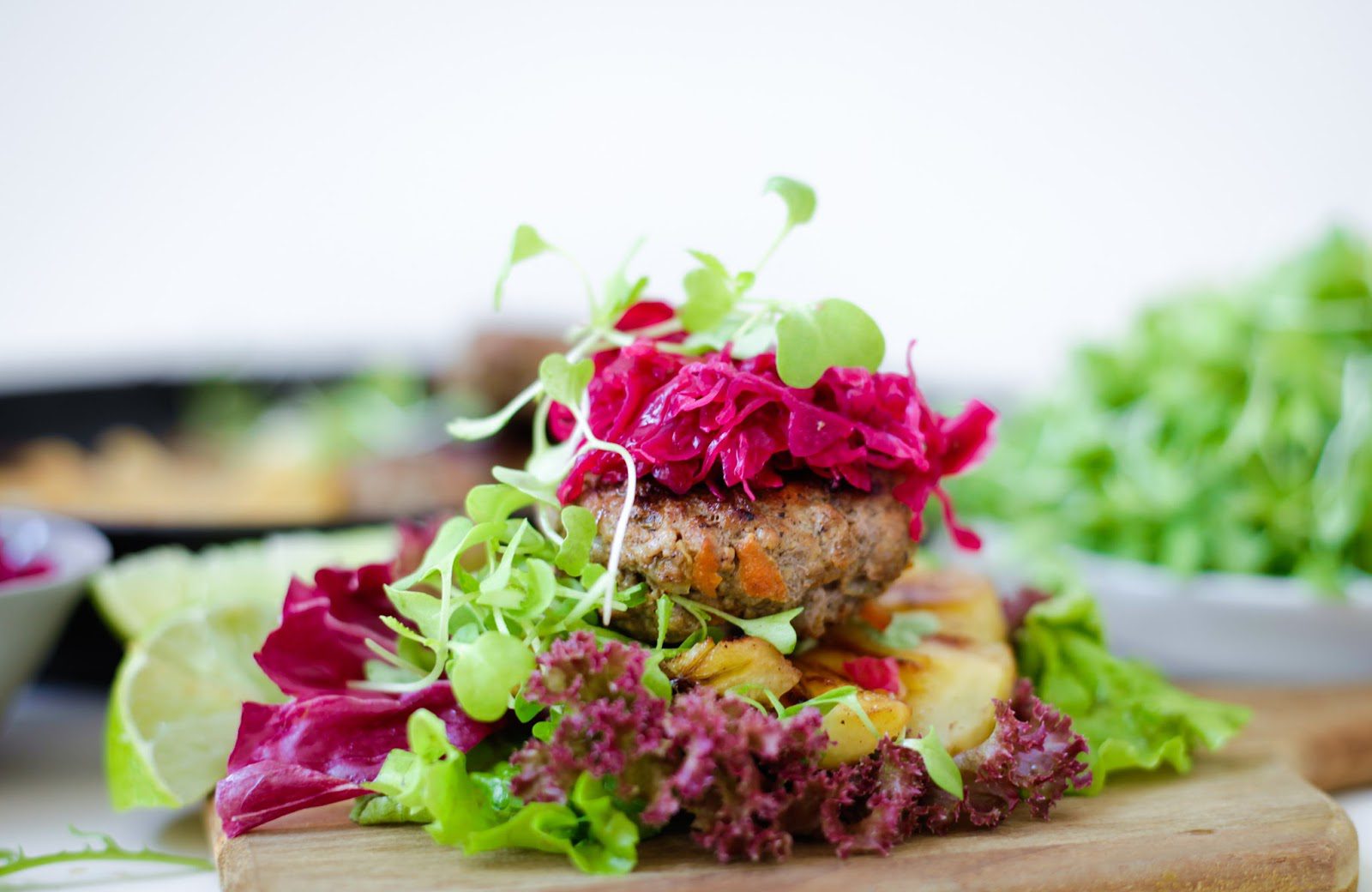 For the sides:
These are my 10 favourite sides to have with the mini burgers
caramelised balsamic onions (recipe below)
guacamole – Mash one avocado, pinch of salt and juice of 1/2 to 1 lime. I prefer to keep this simple since there are a lot of toppings otherwise you can try my other guacamole
bacon
fried Quail Eggs (since they are mini patties, quail eggs are the perfect size)
sliced or diced tomatoes
grilled pineapple (either grill with the bacon or throw in the pan after the patties are cooked)
grilled japanese eggplant – 30mins prep & cook time (Japanese eggplants are long thin ones which is a perfect size for mini burgers) Heat top element in your oven/grill to 200 degrees, cut japanese eggplants and brush with lots olive oil. Line a baking tray with baking paper and place in a single layer. Grill on both sides for about 10 minutes each or until golden
grilled red & yellow peppers (capsicum)- 25mins prep & cook time. Heat top element in your oven/grill to 200 degrees, cut slice peppers and toss with olive oil to coat. Line a baking tray with baking paper and place in a single layer. Grill on both sides for about 10 minutes each or until golden
Grilled or fried haloumi (or cheese) – if you can have a little dairy or sprinkle some sesame seeds or pine nuts instead
                              Caramelised balsamic onions & guacamole
Caramelised Balsamic Onions
Prep time: 5 mins
Cook time: 30mins
You will need:
2 large brown onions or 4 medium (or spanish also works well)
1/3 cup olive oil
1 tbsp balsamic vinegar
1 tsp coconut sugar
Method:
Place a saucepan with the olive oil on medium high heat
Add the onions and leave for about 2 mins, careful the oil is not too hot as you don't want to burn the onions
Gently stir the onions, after about 10 mins you will need to stir more frequently so the onions don't burn
Caramelised balsamic onions at 20 minutes
They should be a nice brown colour at 20 mins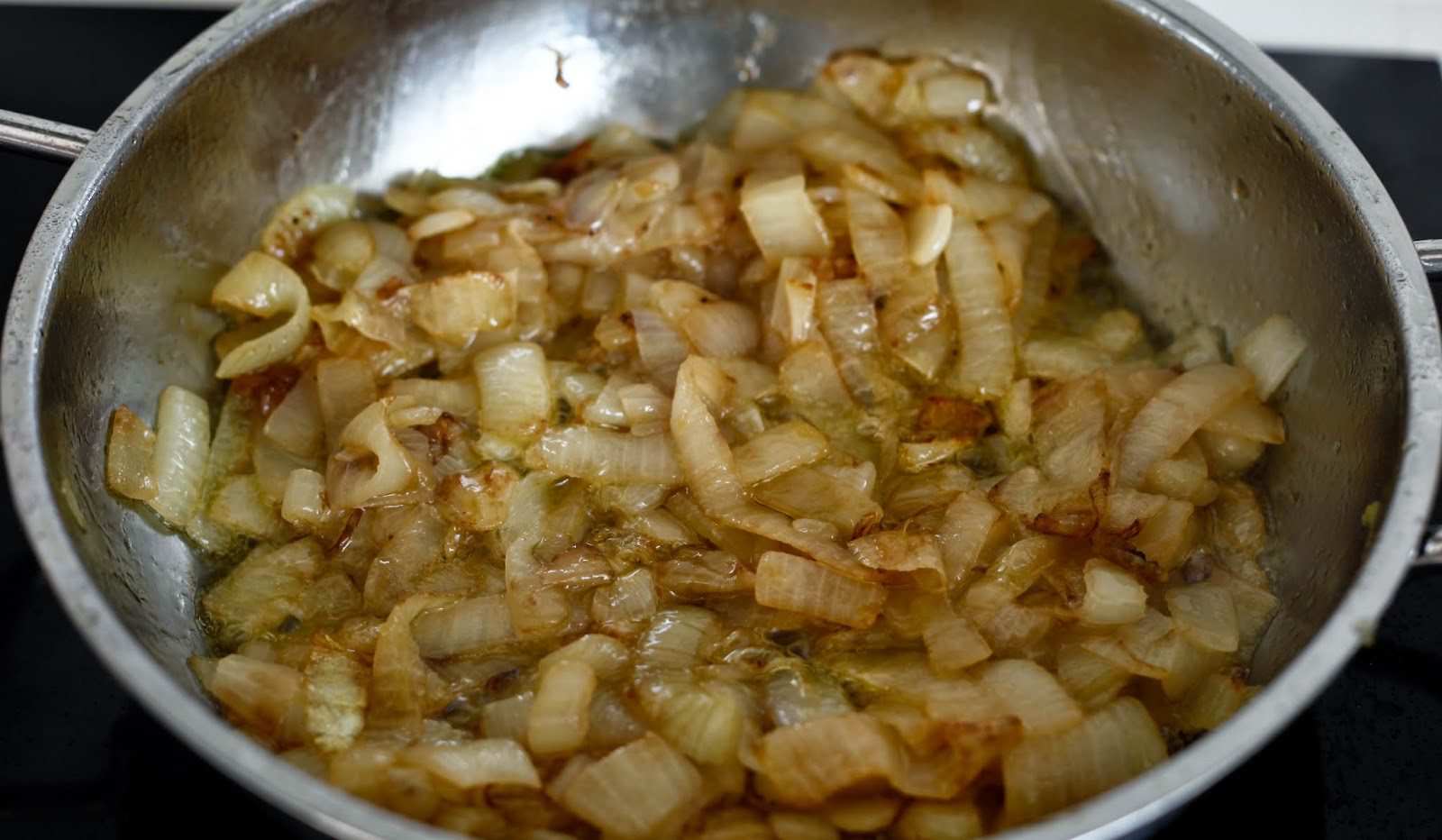 Caramelised balsamic onions at 20 minutes
At 30 mins, add the balsamic vinegar and coconut sugar and stir until the sugar is dissolved
Remove from the pan so they do not burn and use the same pan for the meat patties
The options are endless with how you can create the mini burgers, you can adjust the patties as well to add anything you like. I like sneaking in some veggies wherever I can so including them in the patties on top of all the sides and lettuce wraps is a bonus. I also get a mix of lettuce as I love the slight bitterness of radicchio and my kids like iceberg of cos.
I hope you enjoy!
May xx
Love, create, explore & inspire <3
Paleo Mini Burger Platter
Ingredients
1.) For the meat patties, you will need:
500gm minced beef (organic, grass fed where possible)
½ small onion diced
½ cup grated carrot
½ cup grated zucchini
1 tbsp apple cider vinegar
1-2 tbsp coconut aminos (buy from iherb or amazon) or wheat free tamari (buy tamari from iherb or amazon)
½ tsp salt
½ tsp pepper
½ tsp onion powder
½ tsp garlic powder
¼ tsp cayenne pepper
olive oil for cooking
2-3 heads of iceberg, cos or radicchio or a mix
2.) Caramelised Balsamic Onions
2 large brown onions or 4 medium (or spanish also works well)
⅓ cup olive oil
1 tbsp balsamic vinegar
1 tsp coconut sugar
Instructions
) For the meat patties, you will need:
Mix all the ingredients together with your hands
Take about a walnut size ball of the mixture, roll then flatten slightly
If you want to make the caramelised onions, put your patties aside and scroll down below to start on your onions first, then return here 🙂
Otherwise heat a frypan on medium high with about 2 tbsp olive oil
Cook for about 3 minutes each side or until brown and cooked through
If you are including pineapple, you can add them to the pan to cook in the juices now 🙂
Serve with any of the sides below
) Caramelised Balsamic Onions
Place a saucepan with the olive oil on medium high heat
Add the onions and leave for about 2 mins, careful the oil is not too hot as you don't want to burn the onions
Gently stir the onions, after about 10 mins you will need to stir more frequently so the onions don't burn
They should be a nice brown colour at 20 mins
At 30 mins, add the balsamic vinegar and coconut sugar and stir until the sugar is dissolved
Remove from the pan so they do not burn and use the same pan for the meat patties