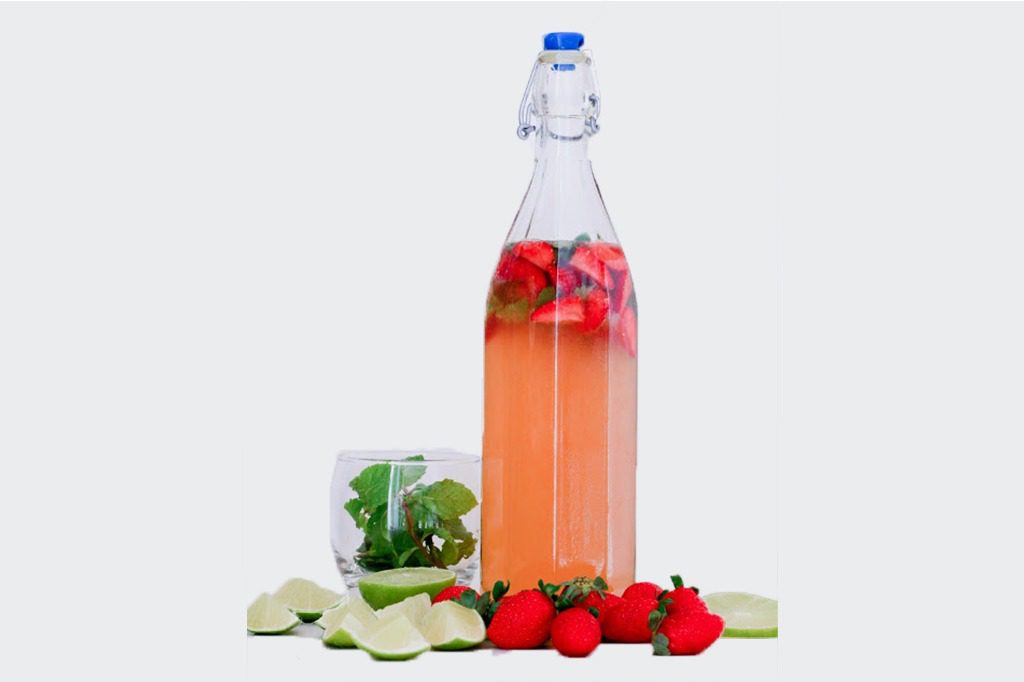 Strawberry Mojito Kombucha Tea
I don't drink alcohol but whenever my husband orders a Mojito, I always have to refrain from taking a sip. It looks so refreshing especially in the Vietnam heat. I went to Hair Bar a few months ago, great concept, they only do blow dry or styling and on Friday nights a cocktail is included (a great start to our ladies night out 😉 They made a virgin strawberry mojito for me and I've been addicted to this combo since (yes, a little behind I think!)
A mojito typically consists of five ingredients – rum, lime, sugar, sparkling water and mint. So considering kombucha has a teeny amount of alcohol (as do all fermented foods) I figured it would work pretty well, I was so excited to taste it after the 2nd fermentation was complete. Take a look 🙂
Strawberry Mojito Kombucha Tea
The best time to bottle your kombucha is when it is still slightly sweet. If you happen to miss this window (which is easy to do if you live in a warmer climate, its best to taste in the morning then again in the evening), just add 1/2 tsp to 1 tsp of organic sugar to your bottle. It will help the carbonation for a really nice fizzy kombucha.
If you aren't already brewing your own kombucha, you will need to make your first batch. You can find details 
here
, including how to find a scoby and how to brew your first batch (referred to as the first fermentation, bottling and flavouring is the second fermentation)
Lime, Strawberries and Mint. A winning combo!
For 1 litre bottle, you will need:
about 900ml of already fermented kombucha
5 small strawberries or 2 large strawberries, washed, dried, tops removed and quartered
juice of 1 lime
2 sprigs of mint, washed and dried
1 litre capacity clear glass bottle preferably with a flip top rubber seal, otherwise a recycled screw lid is ok
a fine sieve and funnel
     Strawberry Mojito Kombucha Tea
Method:
wash your bottles with some hot water and vinegar (don't use soap)
if your tap water source isn't clean, you can boil some filtered/bottled water and rinse the bottle with boiling water to be sure it's clean (be careful with the hot water and only add about 1cm of boiling water as you don't want it to crack with the heat)
allow the bottle to cool and dry while you prep the ingredients
add the lime juice, strawberries and mint to the bottle
remove your scoby and 1/2 cup of fermented tea and set aside for your next batch
using the funnel, place the fine sieve on top to catch any stringy bits from the kombucha, pour the fermented kombucha into the bottle allowing 5 cm from the top
avoid going pass the 5cm mark as it will increase the chances of your bottle exploding
allow to ferment for at least 2 days, open and release any gas build up
store in the fridge and enjoy cold or over ice (feel free to add some rum when required 🙂
       Strawberry Mojito Kombucha Tea
I've got a couple of pics from our night at Hair Bar. Run by a French Vietnamese expat, nice retro decor and lovely staff. For 250,000 VND (that works out to be about $12 bucks) you get a shampoo, mini head massage and blow-dry, it's a nice start to a night out (no affiliation here, just love sharing things I find).
Hairbar VN – A fun start to the night if you are in Saigon (I'm the the one in the middle 🙂
Hope you enjoyed this recipe, if you have any questions about this post feel free to leave me a comment and I'll do my best to get back to you asap! May <3
Strawberry Mojito Kombucha Tea
Ingredients
about 900ml of already fermented kombucha
5 small strawberries or 2 large strawberries, washed, dried, tops removed and quartered
juice of 1 lime
2 sprigs of mint, washed and dried
1 litre capacity clear glass bottle preferably with a flip top rubber seal, otherwise a recycled screw lid is ok
a fine sieve and funnel
Instructions
wash your bottles with some hot water and vinegar (don't use soap)
if your tap water source isn't clean, you can boil some filtered/bottled water and rinse the bottle with boiling water to be sure it's clean (be careful with the hot water and only add about 1cm of boiling water as you don't want it to crack with the heat)
allow the bottle to cool and dry while you prep the ingredients
add the lime juice, strawberries and mint to the bottle
remove your scoby and ½ cup of fermented tea and set aside for your next batch
using the funnel, place the fine sieve on top to catch any stringy bits from the kombucha, pour the fermented kombucha into the bottle allowing 5 cm from the top
avoid going pass the 5cm mark as it will increase the chances of your bottle exploding
allow to ferment for at least 2 days, open and release any gas build up
store in the fridge and enjoy cold or over ice (feel free to add some rum when required 🙂