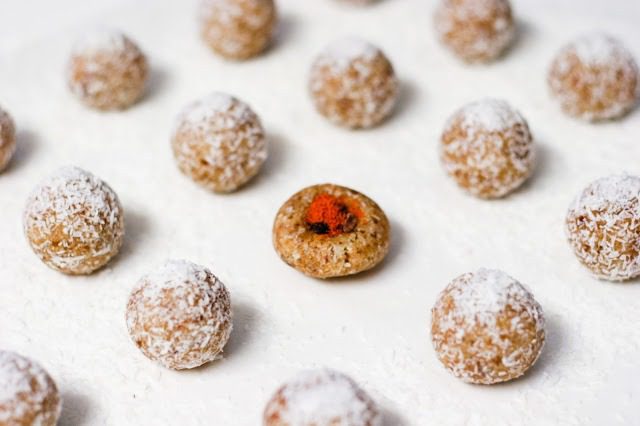 Raw Coconut Fire Ball Roulette
This isn't so much a new recipe, just a twist on my raw cacao surprise bites recipe (see the recipe here) and a fun idea for entertaining your guests. These raw coconut balls have a lovely balance of sweet and salty and are filled with crunchy raw cacao except one or two balls have cayenne pepper and/or chilli flakes for a surprise fiery kick!
Take a chance with each raw coconut fire ball!
Every guest takes a chance each time they grab a ball! You can add as much or as little cayenne / chilli as you like or however much you think your guests can take. If you wanted to be really mean, you can use wasabi paste instead!
Raw Coconut Ball Roulette – which is the fire ball?
RAW COCONUT FIRE BALL ROULETTE
Makes 20 balls approx
Prep Time: 15 mins
You will need:
iherb now offers free shipping to Australia.
Use discount code BBH440 for $10 off at the checkout
Method:
place the coconut, dates and sea salt in the food processor
add 2 tbsp of melted coconut oil and continue to mix
test the mixture by rolling a small ball in your hands
add another tbsp of coconut oil if the mixture is too dry
add more salt or dates to balance the sweetness & saltiness
Take 1 tbsp of the mixture and roll into a ball then make an indent/thumbprint
fill your surprise balls up and add some cayenne, chilli flakes or wasabi to 1 or 2 balls for a game of roulette!
place some cacao nibs in the indent the roll the mixture over to form a ball
roll the ball in the extra coconut
repeat for the remaining mixture but for 1-2 balls (or as many as you like) add 1/4 tsp of cayenne pepper and/or chilli flakes or a small blob of wasabi
you can put the fire balls in a separate container so you don't get confused and accidentally eat it yourself!
just remember where you place it when you serve it up 🙂
you should get about 20 balls
this can be stored in the fridge for up to 2 weeks
Have fun!!!
Raw Coconut Fire Ball Roulette
Ingredients
2 cups dessicated / shredded coconut (buy on iherb or amazon)
10 medjool dates pits removed (buy on herb or amazon)
3-4 tbsp coconut oil melted (buy on iherb or amazon)
½ tsp natural sea salt (buy on iherb or amazon)
2 tbsp raw cacao nibs (buy on iherb or amazon)
Instructions
place the coconut, dates and sea salt in the food processor
add 2 tbsp of melted coconut oil and continue to mix
test the mixture by rolling a small ball in your hands
add another tbsp of coconut oil if the mixture is too dry
add more salt or dates to balance the sweetness & saltiness
Take 1 tbsp of the mixture and roll into a ball then make an indent/thumbprint
place some cacao nibs in the indent the roll the mixture over to form a ball
roll the ball in the extra coconut
repeat for the remaining mixture but for 1-2 balls (or as many as you like) add ¼ tsp of cayenne pepper and/or chilli flakes or a small blob of wasabi
you can put the fire balls in a separate container so you don't get confused and accidentally eat it yourself!
just remember where you place it when you serve it up 🙂
you should get about 20 balls
this can be stored in the fridge for up to 2 weeks