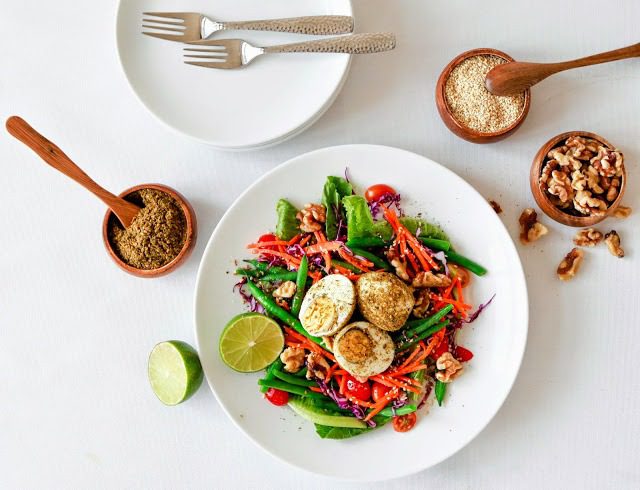 Simple Garden Salad with Zaatar Spiced Eggs
Lunch at home during the week for me is usually a salad with whatever I have on hand in the fridge and pantry. Sometimes, it turns out really well like this simple garden salad with zaatar spiced eggs. This salad has a handful of fresh ingredients plus a sprinkling of herbs, nuts and seeds. You can easily recreate this salad with whatever you have on hand but I do really recommend the zaatar rolled eggs. I was really lucky to get my hands on this zaatar mix from a friend who brought it all the way from Lebanon, if you aren't lucky enough to find some already made zaatar, you can use your favourite herb and spice blend or you can make your own zaatar mix (see below).
Simple Garden Salad with Zaatar Spiced Eggs
I also like to boost my salads up with some fermented vegetables, usually carrots (click here for the recipe). Adding some probiotic rich, gut healing fermented foods really increases the nutritional benefits. Fermented foods are more easily digested than raw and your body can absorb more vitamins and minerals as the food is pre-digested by the bacteria. I've been able to ditch expensive probiotics by simply adding fermented foods daily and drinking kombucha tea.
Simple Garden Salad with Zaatar Spiced Eggs
Recipe for one. You will need:

Salad Base
Cos lettuce (about 3 medium leaves, torn roughly)
5 green beans
handful cherry tomatoes, washed and halved
2 tbsp fermented carrots (click here for the recipe) or use freshly grated
a few shavings of purple cabbage
or anything you have on hand (e.g. cucumbers, sprouts, beets etc)
Optionals
a few walnuts
1 tsp toasted sesame seeds
2 hard boiled eggs (or whatever protein you have on hand)
1 tbsp zaatar mix
Dressing
Juice of 1/2 lime (or preferred vinegar like balsamic or apple cider vinegar)
1-2 tbsp extra virgin olive oil (or preferred oil such as avocado oil)
pinch of salt
Zaatar
2 tsp sumac
1 tsp thyme
1 tsp marjoram
1 tsp oregano
grind in magic bullet or spice grinder
add 2 tsp toasted sesame seeds
Method:
boil eggs to your liking (soft, medium or hard – I prefer medium)
steam the green beans for 2 minutes until cooked but still crunchy
wash and spin dry the lettuce
layer your plate with the cos, cherry tomatoes, green beans, shaved cabbage and fermented carrots
peel the cooled eggs and roll in zaatar
place the zaatar spiced eggs on top of the salad
sprinkle the walnuts and sesame seeds
drizzle with olive oil, lime juice and pinch of salt
Enjoy :), May xx
Simple Garden Salad with Zaatar Spiced Eggs
Ingredients
Salad Base
Cos lettuce (about 3 medium leaves, torn roughly)
5 green beans
handful cherry tomatoes, washed and halved
2 tbsp fermented carrots (click here for the recipe) or use freshly grated
a few shavings of purple cabbage
or anything you have on hand (e.g. cucumbers, sprouts, beets etc)
Optionals
a few walnuts
1 tsp toasted sesame seeds
2 hard boiled eggs (or whatever protein you have on hand)
1 tbsp zaatar mix
Dressing
Juice of ½ lime (or preferred vinegar like balsamic or apple cider vinegar)
1-2 tbsp extra virgin olive oil (or preferred oil such as avocado oil)
pinch of salt
Zaatar
2 tsp sumac
1 tsp thyme
1 tsp marjoram
1 tsp oregano
grind in magic bullet or spice grinder
add 2 tsp toasted sesame seeds
Instructions
boil eggs to your liking (soft, medium or hard - I prefer medium)
steam the green beans for 2 minutes until cooked but still crunchy
wash and spin dry the lettuce
layer your plate with the cos, cherry tomatoes, green beans, shaved cabbage and fermented carrots
peel the cooled eggs and roll in zaatar
place the zaatar spiced eggs on top of the salad
sprinkle the walnuts and sesame seeds
drizzle with olive oil, lime juice and pinch of salt