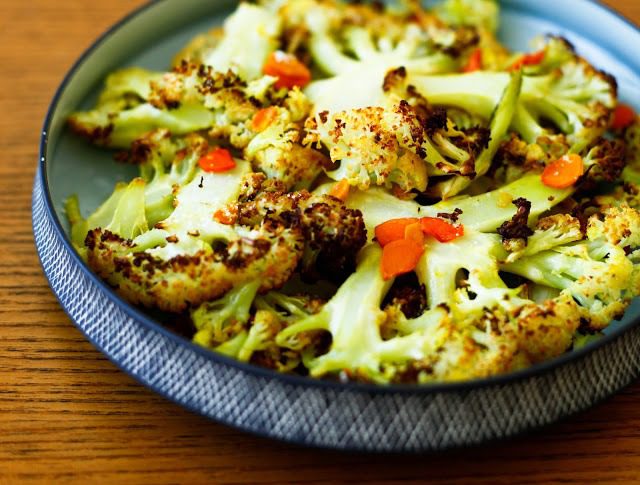 Roasted Cauliflower with Fresh Turmeric
Cauliflower is one versatile veggie. I love it mashed, pickled or roasted, I also love that it lasts in the fridge and doesn't go soggy if you pack it for lunch. With the Lunar New Year holiday starting next week, all the stores will be closed over here in Vietnam so I'll be stocking up on veggies that last in the crisper. My favourite long life veggies are carrot, cucumber, broccoli, radish, beetroot, pumpkin, beans and of course, cauliflower. This roasted cauliflower with fresh turmeric is one of my favourite ways to eat cauliflower. It's simple to make and I always have fresh turmeric on hand (for my daily cup of lemongrass, ginger and turmeric tea).
Here's a list of some of the amazing benefits of curcumin, the active component of turmeric:
clears the skin
boost regeneration of brain stem cells
assists with liver & lung, neurological, cardiovascular and metabolic disease
assists with autoimmune disorders
prevention for alzheimers
assist with joint pain & arthritis
assist with heartburn & indigestion
delay the onset of type 2 diabetes
I now always make sure to combine my turmeric dish's with black pepper, the piperine found in black pepper allows the curcumin to be absorbed by the body at a much higher rate, so remember to add a generous dash of black pepper!
You will need:
1 whole cauliflower
5cm piece (2 inch) of fresh turmeric, peeled and sliced thinly about 2mm thick (or 1/2 tsp powdered turmeric)
1-2 tbsp of organic ghee (you can also use coconut oil, olive oil, avocado oil or butter works well)
a pinch of natural sea salt and black pepper
Preheat the oven with the top element on at 180 degrees celcius
Wash and pat dry the cauliflower, then slice the cauliflower about 1cm thick (you can cut the florets off individually and slice the stem up if you prefer but I like how you get a nice tree like piece of cauliflower when you slice it)
Place in a large bowl
Add the peeled and sliced turmeric
Add the ghee or your fat of choice and mix until combined
Line a baking tray with baking paper and place the cauliflower in one layer
Place on top rack for 12-15mins or until golden, then flip the cauliflower over and bake for another 12-15mins or until golden and remove from the oven
Lightly sprinkle with some sea salt and serve
Check the oven occasionally as the cooking time may vary and you want to check it doesn't burn too quick as you are using the top tray
Hope you enjoyed this post, if you have please leave a comment, I would love to hear from you 🙂 xx May
Sources
https://foodfacts.mercola.com/turmeric.html
https://organicindia.mercola.com/herbal-supplements/turmeric.aspx
https://www.huffingtonpost.com/2014/10/18/turmeric-health-benefits-curcumin_n_5978482.html

Roasted Cauliflower with Fresh Turmeric
Ingredients
1 whole cauliflower
5cm piece (2 inch) of fresh turmeric, peeled and sliced thinly about 2mm thick (or ½ tsp powdered turmeric)
1-2 tbsp of organic ghee (you can also use coconut oil, olive oil, avocado oil or butter works well)
a pinch of natural sea salt and black pepper
Instructions
Preheat the oven with the top element on at 180 degrees celcius
Wash and pat dry the cauliflower, then slice the cauliflower about 1cm thick (you can cut the florets off individually and slice the stem up if you prefer but I like how you get a nice tree like piece of cauliflower when you slice it)
Place in a large bowl
Add the peeled and sliced turmeric
Add the ghee or your fat of choice and mix until combined
Line a baking tray with baking paper and place the cauliflower in one layer
Place on top rack for 12-15mins or until golden, then flip the cauliflower over and bake for another 12-15mins or until golden and remove from the oven
Lightly sprinkle with some sea salt and serve
Check the oven occasionally as the cooking time may vary and you want to check it doesn't burn too quick as you are using the top tray